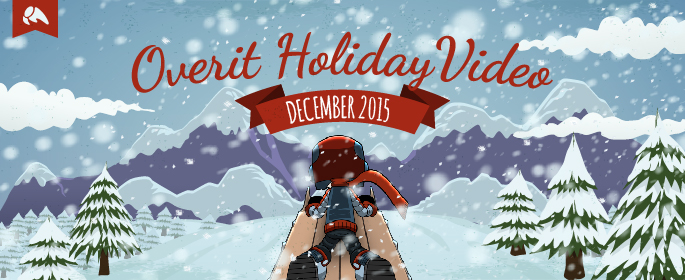 Everyone has traditions that help them get into the holiday spirit. For some it's shopping, music or putting up the holiday lights. We have some pretty spectacular decorations at Overit and our recent trivia gift exchange was full of hilarity, but nothing gets us feeling the spirit like the annual Overit holiday card.
A tradition that began in 2009 with the ultimate homage to family photos and ugly sweaters, it was so much fun that we've continued the custom ever since. With every installment it seems we try to outdo ourselves, and this year is no exception.
One of the best things about the Overit team is that in most some ways, we're all still kids at heart. This year's video truly captures the wonder of childhood in a way that reminds us all to dream big and never let reality get in the way of our imagination.
From our family to yours, we present the 2015 Overit Holiday Video.
 Created by:
Nic Hansen
Jeremy Evans
Jeff Fugelsang
Lawrence Basso
Adam Clairmont
Nicholas "Scoops" Dardaris
The Making Of Our Holiday Video
Creating an epic adventure is never a one person job. In this video, lead motion designer Nic Hansen describes the process of bringing an idea to life. From the first illustrations to creating a digital puppet to the final sound editing, everyone lends their individual talents. This year's video even involved family members of the Overit staff to get the final product.  The speed, thrills and heart-pounding suspense that characterize this adventure wouldn't have been possible without the contributions of so many of our team members. We're proud to share with you a little insight into how the fantasy is brought to life.
To borrow Nic's words:
"We make these cards to help spread the holiday magic. And to wish all our Overit friends and family a Happy Holiday. We really hope you enjoy it."
Overit Holiday Card 2015 – Behind the Scenes from O Studios on Vimeo.
See you next year!