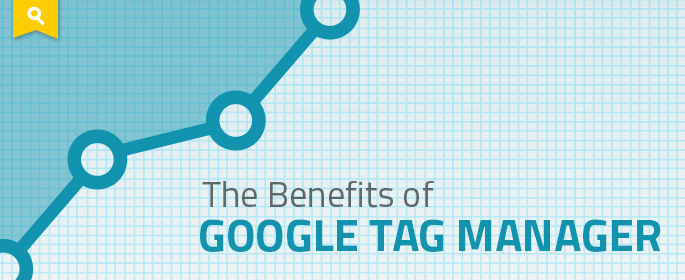 Since its release, Google Tag Manager has helped make the lives of online marketers easier one tracking code at a time. If you are in involved with tracking data on a site large or small, Tag Manager can help save time and ensure proper setup.
Here are a few ways Tag Manager can benefit your site.
Insert Tracking Tags
The convenience of inserting tags through a tag management solution as opposed to directly via a site's code cannot be overstated. You can insert and remove standard Google Analytics tracking, AdWords remarketing, conversion codes and third party tags whenever you need.
Often, a development team controls access to editing a site's code. Whether working with a third party or across departments within an agency, a task as simple as adding a Google Analytics code or AdWords remarketing tag can require creating a ticket, sitting in queue, verifying setup on a production server and then pushing live. While having a process in development is important, Tag Manager offers a safe and easy way to reduce unnecessary steps in this process.
Google Tag Manager requires one-time placement of a single code snippet across a site. From that point on, you can add and update tracking codes directly through the Tag Manager backend without modifying the site itself.
Track Outbound Links & Downloads
Tracking events such as PDF downloads or clicks on outbound links requires some extra setup beyond what Google Analytics will track by default. Normally, this requires addition of some extra code to links or setup of a plugin. Google Tag Manager allows you to track any of these clicks, triggering a custom event in Analytics.
Track Form Submissions
While setting up goal tracking for a form with a "thank you" page is simple enough, tracking an AJAX form, which submits without changing the URL, requires custom code modifications to push an Analytics event. This can be a pain to fire properly, as setup varies among sites and can involve a process of trial and error.
Now, Tag Manager lets you set up a Form Submit Listener that (wait for it) listens for a form submission to occur. You would then trigger a Google Analytics event when a particular form is submitted. Finally, you would set up a goal to show a conversion for that event. From my experience, Tag Manager has worked right away with a number of complex form setups.
Assign Multiple Users
Google Tag Manager allows you to give account access to multiple people, with different levels of viewing, editing and publishing privileges. This feature provides convenience for agencies wanting to give multiple employees access or needing to share access with clients while ensuring only certain individuals have master control.
Test Tracking Before Going Live
In testing more complex tracking implementations, one frequent issue involves making sure the appropriate tags are all firing at the right time. Tag Manager allows you to preview a setup with a debug window showing what tags are firing as you click through the site.
Transition to Universal Analytics
Over the past year, Google Analytics has been heavily pushing its new Universal Analytics, which, in a simple explanation, offers new features and a fresh approach to tracking users. Tag Manager offers support for both Classic and Universal Analytics and can help ease the process of transition when you decide it's time to upgrade. For example, features such as event tracking require a different setup in Universal Analytics than in the past.
If you haven't yet set up Google Tag Manager on your site, countless helpful articles exist to help you take the next steps. Here are a few links I recommend reading to dig deeper:
Have you become a Google Tag Manager fan?