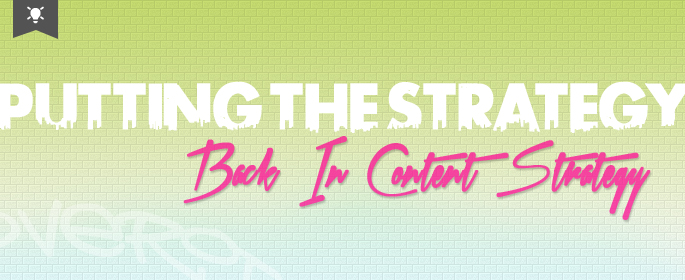 The good news is that businesses are investing more into content.
The bad news is the good majority of it is total crap.
Jonathon Colman did a commendable job lighting the industry up earlier this week arguing that We Can Do Better Than This.  In his post, Jonathon takes a justified swing at the content being pushed out in the SEO world. He states that for a group fond of heralding "content is king", we don't actually invest in it. We don't craft content designed to spark a discussion, make people think, or push ourselves beyond our comfort zones.
Instead, we throw a TV dinner down and wonder why we're all looking bloated lately.
It's not just SEOs who are lazy with content, of course. It's a recurring theme on the Web. We are ALL lazy with content.
As proof, a recent Marketing Trends report from Curata specifically sought out to discover how marketers were using content, tactics they were creating, and their plans for the future.
The findings showed that 87 percent of marketers were using content. Laughably, it also showed 44 percent were making no attempt to analyze it.
Pardon my language, but WTF are you doing then?
They're creating content with no shelf life, no thought, and no purpose. Because content is "easy" and "cheap". Or at least it is when you're penning classics like What Hurricane Sandy Can Teach You About X. [please stop doing this]
How do we fix the content sewer permeating the Web right now?
We think long-term about what we're creating and what we pass along.
We put the strategy back in the content we're creating.
The first is easy enough. Stop reading and sharing marketing bullshit. If those "7 tricks" didn't help you, don't tweet it and clog up the intertubez. Demand better. Seek out new voices. Rinse. Repeat.
The second is a bit harder.
We stop creating shallow content by creating content that answers an identifiable interest of an identified reader at an identified point in time. Create content with a purpose by putting strategy behind it.
Creating Your Content Marketing Strategy
To really understand the place of earned content, you need to remember how things used to be.
Growing up, my father was a life insurance agent. I remember him coming home, always late and in a fancy suit. He'd throw his briefcase on the kitchen table, narrowly missing the dinner waiting for him, before telling us the trials of his day.
He'd tell us about the phone calls to prospects, the lunches he bought, and the homes he visited. As amusing as it is to me now, it was even more amusing to me then – my father's job was to knock on people's door and interrupt them all day. That's how marketing used to work. Brands interrupted you when they wanted your attention.
The Internet changed that. It changed how we find information about the products/companies we're interested in. We don't check out Yellow Page ads. We check out the Internet.
We ask Google
We ask Twitter
We ask Facebook
We consult Q&A sites
We go to forums
The shift in buying behavior means that for your brand not to be ignored, the way you sell has to be organic to the conversation. You have to "just be there" and earn your position as a trusted, reliable source.
How do you do it? By creating a content marketing strategy based in data and purpose.
1. Identify Your Objective & Message
Before you spend the time involved in outlining a content plan for your company, know what your objective is. Depending on your audience and your mission, content goals will be rooted in a combination of areas:
Increasing: Traffic, Awareness, Engagement
Building: Community, Lead Generation, Links, Search Visibility, Authoritativeness
Educating: Your Industry, Current Customers, Prospects
Another consideration when identifying your objectives is the overall messaging of your content. What are you trying to communicate and how is that message best communicated? If you're a higher education site and you want to convey a feeling of community and openness, your content will be created differently than if you offer cloud services and you're speaking to a tech crowd who prefers less human contact.
2. Getting Intimate With Your Audience
You erase that thought from your mind right now. That's not what we're talking about.
The content you're creating is going to be used to educate, entertain, and otherwise delight your readership. Whether your audience is potential customers, colleagues, or a combination of the two, you need to understand who they are on a deeper level. Knowing their age, where they're from, and what they last bought is cute, but it's not going to do the job.
You have to do some research to understand not only who they are, but where they are in their relationship with your company and what they need from you.
Naturally, you find this out by stalking them.
On your own site:  Put your head down in your analytics and look at keyword performance, internal search data, user behavior, and bounce rates to pinpoint opportunities, as well as existing content that's not currently meeting your needs. Your audience is telling you what they're looking for via the queries they use to land on your site. Use this information. Stalk your site for clues about who your audience is and their goals.

The social Web: Now get off your website. There's a whole social Web out there filled with blogs, forums, Q&A sites, and other networking avenues your audience is congregating on. Collect data about the conversations happening around these sites related to your industry/keywords. What topics are people talking about? What needs do they have? Are they top of funnel (TOF), middle of funnel (MOF), or bottom of funnel (BOF)? Can you start to identify segments to bucket users into? What keeps coming up?

Industry research: Use tools like Quantcast, ComScore, and any other pertinent research you can get your hands to understand searcher behavior and intent. This will offer data not only for your industry, but also competitors.
The goal of the research above is to help you break out your audience by need state and where they fit into the buying cycle. Are they landing on your site TOF or are they landing ready to convert? In the end, you'll need to create content to address both, but by using the conversations happening on your site, off of it, and in the industry, you'll have more data to help you bucket users to understand who they are on a more intimate level. You'll then be able to take your user segmentation, create real personae around it, and use it in your messaging.
3. Scout the Opportunity
Put that face mask back on. Your stalking isn't done.
Start doing some competitive research to understand what content is already out there. You know what your audience is looking for because you've created personae and you have your analytics information in front of you, right? So mimic a searcher by trying to solve their problems via search.
For example, maybe you sell DSLR cameras. What would you find when searching like a user would?
Perform relevant searches and then ask yourself:
What content is there?

Is what's there adequate? Would it answer your question?
How could it be improved or added to?
Did it "work" last time?
What buying stages are being addressed?

What content isn't there?

What answers do you still need?
What holes exist?
What keyword opportunities could you dominate?
Why would a consumer leave that page? Where would they be going?

What format does the content take?

Does it work?
What formats are missing?
How could you be different and shake things up?
With your analytics information in one hand and your power of search in another, you'll be able to match query intent with the proposed Web answer. If that answer doesn't work, you know there's a need to create something that does.
As part of your scouting, survey your customers and ask specific questions about what they're most interested in when evaluating [laptops], [televisions], [DSL cameras] or whatever it is that you sell.
What features are they looking for?
What is the most important product information? [specs, costs, shipping]
When they land on a page about X, what do they expect to see?
What are some of their favorite websites about X
What information doesn't help them
By aggregating and reviewing all of this information, it will give you a pretty good understanding of the types of content you should be creating to keep a user engaged, happy, and on your page. If you're able to get a large enough sample size, you could build an entire content strategy based off a surveys geared toward different parts of your business.
4. Build a Strategy Around Resources
You know what's out there and what's not out there, but what you can create? As I create a content strategy for the team here at Overit, one thing I'm constantly blown away by is the inhouse resources. From designers to developers to motion graphics, there's not much I can't have created by asking the right person nicely. But you need to figure out for yourself, what you can realistically do.
Luckily, content doesn't have to be flashy to be successful.
Some content types to think about and work into your plan?
Blogs
Guestblogging
Social Media
Articles
Email Marketing
Case Studies
Videos
Webinars
Online classes
White Papers
Microsites
Industry Research
eBooks
Events
It also doesn't have to be all new content. Before you go reinventing the wheel, dive into your archives and see what already exists that you can take advantage of.
Are you collecting research or data about your consumers that can be repackaged?
Do you have image or video content collecting dust on your site?
Do you have an archive of blog content that can be repurposed?
Start forming a list of the type of content pieces you want to build and the formats you want to include. From there, you can build out an editorial calendar to help you pace and schedule content delivery. If you're looking for an editorial calendar template, the folks at TopRank have created a great one.
5. Commit
Understand that content marketing is not an overnight thing. You are here for the long haul to build earned attention for your brand. Understand that. Accept that. Live that.
Below I've embedded Rand Fishkin's Content Marketing Manifesto presentation from SEER Interactive's May 2012 meetup because I pretty much love. Toward the end of this presentation, he asks the audience to recite after him, a content marketing manifesto.  I'm sharing here with the hopes you'll do the same.
Content marketing is a hot buzzword right now because of the increased need for brands to develop earned media. But if you're not building a strategy for what you're creating, why you're creating it, and what you're going to do with it, you're not using content, you're just playing with it.