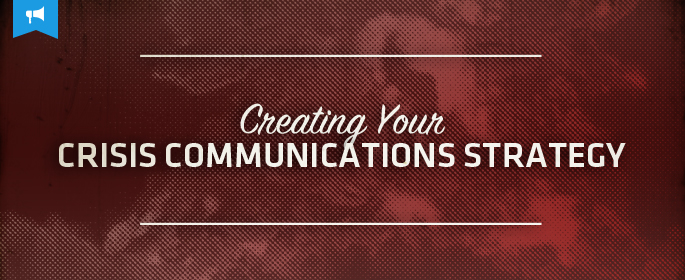 With social media platforms giving everyone a voice to easily speak his or her mind to a large audience, the days where brands could simply stick their heads in the sand and hide from a crisis are long gone. No company is immune to problems, mistakes and critiques, and though larger brands get the most attention for their misfortunes, all companies should be prepared to address critics and crises. That's where your crisis communications strategy comes in.
While the crisis might be something as large as Target's recent credit and debit card hack or as simple as a customer leaving a complaint on your Facebook timeline, the ways in which a brand chooses to react to these situations will determine the true magnitude of the problem.
Below are a few steps you must take to reduce the impact of any issue and even leverage a bad situation to build further trust and loyalty among your target audience.
Create a plan – before an emergency occurs.
Just as your mom and Smokey the Bear encouraged you to map out your route to safety in the event of a house fire, the same preparation for brands can significantly minimize the impact of a crisis if one occurs.
Avoid scrambling to find the resources and personnel who can best handle a problem by putting a plan in place for not only what to do in the event of a crisis, but who will take on what roles in ensuring a smooth execution in a timely manner.
Every company should have procedures for dealing with issues such as customer service complaints, product/service problems, ex-employee frustrations and any backlash regarding sensitive industry issues. These traditional problems, whether your brand has made a mistake and is at fault or not, are now amplified by the amount of online discussion now connecting people worldwide.
When it comes to digital marketing, make sure to have additional plans to address:
Complaints in online review places, such as Yelp, Google+ and Facebook
Repeated posts by angry individuals who may be interacting with your brand or your customers/potential customers on accounts such as Facebook and Twitter
Fake parody accounts created by people seeking to do your brand damage
False information about your brand that has gone viral
You might not consider every situation where a problem may arise, but you can prepare the team you consider best suited to fix whatever arises. That leads to our next point.
Inform your team and identify spokespeople.
You might outline a plan, but that won't help if your team has no awareness of its existence. Be sure all your employees understand what steps need to be taken if they are confronted with an issue and whom the right people are to direct those inquiries to.
Identify the appropriate spokespeople who are responsible for having a full understanding of the company's stance on the issue and communicating that over the appropriate channels. Just like any marketing campaign, you want to make sure your message is consistent through all channels and personalized. This consistency is especially important during crises.
Identify the appropriate channels to reach your target audience.
You may recall a photo of a Taco Bell employee licking a stack of taco shells that quickly went viral last year. While anyone who has eaten at a Taco Bell may have had their concerns, the biggest mistake the brand made was not communicating with its customers where its customers were talking.
Yes, they posted a nice statement reiterating their food handling policies in a news release on their own website, but the majority of conversations around the issue were circulating on social networks. There was no official post made by Taco Bell on Facebook or Twitter regarding the incident, allowing the public to dominate the online conversation. Taco Bell wrote only a few responses to the complaints of select individuals. While responding to individual concerns is important and should be done as much as possible, a brand-initiated post regarding the situation, akin to their media statement, would have helped to quell the complaints of many.
Monitor the crisis on various channels and react accordingly in real-time.
Start with a statement to your customers letting them know you are aware of the issue at hand and that you are taking the necessary steps to resolve it. If you are already armed with a plan to tackle it, communicate this to your customers and offer solutions to ease their concerns.
Don't delay your response to a problem. Target's brand didn't benefit from negative commentary with regard to its timeliness, like the Consumerist article that began with, "After days of denying a report that hackers had stolen encrypted PIN data from some 40 million Target shoppers, the retailer has finally admitted that yes, this information was indeed collected during the 3-week-long data breach."
Assign a team to monitor any comments around the issue on various channels including traditional and new media to react in a timely manner. According to a recent study by Sprout Social, 80 percent of customer comments on social media go unanswered by companies. Be responsive.
While you may not respond to every single complaint (especially if you identify people trolling your page), you should monitor these comments as best as possible to understand how each is impacting your brand. Responding to as many complaints as possible, just as you would in-person and over the phone, is critical to your customer service reputation and to your goal of building customer loyalty.
Leverage a bad situation for the good of all.
We're all humans and even your customers can forgive a mishap when it is handled in the right way. Brands can improve their relationships with customers by taking immediate action in the event of a crisis and taking the necessary steps to not only offer active solutions, but also communicate them to customers quickly and effectively. Of course you can't win them all, but providing great customer service, whether it's on a regular day or amidst a brand meltdown, will reflect well on your brand reputation.
Target offered shoppers a 10 percent discount to customers as an apology and as an attempt to soften the blow of its recent hack during the final days of the holiday shopping season. Extending an extra incentive is certainly easier for a big brand like this to take on, but it's important to remember even a small gesture can go a long way in maintaining customer trust and loyalty.
Whatever your issue, whether a small problem or a large crisis, a strong handling of the situation can undo most, if not all, of the damage. If someone complains on your Facebook page, respond immediately. Apologize for their issue and their frustration. Offer a solution. Facilitate problem-solving. Others will see this and realize you're a good company to work with – even when an issue pops up.