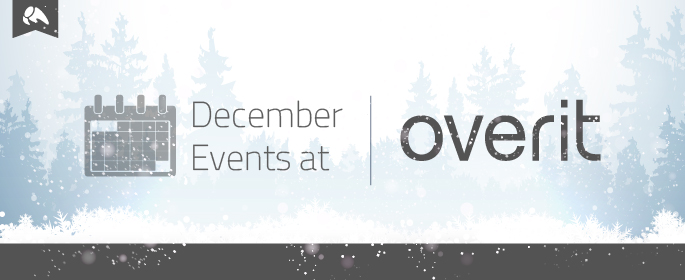 The holiday season is upon us! Along with good tidings and delicious food, this time of year fills our social and professional calendars very quickly. At Overit, we have a handful of events taking place throughout December that we're excited to share with you. They range from all-day-long to a few hours, so we hope you can fit one (or all!) events into your schedule.
TEDxAlbany
Thursday, December 1 – all day!
TEDxAlbany is an independently organized event inspired by the renowned TED Talks. The day-long event, sponsored annually by Overit, features 11 speakers with experience in a variety of industries and walks of life. Each presenter will talk for 18 minutes on topics ranging from "the importance of erotic intelligence" to "artificial intelligence (AI) and design," and more.
Tickets are sold out, but we'll be streaming the event live for free! Catch our talks from 9 a.m. to approximately 3:15 p.m. on December 1 on TEDxAlbany.org.   
Art at Overit: Video Games
Friday, December 2 from 5:30 p.m. to 9:00 p.m.
As part of the Upstate Artists Guild's 1st Friday Albany, Overit is hosting Art at Overit: Video Games. The event will explore the art, music and new technology that enhance the gaming experience. Local artists will exhibit their work, Geek Musica will perform game soundtracks, and regional virtual reality (VR) startups will demo their products for attendees.
Entrance to Art at Overit: Video Games is free! To learn more about the artists and participating organizations, please visit ArtAtOverit.com.
Verge of Virtual: A Discussion on VR
Thursday, December 15 from 8 a.m. to 10 a.m.
We're obsessed with VR at Overit, and we're not the only ones. According to Digi-Capital, the VR industry is expected to be worth $30 billion by 2020. In the Capital Region, there are a number of VR startups ranging from software to hardware developers that are at the forefront of the industry. This event will feature a panel of experts discussing the VR industry, its trends, how it's growing, and how it impacts local business.
The panel will feature spokespeople from SpaceoutVR, Ilium VR, Velan Studios, and 1st Playable Productions. Entrance to this event is free, but registration is required. To learn more and to RSVP to Verge of Virtual: A Discussion on VR, please visit Eventbrite.
Interested in hosting an event at Overit? Contact us today!