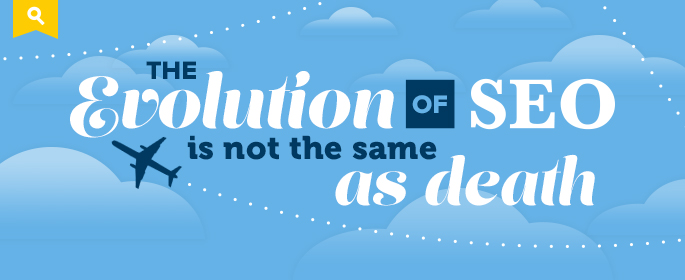 Last month, an article on Skift.com included the comments of several moguls in the online travel booking industry. Within it, the CEO of Priceline.com joined a long line of prognosticators [here, I googled that for you, readers – Lisa] to proclaim the "death of SEO."
While Dennis Schaal is certainly not the first (see: here, here, and here, just to name a few), nor will he be the last, to make this assessment of the future of search engine optimization, there's a lot more at play in SEO than just who ranks #1 for the highest volume terms.
Obviously there are different circumstances for different markets and while the highly visible, and highly lucrative, travel industry is certainly deeply impacted by Google's interest in infiltrating this field, that doesn't mean SEO is no longer effective. Things are changing, things are getting harder and SEO has ceased to be a magic bullet for anyone. With regard to verticals in which Google has decided they want to compete, including travel bookings, the game just got a lot more complicated.
But that doesn't mean everyone else should take their ball and go home.
Change Isn't Always Deadly
SEO dies in the way a caterpillar dies; that is it doesn't die, it metamorphoses. It evolves. Are there certain niches that are "pay to play" these days? Probably. Certain markets where Google is both a competitor and a traffic source are absolutely complicated. Google's involvement as a destination for information rather than just a channel to it has, in some ways, created a near mandate that companies be willing to invest in paid advertising.
However, what also can't be ignored is that search engines continue to send traffic to websites as a result of well implemented SEO. While it may be harder to attract visitors for searches like "Las Vegas hotels", phrases like "best hotels in Vegas" or "where to stay in Vegas" still have legs. Even though a Google Box and paid ads own the above the fold space, judging by the top results Google offers for these types of queries, Google has not yet really mastered how to best answer those questions.  I mean Circus, Circus is in the top three. Seriously Google?
Frankly, as a travel site marketer, I'd be more afraid of TripAdvisor, who is now offering bookings through its site, than Google. TripAdvisor has spent years creating landing pages to meet a diverse array of user intents and collecting user generated content, while others have been busy trying to outdo one another for "flights to" and "hotels in" keywords.
Short tail, highly competitive phrases have become a kill or be killed arena. The massive search volume and potential for traffic tied to these keywords have driven sites to ignore guidelines and best practices to engage in high risk practices. It can lead to threats of "negative SEO" and businesses "reporting" each other to Google like kids complaining to playground monitors.
SEO is Not a Substitute for Branding
 To stay with the metaphor, the jungle gym may still be our favorite playground structure, but if it has become a no-access zone, let's not pretend there's no other equipment available. Long tail phrases and brand driven searches are still a wide open park.
It's easy to forget that branded search is still search, and most successful companies have a huge volume of branded search traffic and substantial search volume for their name.
SEMrush lists almost 2,000 keywords associated with the single word "Priceline" and almost 3,000 keywords for "Expedia." Even if half of these represent people with actual transactional intent, that's a lot of different versions of people trying to find these brands. The singular brand terms also have millions of monthly searches for them. These sites have gone to great lengths to establish strong branded presences, name recognition, trust and credibility. I'm sure they've spent almost as many dollars on these pursuits as there are current searches for their names.
The point is, they've diversified their channels, and they've integrated multiple forms of digital and traditional marketing. They've partnered with credit cards and celebrities. They've created unique discount codes, promotions and offers. They've put effort into providing a solid product and a positive customer experience. Whether those efforts are universally successful or not is certainly arguable. But most of all they've smartly invested their marketing budgets in areas beyond SEO, which means that while they may feel a sting from the loss of above the fold space for "vegas flights," they've optimized the heck out of themselves for search engines by making themselves the search. There's a lesson in that.
SEO and ORM are All in the Same Family
 If the results of their cumulative marketing efforts aren't enough, one final thought to consider is that SEO isn't just an on-site practice, it is not strictly related to link building, and it is certainly not only about ranking in the top spot for a handful of ideal phrases. If we even get past branded search, there's one more way that SEO steps outside of just where your own site ranks.
SEO, in its broadest sense, could be interpreted as having the best possible online presence when it comes to search engines. This can also include owning the top results for your name and ensuring any of those results can drive users back to the primary site. That's often called online reputation management (ORM), but really it's all just shades of optimizing search results, right? When you think about it from that perspective it creates an impetus to create brand awareness through other channels that will ultimately drive users to search you directly.
Both Priceline and Expedia have also clearly taken active roles in this kind of SEO. For both sites you have to navigate 3 to 4 pages deep in the SERPS (search engine results pages) past social profiles, articles, stock information, merger news and company profiles to find customer complaints and reviews. That's pretty solid name ownership and a part of SEO that is often given less credit than the usual keyword phrase-based competition. But it is an important part of the big picture.
With all that said, Johannes Thomas, managing director of Trivago also quoted in the Skift article, basically nails it. His assessment that "building a business on SEO traffic might be very risky nowadays" is dead on. Not just in the travel industry, but across the board. The days of SEO = Money as an equation are long gone, and have been. SEO remains an important part of the formula but it cannot be the sole factor on the left hand side of the equation. The future of any business depends on its ability to diversify its marketing strategies, provide truly innovative services and create an exceptional customer experience.
So basically, it's just business as usual.