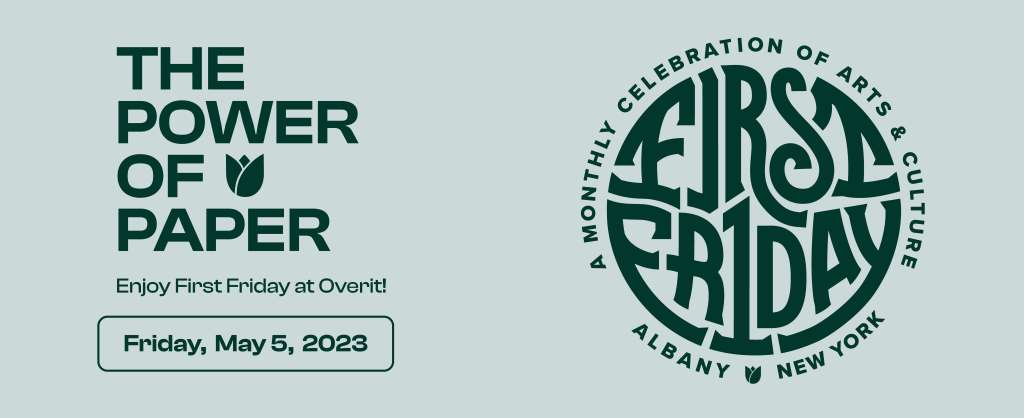 We have news–First Friday Albany is back, and we're throwing a party. 
For many years, the first Friday of every month marked a celebration of Albany's Creative Economy. It meant new art, live music, and special events at dozens of galleries, retailers, and nonprofits throughout the city. At Overit, it wasn't uncommon for our building to be filled with community members enjoying an event or a lineup of musicians. 
Then COVID happened, and much of what we loved was paused. 
Well, it's time for a revival.  
Overit and Nippertown have joined up and recruited some friends to reimagine, rebrand, and build First Friday Albany back even bigger and better.
It all starts this month.  
We'll have a lot more to say about our part in the rebranding of First Friday, but here's a taste of what you can expect: 
What's New: 
A brand new logo and visual identity 

New businesses, partners, and artists who are committed to putting the "creative" back in our Creative Economy
What Hasn't Changed: 
First Friday Albany's original, artist-connecting mission
You can find a complete list of First Friday Albany events on the Nippertown calendar. 
We'd like to personally invite you to be part of our relaunch party at Overit (435 New Scotland Ave) on May 5 from 5:00 PM to 8:00 PM with an event on The Power of Paper. 
You can expect local artists Abe Ferraro, Ruby Silvious, Mimi Castiglione-Santiago, Ashton Guy, and Lindsay McKeough to display and sell their work. Our friends at Mohawk Fine Papers, Finch Paper, and Circus will show you how to screenprint your very own event poster to take home.
So let's go. Get out on Friday to support the Creative Economy and we hope to see you at Overit. 
Looking to get involved in future First Friday Albany events? 
Apply at: https://nippertown.com/firstfridayalbany/first-friday-application/