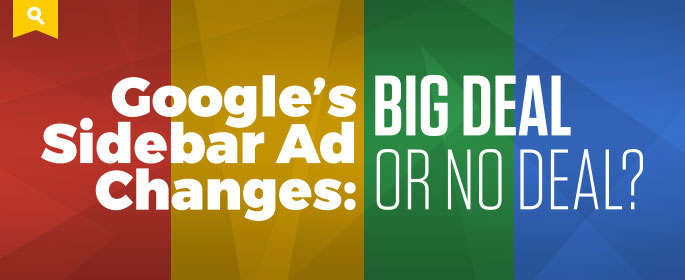 On Friday, February 19, Google confirmed rumors  that had begun flooding Twitter. After a long period of testing, sidebar ads were officially going away, with additional ad space pushed to the bottom of search results and a fourth ad placement standardized at the top of results.
Google's announcement spurred further speculation over time as to the potential impact (or lack thereof) on AdWords advertisers, as well as Google's motivations behind the change.
With all the breakneck feedback on #AdWords's elim of right rail ads, surprising how few have pondered whether it's a better UX. #ppcchat

— Andrew Goodman (@andrew_goodman) February 23, 2016

@PeterGould83 Are they banking on everyone massively increasing bids to appear in the top 4? #ppcchat

— Arianne Donoghue (@ArianneDonoghue) February 19, 2016
@Matt_Umbro ha! good call out. The biggest impact I can see is for advertisers in pos 4-6 who couldn't afford mainline. #ppcchat — Christi Olson (@ChristiJOlson) February 19, 2016
So, we've survived a couple of weeks since the change. What's happened so far? AdWords is still active. People are still spending money on PPC. Campaigns are driving clicks, impressions, and conversions. But what are the impacts marketers can expect to see over the long term?
Countless articles have already covered the topic, making predictions about the impact on the PPC space. Here are the most common points of speculation I've seen. (Yes, some are contradictory)
CPCs (costs per click) will go up.

CTR (clickthrough rate) will decrease on ads in position 5 or lower.

CTR will increase on position 4, as it has moved from the sidebar into the main search results.

Small businesses with limited marketing budgets will find themselves priced out of AdWords.

Ecommerce accounts will see benefits, since product listing ads are the only type of ads eligible to show in the sidebar now.

Mobile ad placement will become more crucial.

Organic search will suffer, due to the fourth ad placement pushing organic results down a notch.

Organic search will see higher volume, due to the lack of sidebar ads pushing more attention to organic results.
Upon analyzing search campaign data across all of our AdWords accounts from before and after the change, it appears that the immediate impact is negligible. Overall average CPC has actually decreased by 3 cents, so we haven't experienced the forewarned rise in costs as of yet.
Average CTR has increased 0.30%, possibly resulting in part from the greater prominence of ads on top. Of course, the many factors in play while managing AdWords can make it difficult to attribute any these changes directly to the sidebar ad update. These slight negligible changes could just as well be attributed to ongoing optimization work in the accounts or changes in the competitive space.
While it's easy to hype the theoretical implications of this change, take the time to look at your own data. Should you bid up on every keyword in anticipation of more people competing for the top spots? Maybe not. Instead of instantly increasing your bids, evaluate your keyword positions, watch click volume, and monitor CTR. If you're still maintaining click volume and driving conversions at a reasonable price, you shouldn't need to increase your bids.
Fred Vallaeys challenges the suggestion that CPCs will increase, among many other words of reason. While you should stay privy to Google's announcements, accounting for new features and SERP changes in your campaigns, avoid operating from a purely reactionary standpoint. Take the time to look at your own data, and evaluate if your account is seeing changes in position and costs, and make adjustments accordingly.
So, is the sidebar ad removal a big deal? Yes, in one sense, this change certainly changes the face of Google search results on a more dramatic level than any other recent modification. However, we've had limited time to evaluate the data from the fallout. Ultimately, only time will tell how much of an impact Google's revamp of the search results page will have on advertisers long term. But it may not bring the devastation many feared.
What data have you seen so far? What do you think will be the biggest impacts from the sidebar ad removal? Feel free to discuss in the comments.