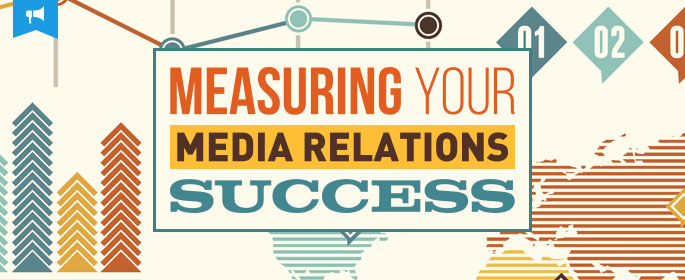 Whenever I'm discussing public relations services with a potential or new client, one of the most common questions I hear is, "How are you going to measure the results?"
I try to tackle this question before it's asked, because in a world where we're inundated with data, clients expect everything to be quantified. To a certain extent, media relations is no different, but it's not a perfect science.
So, how can you measure the results of your media relations campaign?
Placements
One of the most fundamental ways of measuring the success of a media relations is simply counting the number of placements secured throughout a campaign. This will give you an idea of how well a news announcement or story idea was received by the press. Except in cases of breaking news thwarting your plans, it typically goes that the more interesting a story you pitch, the more coverage you receive, the more successful the campaign you have.
However, the impact of a placement relies on the number of readers that the publication has (known as circulation), the engagement level of those readers, and how relevant the readers are to your business. You may have hundreds of stories about your company but without the appropriate audience, those pieces are less effective than targeting your ideal demographic.
For example, we work with a private high school located in New York's Capital Region that has the goal of getting more students to enroll. They were approached by a magazine to be included in a school guide issue that would be distributed to over 163,000 readers (for a regional publication, this is a great circulation rate).
At first glance the opportunity seemed perfect! But after doing more research we advised our client to pass on the opportunity. Why? Because the magazine's readers were all located in the southern-most part of the Hudson Valley region – several hours from the school. Ultimately the effort to do the story would have been waste of the school's resources knowing that the magazine's readers would not be enrolling their children in an upstate NY school.
Ad Rates
When print media was king, publicists would literally measure the height and width (yes, the actual height and width) of an article in a newspaper or magazine. They would then use these square inches to determine how much their client would have paid in advertising fees to receive the same amount of space. As we move to digital media, we can use this same tactic to compare the placement to the cost of how much a client would have to pay for a sponsored post or a link from the site.
However, as the Internet is flexible and constantly changing, determining how much a client might have paid for an ad is less-than exact. It's also not a consistent measurement across the board because some outlets may have their advertisers pay per click, per unique visitor, or by the size of the ad. We do our best to find consistent costs that we can compare to the secured placement.
Web Traffic
One of my favorite parts of working at an integrated marketing agency is that I have access to informative, results-showcasing data, such as how many people were driven to a client's website from our placements, or when direct traffic, or branded search traffic increases after a television news segment airs. You can also count any links obtained either directly from the placement, syndications of the story or even links to the page your business is featured on.
This data is great to share with clients, and it can also inform how we approach future PR campaigns. Perhaps there was a placement that drove 1,000 people to your website. We want to investigate what other kinds of story ideas this outlet would be interested in, and how we can secure another opportunity with the same or similar outlets.
Google Analytics and back link measurement aren't always perfect forms of measurement. There are plenty of instances where reporters can't/won't include a link to your client's website, so you have to look at other spikes in activity to see if they correlate to news stories. Of course, it's also true that the results of PR are not always immediate. Google Analytics can't necessarily provide data on the audience that read an article once, and later remembered your company when they needed your services down the line.
Setting Goals
Overall, the best way to determine the success of a marketing campaign is to measure the results against the initial goals determined by our team and the client. These vary depending on what a client's needs are, and why they're enlisting the help of PR professionals.
Perhaps they're a software company that needs more paying customers, a startup that's looking for additional funding, or a seasoned organization that's looking for more industry recognition. How we measure the success of any campaign relies heavily on the individual circumstances and the goals we establish together.
For example, we worked with an after-school program for grade school students that focused on STEM education. The organization approached us because they needed more funding, as their growing financial needs became more than a sole contributor could sustain.. We secured stories with regional newspapers, magazines and news channels about how this program was changing its students' lives.
As a result of the campaign, the program received a several thousand dollar grant months later from a local entrepreneur. He had read one of the articles, was inspired by the program's mission, and reached out to help. Although it wasn't immediate, in the eyes of our client the PR campaign was a huge success.
Measurement Is Imperfect But Not Impossible
There's no perfect way to measure the success of a PR campaign, because often times there are variables out of our control and several indirect metrics However, we can provide our clients with an idea of how successful a media relations campaign is based on clearly-defined goals, consistent and transparent updates, strategy refinement as necessary and a thorough analysis of the results based on multiple indicators.
We're curious – how do you measure and discuss the results of public relations campaigns?