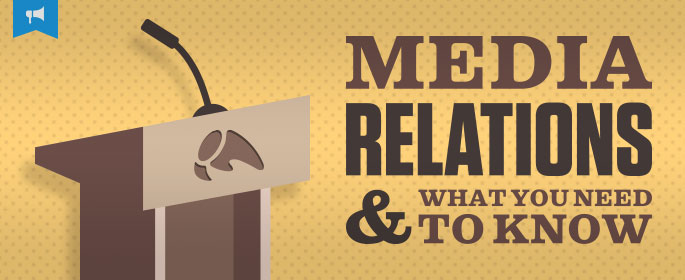 For a platform that we interact with daily in print, through TV, radio and online, a majority of people don't know the process of how news is produced and what's truly ailing newsrooms. With a better understanding of the current state of media, though, publicists can better work with press, and clients can better work with their publicists. Here are some things that you should know about the media today, from the perspective of a publicist.
1. How people consume news is changing
This probably won't come as a surprise, but according to the Pew Research Center, 4 in 10 Americans now often get their news online. This is only second to TV news as the most prominent news source, in a survey of all age groups. (source)
Online media is great for consumers. It allows them access to a variety of sources with just a simple search and a few clicks. Today, people are finding their news directly on Google, Twitter, Facebook and media outlets themselves, just to name a few options. In many cases, they can consume this content for free and easily discuss it with their networks.
While this is great from the consumer stand-point, there are key elements here that have made the role of a journalist different, if not more challenging:
More competition – The great (though often, not so great) thing about the Internet and social media is that anyone can develop content and push it to the public. Local stories that were once shared with communities by the media outlets are now being shared by the community members themselves. Likewise, the same applies to national stories, from nonprofit news to tech announcements and more. Journalists have to dig harder than ever for unique stories that will get noticed.
Real-time content – The running question for journalists now is, "Is it better to be first and be wrong, or be second and be right?" Consumers expect information right now, but it's when media is trying to meet that demand that mistakes happen. Take, for example, the Oscars "Best Picture" faux pas. As soon as La La Land was announced, reporters hit 'send' on their stories before the correction could be made and the award given to Moonlight. Now, that situation was certainly unprecedented, but every day, journalists wrestle with the need for speed versus the need to vet sources and fact check details.
Shifting content tastes – Attention spans have shrunk. People need less words, more pictures, sometimes even video. And now, journalists are often responsible for creating all of these content types.
Free content – Nothing in life is free. But when you scour the Internet consuming content, you expect that you're not going to pay for it. You should know, though, that someone spent their resources developing that content – whether with their time and/or money. With less people subscribing to newspapers, either in print or online, it makes it harder for media companies to pay their employees. This leads us to point #2.
2. Newsrooms are shrinking and journalists are leaving
It's no secret that the print news industry isn't doing too hot. The Bureau of Labor Statistics identified a 60% decline of people employed in the newspaper publishing industry between 1990 and 2016. (source) Media outlets are consolidating or shutting down operations, and both the remaining journalists and those let go are carrying the burden of this change.
In some cases, reporters let go are left looking for new opportunities. Seasoned professionals are competing with recent college grads for jobs and they're adjusting to the changing media landscape to appeal to future employers (see #1). Reporters have reached out to me about flipping the coin and becoming a publicist. This is great, because who knows the media better than a former media member?
Should a journalist retain their job, they're likely taking on more responsibilities. They're covering more beats than they used to, or they're stepping into the role of reporter and copy editor. They're picking up the camera, and producing the story in addition to being on-camera. No matter the case, there are fewer staff members to produce the same amount of content in less time (again, see #1).
3. For every journalist, there are 4 publicists (source).
If you think your email inbox is out of control, know that many reporters receive about 12,000 emails a year, or more! (source) This is crazy. Reporters, especially those at top tier outlets, receive dozens or hundreds of emails a day from a boat-load of publicists, and it's impossible for them to respond to each one. It's even more impossible for them to do every story that's presented to them, nor are all of the pitches even relevant to their coverage area.
No, this doesn't mean you should call a reporter to follow up on an email (please, just don't). If you understand the influx of pitches that media members receive, you will craft better pitches and subject lines from the get-go. Everyone can be more mindful of journalists' workload, and know that when a reporter does get back to you, you shouldn't waste their time.
4. Journalists have a job to do, too.
PR is earned media. This means that your brand isn't paying for the coverage, so you don't have final say over the content like you would in a commercial or print advertisement. The editorial direction is dictated by the reporter and their editor. What may have started as a publicist's pitch for a feature story on your CEO may become a roundup of many executives' rags-to-riches stories. This may happen for many reasons, such as:
The outlet recently did a similar feature story.
The interview with your CEO didn't provide enough details.
The outlet realized a different headline was more click-able.
The outlet received a lot of similar pitches and decided to combine them.
No matter the reason, it's important to recognize the efforts of the reporter and editor. They have no obligation to include your brand in their story. This is part of what makes media relations such a powerful tool because it's an unbiased validation of your brand and story.
The true key to working with media is developing relationships, and the best way to do that is by listening and learning. I am more effective and efficient at my job if I understand the needs of the reporters that I'm working with, whether that's being mindful of their deadlines or helping to connect them with sources beyond my own clients. I'm also better at my job when I can help to educate clients on how the media works. The more they learn about journalism, the more they can bring relevant story ideas to the table, engage with reporters and better assist with the process of securing placements.
For associations looking to learn more about media, I will be presenting at the Empire State Society of Association Executives' (ESSAE) Meetings, Membership and Marketing Institute on Friday, April 7. To register, visit https://essae.memberclicks.net/triplem.