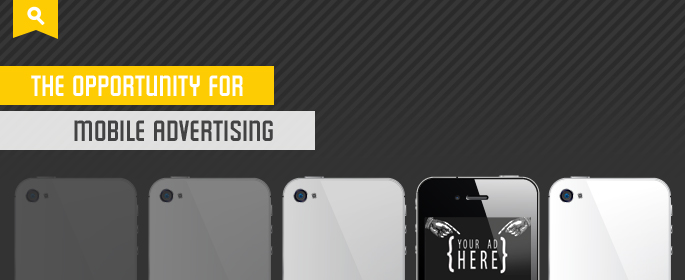 Last year, smartphone use spiked to the point of overtaking PC sales.
A recent Google study shows that 67% of smartphone users are more likely to buy from a brand with a mobile-friendly site.
I could bore you with lists of statistics cited in countless articles and infographics across the web, but you probably have other things to do today. Instead, I'll share several tools available to reach this ever-growing audience. Because behind every mobile device is a user, a potential customer for your business, and your online marketing strategy needs to include a plan to target these people. That's the heart of the matter.
Every time you don't reach a user coming from a mobile device is user you have lost. Probably for forever.
PPC Mobile Opportunities
Businesses of all sizes are finding success from PPC (pay-per-click) campaigns, bidding on keywords to display ads in search results. Because the only charges occur when ads are actually clicked, a properly-run campaign offers incredible return on investment.
Google AdWords (the tool used to run ads in Google search) offers a wide array of options to tailor-fit your advertising efforts to mobile users. First, campaigns can be set to target phones, tablets, and desktops/laptops separately, as well as segmenting by operating system, phone models, and specific mobile carriers. Cost per click often varies widely between desktop and mobile, so separating campaigns allows greater control over bids.
Next, a click-to-call number lets smartphone searchers call your business directly from an ad. When people search, they will see a "Call Now" button along with your ad and can click this to place a call directly from the search results page, and you are charged as a click. In September, one of our clients saw PPC leads double from last year at 60% lower cost per lead after the addition of phone numbers. Finally, mobile app extensions promote a direct link to download an app from the App Store or Google Play.
Note that the Bing Ads platform, which runs ads on Bing and Yahoo, also allows you to separate mobile and desktop devices and enable click-to-call numbers, although without the level of tracking AdWords provides. However, Microsoft is constantly updating the interface, so keep an eye open as new features are added.
Display Advertising in Apps
The average person's smartphone is loaded with ad-supported free apps, from weather to calorie counters to games. Graphic ads provide visible branding for your company as well as immense targeting options, allowing you to zero in on very specific demographics with inexpensive cost for impressions. These ads can either promote an app or link directly to a website campaign.
Here's an example of a well-targeted ad spotted in the Map My Run app. Gillette promotes a "free training plan," and after clicking the ad it takes you to a signup form. This ad is effective because it is reaching a user within an exercise-focused app who is more likely to click than someone playing Angry Birds.
Responsive Design Means Better Experience, More Conversions
If your website is not built in a responsive format to adapt to mobile screens, you are likely to be losing potential customers as soon as they land on the page. Having to zoom way in and scroll around on a site not optimized for mobile majorly detracts from user experience. With responsive design, a site changes based on the size of the device used, making it easier to navigate on smaller devices like tablets and smartphones.
Also, ensure ads direct users to the most specific pages possible. If someone searches for a "blue oxford shirt," you want to land that person on a page listing blue oxford shirts for sale, and not the homepage, where they have to go through multiple pages to get to blue oxford shirts. While this principle of relevance applies across all mediums, it is especially important on mobile, where users tend to bounce off pages more quickly and often are seeking more immediate information. Many brands with a separate mobile site end up redirecting users to a main page on a phone when they click a link to a specific page, reinforcing the value of responsive design for a universal URL across platforms.
The ROI Is There – Are You?
The smartphone-carrying audience continues to grow, and your marketing strategies need to adapt to reach these people. Do you have a plan in place to target them? If not, starting with a small campaign can help to prove the value of mobile advertising. Measure statistics, look at leads, and see the return on investment to prove the worth of putting your marketing budget toward reaching mobile consumers.