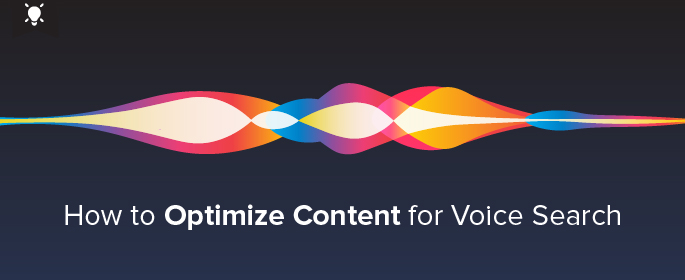 The search landscape is changing every day. From algorithm updates to Google employees dropping bombs on Twitter, good SEOs (search engine optimizers) are constantly updating and shifting their search strategy to keep up with the latest methods.
In the last few years, Voice Search has been a hot topic among SEOs, as the strategies and even content types these searches work well with are quite different than those from traditional search.
With the meteoric rise of voice assistants (Google Home, Amazon Alexa, and Samsung's Bixby, just to name a few) in the last couple years, optimizing your site for voice search is more important than ever.
But, the question is, how do you do that?
Optimize for longer, more conversational keywords.
Keywords are still king. They're just a little different than they used to be.
With voice search, organic searches are transitioning from shortened, keyword-focused queries (like "buy lego batman set near me") to longer-tail, more question-oriented searches ("Hey Alexa, can I buy the lego batman set at the Target down the street?"), due to the fact that people speak much more conversationally than how they type search queries into a search box. In order to keep up, marketers must also optimize their sites for these new phrase structures.
In order to do this on your site, look at your existing keywords and determine what kinds of things people might ask about these terms, rather than what they would search. Many of our existing keywords are statements – "Ikea in Connecticut" or "blue Nike running shoes." with the advent of voice search, we need to turn these terms into answers, like "where is the closest Ikea" and "where can I buy Nike running shoes." Check out places like Google's "People Also Searched" and Google Search Console's "search terms report" as well as keyword research tools like SEMRush to find these.
Figure out how you can fit into the existing voice search landscape.
According to Search Engine Land, 22% of voice searches are looking for local content and information, and 21% of searches are looking for fun & entertainment. 
If you offer a product or service that fits into those categories, center your voice search strategy around them.
Maybe you're a local service company, or a travel bureau, or a brewery that has live music every weekend. Dig into industry data, keyword data, and analytics from your own website or SEO tools to determine what people are looking for on mobile or in voice searches, and tailor your site and content strategy around that.
Remember Mobile First
Voice search is heavily mobile focused. In fact, Siri handles over 1 billion queries via voice every week.
Since the rollout of Google's Mobile-First update, making sure your site is crawlable and indexable on mobile is crucial to any SEO strategy – but especially your voice search strategy.
So if you're reading this and your website is not mobile-friendly, stop right now and go make your site mobile-friendly (we'd be happy to help with that 😉 ).
Create Great Content Around Common Customer Questions
No amount of links, keyword optimization, or tricks to increase dwell time can make up for crappy content. As they say, Content is King, and the best way to optimize for voice search (or any kind of search) is to create stellar content that is actually helpful and useful to your customers and target audience. Google knows good content from bad, and is far more likely to serve you as a result for a voice search if your content is great and answers the question the user is asking.
I've said this 1,000 times before to clients, and I'll say it again now:  if customers are frequently asking your sales or service team certain questions, they're probably searching them online, too. This is a search opportunity you cannot ignore – and now an even better opportunity for voice search. Create voice-optimized content around product features ("can I use HubSpot for X?"), pricing structures ("How much does HubSpot cost?"), FAQs ("What is HubSpot's customer service phone number?"), and others to help customers both before and after their purchase.
Bonus points if this content has a succinct answer to the question in the first paragraph, as this is the most likely content to rank for "position 0" results and also provides a great voice search answer.
Use Structured Data to Mark up Your Site
Structured data helps search engines locate, interpret, and index the information on your site in the way you want it to. Adding relevant schema markups gives voice search platforms as much information as possible about who you are, what you offer, and why they should present you to their users. And the easier it is for search engines to understand what you offer, the more likely they are to serve you in search results – both voice and text.
Optimize For Featured Snippets
Featured Snippets are the pieces of information Google pulls directly into search results, rather than having a user click on a page to learn that information. In the SEO world, this is often referred to as "position 0."
The most common type of featured snippet is a text result, and the average length of the result is 50 words or less. So, besides optimizing your site to rank for a topic in general, brevity and clarity within the content are key elements of Featured Snippet optimization. A common successful approach is to include the query itself within a header tag and provide a brief, clear answer directly below it. This makes it as easy as possible for search engines to find and pull your content into the Featured Snippet.
Don't Forget Traditional SEO
It's really this simple – if you can't rank for a screen, you'll almost never rank for a speaker!
That said, 95%+ of all featured snippets are sourced from websites found on page 1 of Google results. While you don't have to be the very top result, you almost always have to be in the top 10. This means that bread and butter SEO is still critical, even with this newer application.
Voice search results are also often sourced from Knowledge Box results. These are not structured snippets – they are actually sourced from the Knowledge Graph, Google's database of nearly 100 billion facts and relationships between entities: people, things, organizations, places, dates, etc. The best way to "optimize" for these is to make sure your data is accurate on the entities Google curates these facts from, like Google My Business, CIA Fact Book, WikiData, Wikipedia, IMDB, and more.
Claim & build out your Google My Business Listing & Bing Places Listing
Like I mentioned earlier, voice search is primarily focused around local information – where you can find things in your local area, where a specific business is located, etc. Because of this, it's imperative that your local business profiles are updated and as built out as physically possible.
Google is always adding new features to My Business, which they announce via their newsletters or as alerts within the Google My Business platform. For example, companies recently gained the ability to list their products and services right on their GMB profile. Google also loves companies that use its features, so make sure to take advantage of these as soon as they roll out.
In the end, local listings are yet another way to make sure search engines know what you have to offer, and an easy way for it to find and serve your site in search results of all kinds.
We've laid out a few of the most important ways you can optimize your site for local search. While things like question-based keywords, schema, and mobile optimization are all highly beneficial, it's important to remember that they all fall under one key rule of search – that creating a great, easy to navigate site that's full of content that helps your customers is the best way to rank for anything, on any platform.