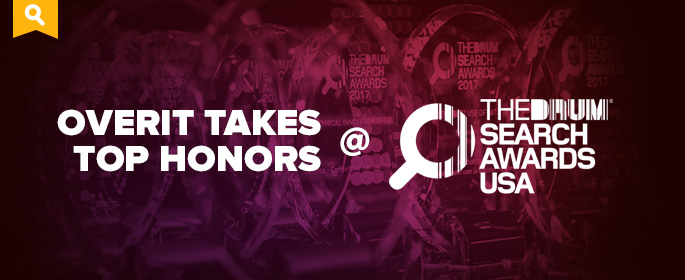 It was an unusually warm  September 20th in NYC. But for anyone in the search industry the hottest place to be was The Edison Ballroom for The Drum Search Awards USA.
The room was filled with some of the brightest stars in the search industry. Revered veterans and industry pioneers sat alongside exciting up-and-comers. To quote Purna Vijiri, chairperson and judge, for The Drum Search Awards USA, "There has never been a better time to work in search."
The competition ran the gamut. Finalists included agencies from around the country, representing clients ranging from worldwide brands to local small businesses. Awards were handed out to those who stood out from the crowd for their impressive results and the creativity and innovation of the strategy that achieved them.
That's why we at Overit are so incredibly honored to be named among the winners of the evening.
Overit was awarded Best B2C campaign for our work with Appolo Heating and Cooling, and acknowledged, with a second place commendation, for Best Integrated Campaign for language translation company, LinguaLinx.
We'd like to thank the academy…
Ok, no we wouldn't.  But we would like to thank our clients; Appolo Heating and LinguaLinx, as well as H&V Collision Center and Megalytic, which were award finalists for Best Use of Local Search and Best Use of Content, respectively.  
At Overit, we pride ourselves on redefining creative. Sometimes we think of that in terms of visual artistry, but The Drum Search Awards USA remind us that our unique brand of creativity extends throughout all that we do. While these awards focused on achievements in search, everywhere we look, the inventiveness of our team is on display. From content and data analysis, all the way through to the elegance of our developers' code.
We are inspired by one another every day. Learning to appreciate the beauty and artistry in each other's skillsets to become stronger through mutual understanding and collaboration. All of which allows us to, ultimately, deliver the best possible strategies for our clients.
Once again, these awards would not have been possible without the trust and courage of our clients. Their willingness to partner with us and together find the cutting edge of digital marketing in all of its forms is what allows us to create award nominated, and winning, campaigns.
Curious about what we did to be classified among the best achievements in the search industry? Check out our Appolo case study or get in touch and we'll tell you all about it. We'll also tell you about the award-worthy campaigns we can create for you!