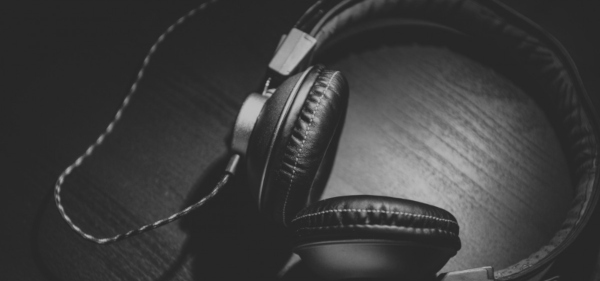 Like many others, the Overit Crew is working from home in light of the COVID-19 pandemic. It hasn't always been easy; even with video chat to keep us in touch with one another, an image on a screen can't substitute in-person interaction. Frankly, we miss being around one another. 
So how can we connect in a world that has made being physically close to others off-limits? At Overit there's one that sticks out because it is, after all, embedded into the company's DNA: music. We've been sharing the music that's making our days a little bit easier with one another, and we wanted to share it with all of you, too: 
So what about these specific songs is moving the Overit Crew? Only one way to find out. 
Anna Varney, Senior Account Manager
Artists: Grateful Dead, Billie Holliday, Ella Fitzgerald, Louis Armstrong
Why: "The Dead cover such a diverse range of sounds with a cool, otherworldly sensibility, from bluegrass to blues to psychedelic rock. I love that. On the flip side, some of those all-time great vocalists- the Holliday's, the Fitzgerald's, the Armstrong's- are just so joyful and romantic. I love that sound, and I love that feeling."
Michelle Dinsmore, Vice President
Artists: The Chemical Brothers, MIIA, Against the Current
Why: "These songs are tied to two parts of my life: one in the past, one in the future. The Chemical Brothers are a band I used to work with many jobs ago, so there's a nostalgia to it that I appreciate a lot. With the other music, it's really my kids- Braydon and Sierra-, it's their music. It isn't always my cup of tea, but it gets them dancing, and that's good enough for me!"
Lisa Barone, Chief Marketing Officer
Artists: Dermot Kennedy, Luke Combs
Why: "Dermot Kennedy is one of my favorite non-country artists and I've found myself listening to him quite a bit lately. His voice is haunting, his lyrics are gorgeous, and he's been doing a lot of Instagram Live sessions to help us get through this. The song ('What Have I Done') is sexy as hell. 
"'Does To Me' reminds you that the little things are often the biggest things. Having a few things that matter to you (even if they don't matter much to anyone else) offers a light and a feeling of gratefulness when you need it. "
Tess Cloud, Designer
Artist/Song: Blinding Lights by The Weeknd 
Why: "I like this song because of the beat and it makes me want to dance and sing. I heard it while driving in Alaska so it also brings back fond memories of the trip" 
Talia Cass, Account Manager 
Artists: Childish Gambino, Anderson .Paak, King Princess, The B-52s, Janelle Monae, D'Angelo 
Why: "While everyone is obsessing over Netflix's Tiger King, I'm over here consuming every second of Childish Gambino's new album 3.15.20. Don't get me wrong, I did watch every episode of Tiger King, but I've been patiently waiting for Gambino to release a new album since 'Awaken, My Love!' in 2016. Thank you, Donald Glover, for blessing us with new music during this challenging time. 
This pandemic also has me reminiscing about my favorite album of 2019, Anderson .Paak's Ventura, and King Princess has the queer love ballads we all need to help get us through a difficult time." 
Toby Dawes, Senior Developer 
Artist: George Frideric Handel
Why: "I have loved classical music all my life and Handel is very much my favorite composer.  Be it the Water Music Suite, or a Chorus from Judas Maccabaeus the tones and composition puts me in the right frame of mind to write code. I've been listening to this Handel playlist that is 14.5 hours so set on random it will last me a few days." 
Peader Cleary, Account Manager
Artists: Harry Nilsson, Paoli Utini, Mos Def
Why: "Mood, mood, mood. Nilsson's 'Everybody's Talkin' has that quintessential 60's vibe. Nutini brings a powerful vocal performance and songwriting that has an overarching message of unity on 'Iron Sky'. And 'UMI Says' by Mos Def has an arrangement that's ideal for a chill-out focused vibe. Plus, come on, it's Mos Def." 
Brianna Snyder, Senior Content Strategist
Artists: Fiona Apple, Natalie Merchant, Garbage, Pavement, the Beatles and Elvin Bishop 
Why: "It's probably all this isolation (which makes me BROOD) or it could be the time of year, but lately I want to hear songs I know from when I was young. Nothing new here. Just old jams and endless bowls of cereal."
Dan O' Leary, Digital Strategist
Artist/Song: Longview by Green Day
Why: "I've been listening to (and playing!) this one a lot lately. The first single from Dookie, this is THE quintessential song about boredom and feeling locked indoors. It's also one of the first difficult bass lines I learned and it steers the entire song. A must-have for any WFH mix."
Leanne Ricchuti, Public Relations Account Executive
Artist: The Avett Brothers
Why: "Their music always relaxes me and puts me in a better, clearer state of mind." 
Alex Tancredi, Business Development Associate 
Artist: Rodrigo y Gabriela
Why: "I'm a nerd for film scores, and this one from Pirates of the Caribbean scratches that nerd itch better than any other." 
Matt Smith, Digital Strategist 
Artist/Song: Morphine by Buena
Why: "Buena is one of my favorite 'get fired up' songs. I was turned onto this band a while ago and was immediately taken by the Saxophone Lead setup of this power trio and the energy they project."
Nick Quigley, PPC Specialist
Artist/Song: Gotta Jibboo by Phish 
Why: "Sometimes ya Gotta Jibboo."
Devin Dinsmore, Content Strategist 
Artists: Frank Ocean, This Mortal Coil, Ought, Royal Headache, The Zombies, Lower Dens
Why: "I've been into how versatile synthy music can be. Being mostly stuck inside in such an unusual and at times discomforting situation, the sort of eerie, ethereal synths in 'Chanel' and 'Kangaroo' has been…comforting. Frank Ocean is a favorite.
I've also been taking a lot of solo walks, and 'To Die in LA' and 'Desire' are great walking music with a driving synthesizer. 'Wouldn't You Know' is just a good old fashioned rock banger with a killer chorus, and 'Care of Cell '44' is the best Beach Boys song not written or performed by the Beach Boys."