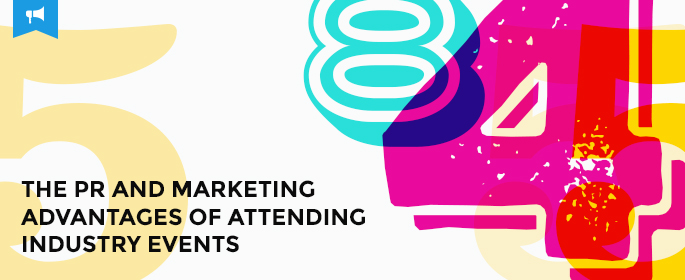 You can build a great business or service, but if nobody knows about it, it'll never take off.
Attending industry events, such as conferences and award shows, is an impactful way to solidify your presence and voice as an industry leader, network with peers and continue to build awareness of your company. Regardless of what sector your company falls in, there are likely hundreds of events to choose from regionally, nationally or worldwide. With the following advice and a bit of research, you can determine where your attendance is going to have the most valuable ROI for your business.
Research, Research, Research
Knowing what events to attend may seem overwhelming, especially given the hundreds of options that we mentioned. But by honing in on a few aspects, you can narrow down your choices and decide which events will be most worth your time.
Industry
It may seem obvious that if you're a consumer electronics company, you should attend the Consumer Electronic Show, or if you're a tech company, you should attend Techweek. But if your company is complex or falls into particular niches, such as healthcare software, you may have a harder time narrowing down which industry events you want to focus on. If this is the case, dig into what conferences or summits your competitors are attending or sponsoring. This will offer you a good starting point and as you develop relationships with your peers at these events you'll become more in-tune with what other conferences will best showcase your company or product.
Location
If you're an SMB or a startup, your budget to attend events is going to be limited. Typically, unless you're speaking at a conference, you'll have to pay the ticket price, which can range from $50 to over $1,000 depending on the caliber and length of the show. One way to ease the cost is to prioritize events that are easy to travel to. For example, Max Weber from Spotify recently spoke at Startup Grind Albany. He had just relocated to the Capital Region to establish the digital music service's Saratoga, NY office. To help raise awareness of the company's presence in the area, he decided to speak at a local event. This networking opportunity was a great chance for other business leaders in the area to attend an event close to home but still make impactful connections.
Audience
You're going to want to speak at events with attendees that are interested in your topic of discussion or product. For example, Overit consistently attends and speaks at digital marketing events both in the Capital Region and throughout the country. Other guests at these events are organizations looking to learn more about the services we offer, or are other digital marketing firms doing notable work within the industry. This opens opportunities to network with potential clients, while at the same time expanding our own knowledge base.
Set Goals to Make the Most of Your Experience
Industry events are a great way to learn more about what your peers are working on, what advances are being made in your field and how you can apply new tactics to your own projects. In addition to continuing your education, conferences and summits are the perfect place to network, build relationships and establish your credibility within the field.
Build relationships
Events allow you to meet new people with whom you share a common interest, whether that means they're another expert in your field or someone looking for a professional that can help them with the event's topic of discussion. Either way, this relationship could potentially lead to a new client or a new business partner. Making introductions in-person will leave a lasting impression as they'll remember the face with the name and be more likely to respond to your email after the conference. Although you may not immediately see the fruits of this labor, when a connection you made at an event needs your services down the line, they'll remember you and get in touch.
Establish credibility
The most ideal situation for attending events is that you're speaking about your area of expertise, the show is paying for your registration and travel, and your company's name is included on all of the event's collateral. By being a noted speaker, you're reinforcing to all attendees that you have a unique point-of-view and knowledge on the subject at hand. This is one way to establish credibility at a conference. But you don't necessarily have to give a keynote speech or participate in a panel to build your reputation at events.
At Overit, we regularly send employees to industry events, not only to network but to learn as well. Participating and blogging about our experiences at events such as Pubcon, ClickZ, Authority Intensive, and SearchLove Boston allows us to meet new people, learn from experts of various specialties and join conversations at the conferences and online. This builds the reputation not only for the company, but for the individual, as well.
The reason that there are hundreds of events to choose from is because the advantages of attending conferences are plenty. Making connections, learning, seeing new places and discovering new ideas will keep you feeling fresh and inspired. Once you've done your research and know what events you want to attend, make sure you make the most of it.