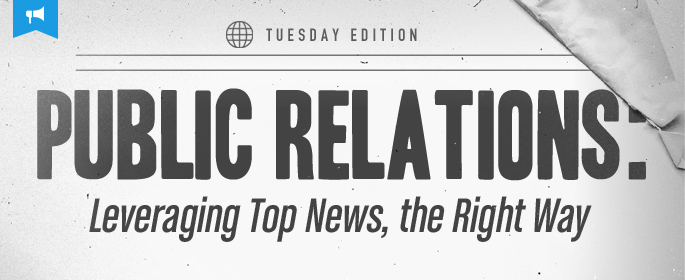 The overarching goal of public relations is a simple one – keep your clients in the news. This concept is made complex with an endless number of execution strategies. One approach that works well (especially when your clients don't have their own news to share) is to leverage the trending stories already in the news and use it to insert your clients into the conversation.
Choose the right news story for your client
Humans by nature talk a lot, so articles are constantly being published, leaving an overcrowded news space. As a PR professional you must be able to decipher which storyline is going to work for your client. For example, Target and Neiman Marcus' recent data breaches compromised customers' credit card information and made national headlines.
By monitoring the conversation in the media, consumers and reporters were concerned with how this incident happened and how they can protect themselves. This was a perfect opportunity for our client, the Center for Internet Security (CIS), a non-profit agency dedicated to helping organizations with their cyber security infrastructure.
Remember to be a resource, not a burden
Following the Target and Neiman Marcus data breaches, as the PR team for CIS we immediately began pitching our client. We knew CIS could offer reporters an expert opinion on the story and readers advice on how to protect their financial information. The best way to use this news to build relationships with reporters is to be succinct and provide them with material they haven't already learned or written about. In other words, don't waste their time.
As you probably noticed, the news about the retail breach was everywhere. Many reporters immediately covered the story. As a PR professional, it's your job to capture the attention of these writers with a different angle to the story. For instance, a NBC reporter wrote an article on the news relaying the specifics, i.e. "40 million people were effected," "Target released a statement," etc. We were able to gain her interest by offering a security expert who could speak about data breaches themselves, whether some go unannounced and how soon retailers should inform their customers of a breach. By providing her with information she didn't cover in her initial story, she saw CIS as a relevant resource and ended up including CIS in her follow up story.
The right storyline, to the right outlet, resulted in a mention from NBC News, ABC News, the Los Angeles Times and others. Not too shabby.
Don't miss the boat, be timely
One of the tricky elements of using other people's news as your own is that you don't have insight of when it's going to happen. This is one reason why PR professionals are constantly reading and watching the news, so that they can jump on a story before its too late. Any delay in offering up your client to reporters increases the risk that competitors will beat you to it.
One news angle that persistently captures the attention of media members is when research studies are released. Research that reveals statistics and specific data pertaining to a particular industry help make your point that your client is relevant. However, as there are a number of studies by various research firms constantly being announced it's important to leverage this information quickly.
For example, we worked with a client called imo, a free messenger app for Android and iOS users. This app had a number of competitors in the crowded messaging space, such as Whatsapp and Kik messenger. Early last year, Informa made an announcement that chat apps surpassed SMS by message volume, 19 billion to 17.6 billion respectively. We immediately drafted a pitch and began offering reporters a chance to speak with the founders of imo to discuss the shift of how mobile users are communicating on their phones.
Without acting quickly, the competing messaging apps would have been included in stories highlighting the "death of SMS" and the "rise of chat apps." Instead, our team was able to include imo in articles about the research, including one in TechnoBuffalo.
Remember to be human first, publicist second
There are always going to be news stories, with articles in every outlet by every reporter. And as much as you wish your client could be in those stories, there are some instances where you need to restrain yourself, as you want to be remembered as being supportive, not desperate by reporters and readers.
A little over a year ago, Hurricane Sandy hit the east coast impacting thousands of people and killing about 160. This was huge news. Thousands of people across the country wanted to help and send support to those whose homes had been ripped apart. Brands immediately formed partnerships with the Red Cross and other charitable programs. This is as far as the brand/charity aspect should go. From a PR standpoint, you should never try to capitalize on the devastation of others. Somewhere along the line, though, some brands forgot this and began pitching about their "good deed" to get their name into the news.
In a situation like Hurricane Sandy, reporters will research the ways people can donate and will reach out to you if they are looking to round up all of the brands participating in the relief effort. That is when you should share your good deed, but never before then.
To summarize, you need to constantly monitor the news, which can be a full time job (a reason you need a PR team!), and look for ways to insert your client into relevant stories. But in order to do so effectively, look for different angles to the story, offer useful information, be timely, and don't be so eager that you forget to be sensitive.