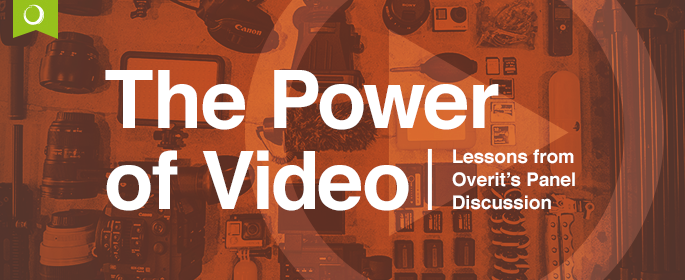 Those of us born within the last 70 years, we grew up watching television, commercials, TV shows, and movies. We remember the cheesy classic '80s commercials for Doublemint Gum encouraging us to "double your pleasure, double your fun!" They stuck with us for years, and we still get nostalgic thinking about them.
Video, as an art form, has evolved drastically since those early commercials. The accessibility of tools to create video has become much greater, with tools now more affordable and more available than ever before. This has helped to fuel the evolution of video further. Video has long been recognized as a great way to market services, products or to get a point across in a creative and compelling way, but only in this past decade have we seen video integrate into everyday life in such a constant, and even personal way.
With the advent of smartphones and high speed internet services for portable devices, video content and video advertising are now at the fingertips of every consumer. Video lives directly on our devices, with us wherever we go. The availability and affordability of video has been a blessing and a curse. ANYONE can create video… so a lot of bad, boring video is being made. And because we as consumers are exposed to so much content all the time, we have become impatient, and the attention spans of these younger generations are dwindling.
What does this mean for marketers? How can we best leverage these opportunities? How do we avoid making poor videos with no audiences?
I had the pleasure of sitting down and discussing some of these topics with several others last week during Overit's The Power of Video panel discussion (get the video here or watch at the end of this post). Joining me on the panel were Emma Corbett, Director of Communications, Digital Media and Brand Consulting at Planned Parenthood Mohawk Hudson; and Deborah Fasser, Vice President at Corning Place Communications.
Let's explore the common themes from our conversation:
Content is King
It's easy to assume you can present an idea or a concept in front of a camera and get results. It's just as easy to have a great concept for a video, and poorly execute it. To create a good video, we have to be storytellers. Break down a video to its basic form and you will find its essence is a great story. Both Emma and Deborah shared that they've used their iPhones to shoot content and have both seen great results. They didn't require fancy, high-priced cameras, only their smartphone. This shows that the amazing content will always trump production value. I can shoot a multi-million dollar video with the best cameras and actors, but if the idea they are conveying is not strong, it will not leave a long-lasting impression with the viewer.
For marketers and brands, this is great news! It means ANY of us can create compelling, impactful video. But there is a catch…
Great Content Deserves Great Visuals
Once you have the idea, it's up to you to make your vision come to life (often with a restrictive budget). You can take this idea and make it work with a shoestring budget and it could work. The question I pose to you is, what happens when you take a great concept and also use better production value? This is where you can create impactful videos that can reach targeted demographics and surround your brand with the quality we all strive for.
At Overit, we understand the struggle brands face because we face it everyday. We are constantly working to create great content, better ideas, better stories and even better visuals that rest within our clients' budgets and wildest dreams.
Creating content for a video that can reach viewers often takes many revisions, refining, and even killing ideas that we love in order to create something better.. In short it is not easy…but it is rewarding!
Artistic Choice vs. Budget Limitation
As mentioned above, sometimes production value (are we going to shoot with an iPhone or a an Arri Alexa or a RED?) is determined by budget, but it can also be determined by artistic choice.
For example, if I am shooting a commercial for a banking client and want to make a connection with the audience and a family, I may decide to use a more "intimate" method of filming like with a smartphone. I might show them holding up a cellphone filming themselves and use that footage from the phone while they are at the beach taking a family photo or video. Then, I would cut to them putting the camera down and running toward the beach using a higher-quality camera. This would create a connection in one moment with the family that we all can relate to, but then show the rich visuals of them enjoying their time after with a better camera and lighting setup. When it comes to production values, it doesn't have to be one or the other.
See this example from Citbank where they were able to combine different styles of filming.
This is just one example of using different tools in the right way and time to utilize its strengths to better tell a story or show a product.
For those who use iPhones or less expensive cameras and lighting for their videos, if the content is solid, then there is a good chance you can achieve your goal with your video. But in my opinion, it's better to have camera and lighting as an artistic choice instead of a budgetary restriction.
Using Video For Your Brand
Your brand is important. The product, or message you want to convey is important. The question to ask yourself is — how can you use video to combine the two in a way that resonates with your audience?
We know that video is powerful when wielded properly. For a brand, video has the power to serve a multitude of purposes. From product videos to customer testimonials to brand essences videos to how-to videos and explainers — the opportunities for brands to use video to not only tell a compelling story but to ENGAGE are viewer are limited only by your imagination.
We get excited by video. We hope you do, too. We hope that as you continue to dream up new ways to incorporate video into your marketing mix with much thoughtfulness and consideration for how it is telling your story. After all, a paintbrush is only as good as the painter who uses it.
[Unable to attend last week's panel discussion? You can watch it all right here!]