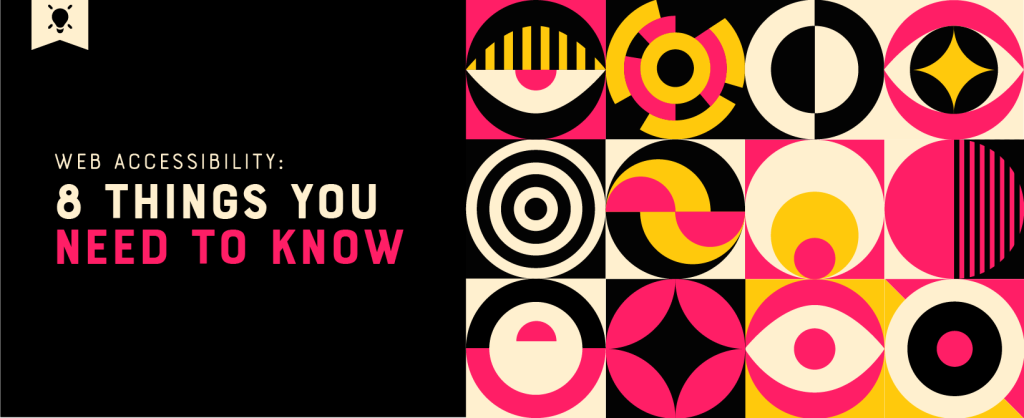 What is Global Accessibility Awareness Day?
A week from today on May 20th, is the 10th annual Global Accessibility Awareness Day (GAAD), a day dedicated to promoting digital accessibility and inclusion for ALL users, including the more than one billion people with a range of disabilities and/or impairments. Check out their website and learn what YOU can do to help promote Web Accessibility leading up to GAAD.
What is Overit doing to promote Web Accessibility and GAAD?
To help promote and celebrate GAAD 2021, Overit will be hosting a live Q & A Webinar with Senior Digital Strategist Dan O'Leary and Overit Vice President Michelle Dinsmore. They'll recap from Overit's well-received Roundtable held on Web Accessibility two years ago in 2019, and bring you up to date with some of the more recent changes and court cases since then.
Watch this webinar here: 
What is Web Accessibility?
Web accessibility means different things to different people and stakeholders. Broadly speaking, it touches upon at least 4 different areas:
A set of legal expectations
An inclusive design philosophy
A set of technical standards and Best Practices for web development
A component of Risk Management and DEI (Diversity, Equity, Inclusion) initiatives
What are the relevant legal frameworks?
Federal:
Within the United States, there are 2 major federal laws that impact web accessibility:
Sections 504, 508 of Rehabilitation Act (1973, 1998, 2018): This law created the first clear accessibility requirements for the Federal Government and their Information & Communication Technologies (ICTs).
Americans with Disabilities Act (Title III) (1990): This law (and within it – primarily Title III) helped to expand accessibility requirements beyond just Governmental institutions, to include all "public accommodations".
State:
Within New York, NYS P08-005 is the relevant requirement for all NYS managed and affiliated websites. It specifies a specific set of checks and timelines for monitoring of existing websites, as well as requirements for the creation or procurement of new websites.
International:
Within the European Union, the European Accessibility Act (2016) specifies web accessibility regulations, including those for private businesses.
What are the WCAG Standards?
Some legal frameworks (or the courts themselves) will refer (or defer) to WCAG 2.0/2.1 standards. WCAG stands for Web Content Accessibility Guidelines, which are developed by the W3C (World Wide Web Consortium), the organization that governs the technical standards and infrastructure of the World Wide Web.
These are global, best-in-class standards for Web Accessibility. Version 1.0 was released as early as 1999. Since then, Version 2.0 was published in 2008 and Version 2.1 was released in 2018. The latest version, 2.2 is pending for 2021 publication.
The WCAG 2.0/2.1 standards are organized by 4 main Principles, with 12-13 specific Guidelines falling under those 4 areas. For each Guideline, the standards identify testable criteria for reaching A, AA, and AAA levels of conformity (AAA is the highest level of conformity).
What are the 4 Main Principles of Web Accessibility?
The 4 main Principles of Accessibility ensure that websites and other similar technologies are inclusive to all audiences. To ensure this, regardless of user, web content must be:
Perceivable: Information and user interface elements must be perceivable in more than one way and presentable to users in a manner they can perceive.
Operable: User interface elements and navigational menus must be operable in more than one way, and operable to users utilizing keyboards, speech readers, and other assistive technologies.
Understandable: Information and user interface elements must be understandable to users, including those with a range of sensory and cognitive impairments.
Robust: Webpages and other ICTs must be robust enough to be interpreted by a range of user agents, including assistive technologies.
What Kinds of Disabilities and Impairments are Covered?
It's important to understand that Disabilities and Impairments exist on a spectrum, from mild to severe and from temporary to intermittent to permanent. Different users' experiences online will vary from user to user and may change over time.
We can broadly classify the types of impairments into 3 main categories.
Sensory Impairments: This includes visual and auditory impairments that users may have or experience.
Motor Skill Impairments: This includes movement, touch, and speech impairments.
Cognitive/Neurological Impairments: This includes user impairments regarding comprehension, focus, distractibility, light/motion sensitivity, and other neurological conditions.
What Should We Do Regarding Web Accessibility?
If you're a stakeholder within a business or organization that maintains a website, here are some basic and actionable steps you can take regarding Web Accessibility.
Roadmap for Web Accessibility:
Get informed: Review WCAG standards, read blog summaries, ask questions!
Put together a Website Accessibility team, with at least one executive and one technical stakeholder.
Begin a paper trail and document EVERYTHING.
Develop a Website Accessibility Action Plan.
Contract an independent auditor for website assessment.
Identify highest priority action items.
Plan development timeframes to implement needed changes.
Implement needed changes.
Create and publish a Statement of Website Accessibility.
Monitor website for accessibility issues on an ongoing basis – quarterly to annually.
Adopt Accessibility as a key website/digital marketing cornerstone in your organization.