Turning Up The Heat, Overit-Style
Sales needed to heat up. We came with a marketing furnace.
Appolo Heating partnered with Overit to increase its brand awareness and sales of its HVAC installation, emergency, and ongoing maintenance services. Overit created and executed a comprehensive, integrated marketing effort that merged traditional tactics with digital efforts. The result: New customers, re-engaged customers, and more comfortable homes in every service region.
Overit + Appolo Heating.
20%
increase in replacement business year-over-year.
10%
increase in service business year-over-year.
31%
Increase in advertising leads year-over-year
43%
decrease in cost per conversion YOY
12%
growth in organic traffic.
180%
decrease in cost per conversion YOY
159%
Increase in goal completions over a six month period
33%
Increase in new users to website over a six month period
Updating a Visual Identity
Initial efforts included the modernization of the brand's aesthetic. Interpreting the logo as a home with heat radiating from it, we revised the proportions of the home's structure, straightened the curvature and perceived wobbliness of the home, and improved the use of negative space. Typefaces were adjusted to present a cleaner, more modern look that conveyed a stronger sense of professionalism.
Our visual branding efforts also incorporated the company's new tagline, the result of a branding competition held internally at Appolo Heating.
Redesigning the fleet
Our finalized branding efforts were carried over to in-print, online and on-the-road brand appearances, including in the redesign of Appolo Heating's vehicle wraps.
Creating a Smarter Presence
AppoloHeating.com is the main destination and source of information for many potential customers. Overit's team planned, designed, and developed a custom website to showcase all of Appolo Heating's services for both residential and commercial customers.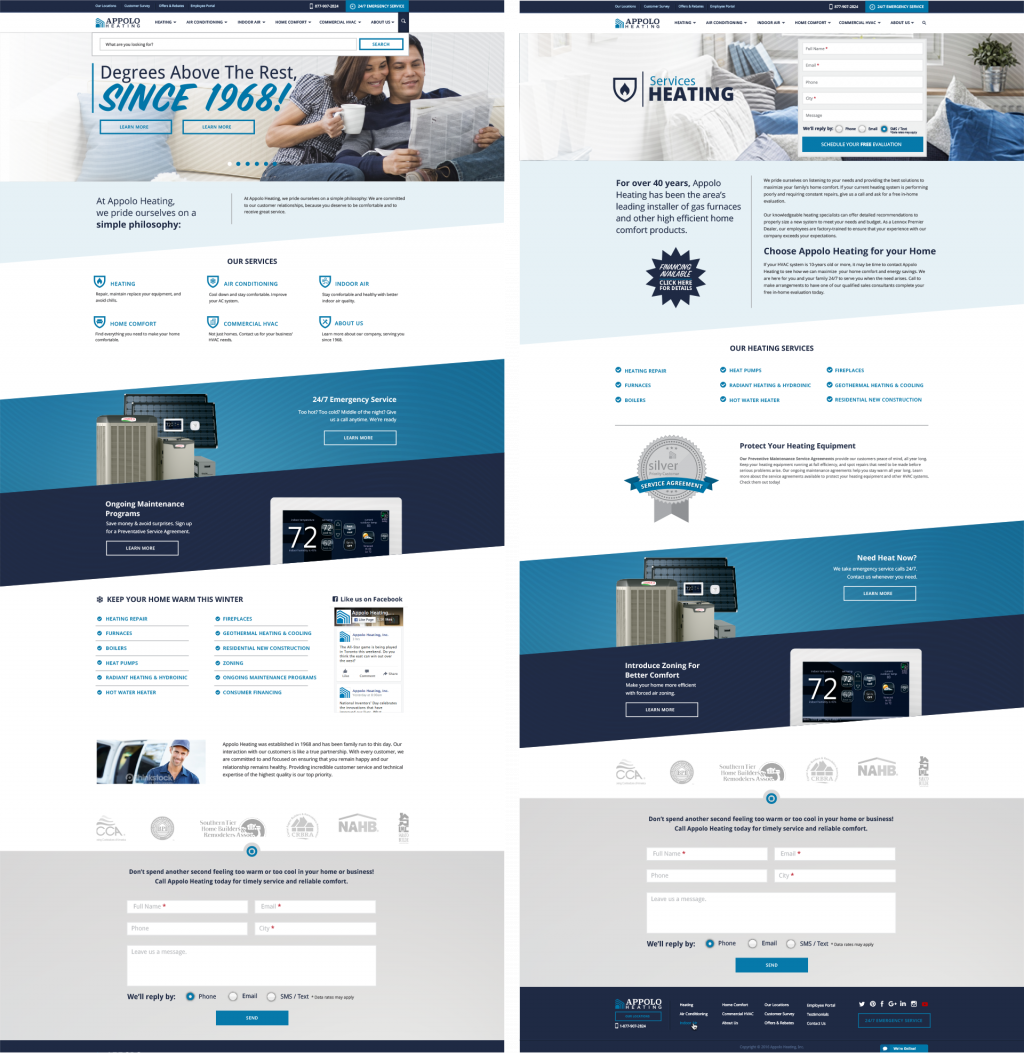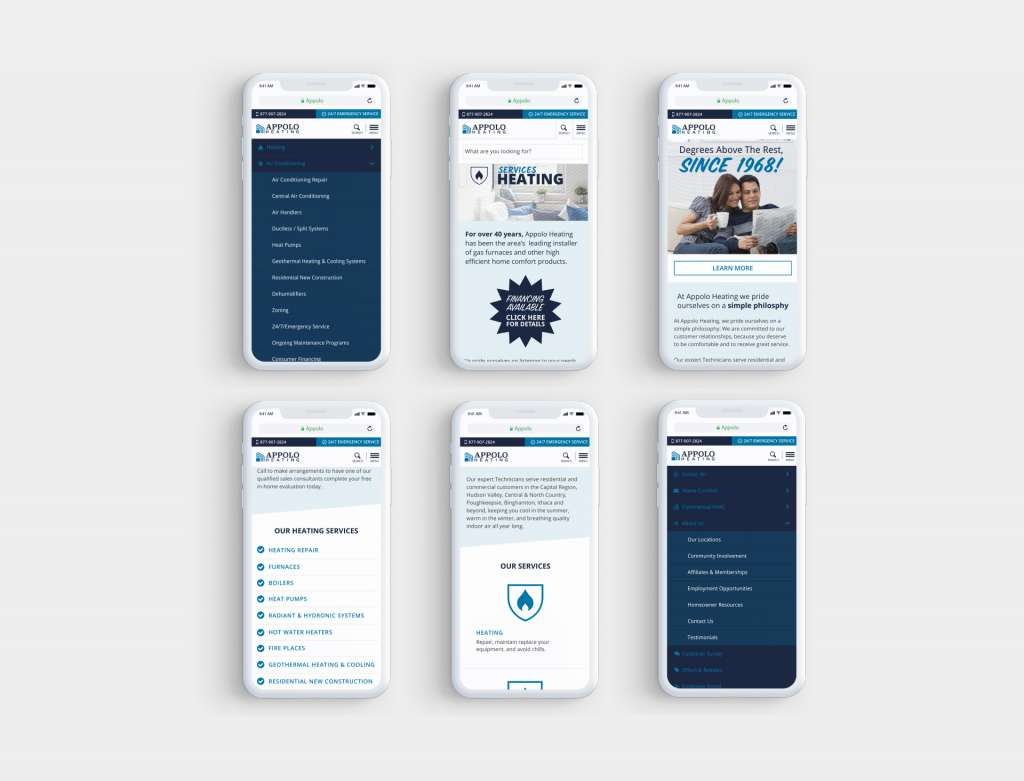 Planning for All Use Cases
Our redesign followed a comprehensive review of the existing website that identified key areas where content and search engine optimization could be improved, along with the need for clearer paths for customers to convert.
The new site expanded Appolo's architecture to target search phrases homeowners are using to find experts for all components of heating and AC systems in various locations throughout upstate New York. Ongoing search engine optimization efforts included the addition of a blog that consistently demonstrates Appolo's expertise in its field. Collectively, this content strategy has successfully drawn 24,394 new organic users to Appolo Heating's website, resulting in 26,197 organic sessions and 70 goal completions.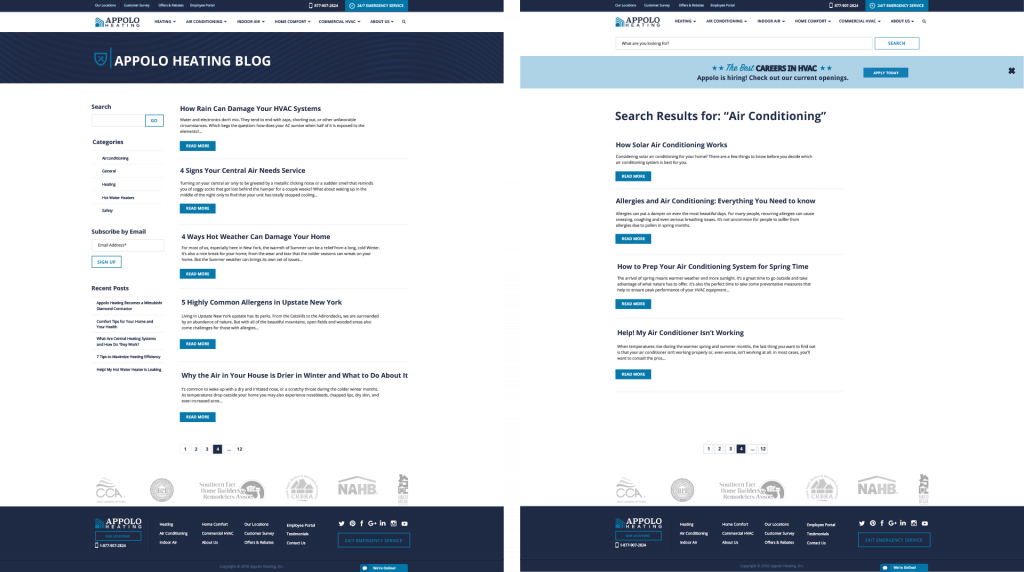 Heating Up Online Advertising Efforts
Overit's comprehensive online advertising efforts target homeowners of all HVAC needs. Search advertising, display advertising, intent-based display ads, Facebook ads, and video preroll market to customers seeking HVAC options in the Capital Region, Vestal, and Wappingers Falls areas. Our online advertising campaigns were supported by extensive custom ad design using a variety of digital formats, including static display advertisements, animated HTML5 version, pre-roll advertising, and more
Meanwhile, seasonal offers and limited-time-only specials were promoted using custom landing pages and design assets created to attract the attention of homeowners in Appolo Heating's target service areas.
Close collaboration with the client allowed us to adjust budgeting and targeting strategies in real time to ensure we were maximizing spend by location and moderating our impression share and targeting based on locational workforce needs.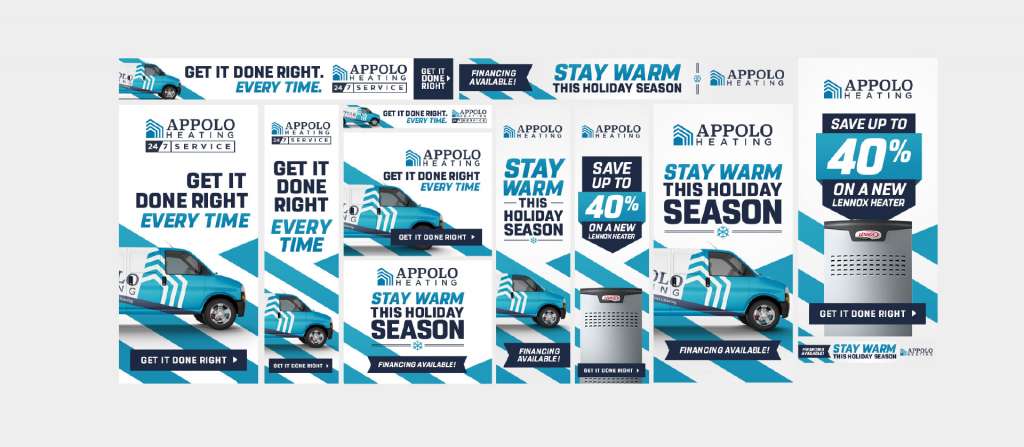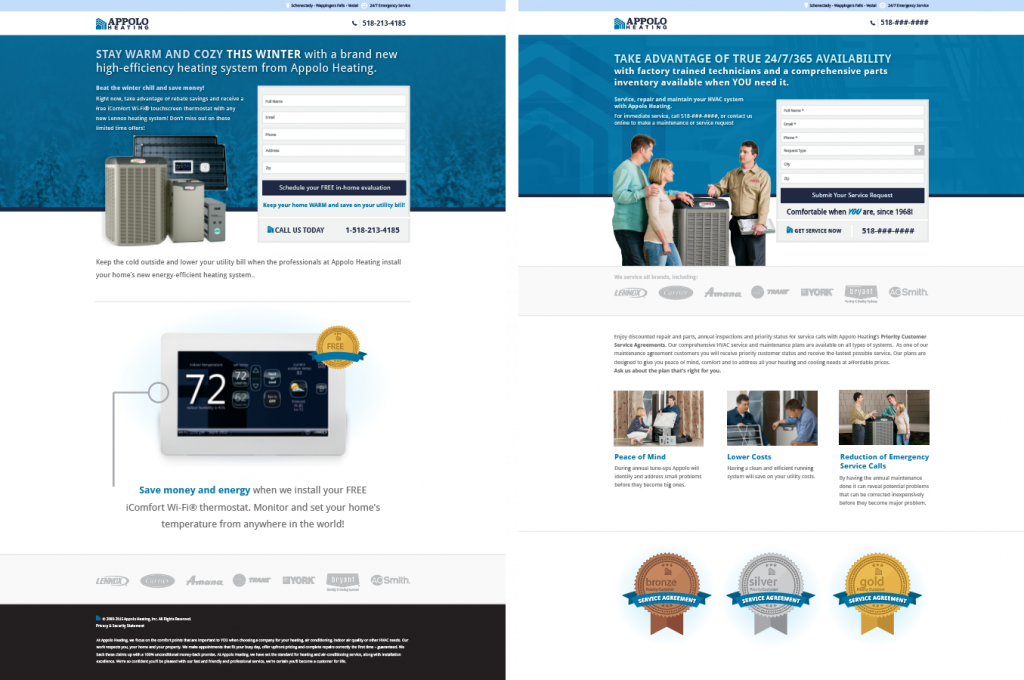 Developing a Sonic brand
Over time, we sought to create a unique brand footprint in the marketplace in a medium none of Appolo's competitors are represented in. Close collaboration with the client led to the development of a sonic mark–"Uh-POL-ohhhhhh"–that would elevate our radio and TV spots and linger in the memories and minds of customers and prospective customers in the market.
The result: A unique sonic brand derived from a catchy tune. We developed a variety of uses for the mark, such as using it as the basis for a custom soundtrack composed for a new brand spot and a visual execution in digital and out-of-home ads to put the mark's melody in the mind of everyone who sees the ad. The versatility of the brand means it can be applied in serious, formal and sentimental settings, in addition to funnier, fun and light-hearted ones.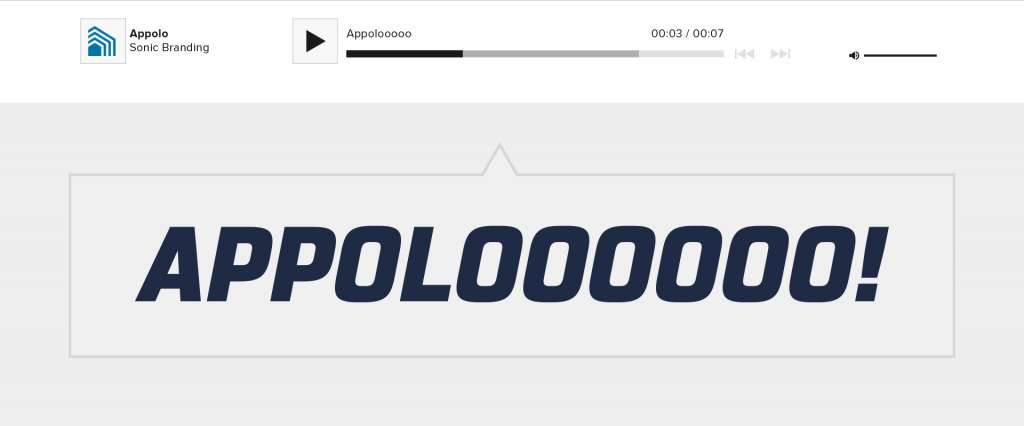 Email Marketing
Over the years, Appolo has serviced thousands of homes around the Capital Region, Vestal, and Wappingers Falls areas.
Beyond an initial follow-up email for technician feedback, Appolo didn't have a way of maintaining communication with customers.
Overit's team developed and deployed a re-engagement campaign for past customers by email that received an average open rate of almost 45% (double the average within the industry) and 7.5% click to open rate. This led to increased engagement from customers, new appointments for service, and increased value per customer.