Innovation Through Animation
Creative & DIgital Marketing
Giving a brand new life
With one eye on new digital marketing techniques and another on expansion into new markets nationwide, Catseye Pest Control sought a comprehensive multimedia marketing strategy requiring the talents of every Overit department.
Big results.
14
Animated brand characters
64%
Increase in paid search leads
40%
increase in time on site
65%
Decrease in average cost per lead
62%
Increase in unique page views
20%
Increase in phone leads via website
MARCOM: Gold Award

Business to Consumer Website

Albany ADDY Awards: Elements of Advertising

Animation or Special Effects

Empire Awards: Increasing Revenue & Growth

Online Media

Capital Region MARCOM

Advertising Campaign

Albany ADDY Awards: Digital Advertising

Social Media Campaign

The Telly Awards

Go Wildlife Spot

Albany ADDY Awards: Digital Advertising

Advertisment Promotion

International Summit Awards

Consumer Service Website
Stalking Our Place Online
An ongoing online advertising strategy incorporates search, display and video campaigns, tailored to reach people based on region and specific pest problems. The new website places an inspection request form highly visible on each page, which has increased lead generation. Custom landing page and ad campaigns promote offers by pest, targeted by searcher intent and interest, with segmented remarketing to drive back users who are researching other brands after visiting the Catseye site.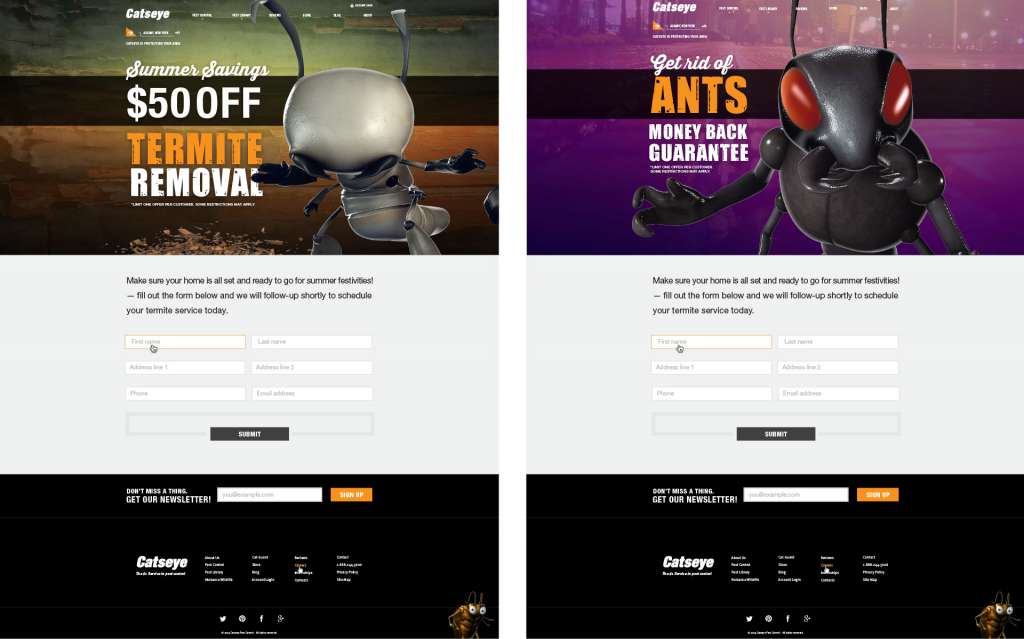 Our SEO Approach
Catseye engaged in a comprehensive search engine optimization campaign to help the brand diversify organic traffic for non-branded terms, increase the strength of the Catseye pest library, and to assist with launching new locations.
Overit began the campaign with a thorough site audit to identify all technical requirements and content-based opportunities, with a strong focus on conversion. This SEO audit identified a series of action items including a complete site migration, link clean-up, opportunities for on-page optimization, improved CTAs, schema integration and other initiatives.
A Library of Pests
Understanding customers do 57% of their research online and self-directed, Catseye gave consumers the information they needed to associate the brand with expert-level pest control. A comprehensive pest library was built, providing consumers with information on key pests and nuisance wildlife, with custom illustrations for each common critter.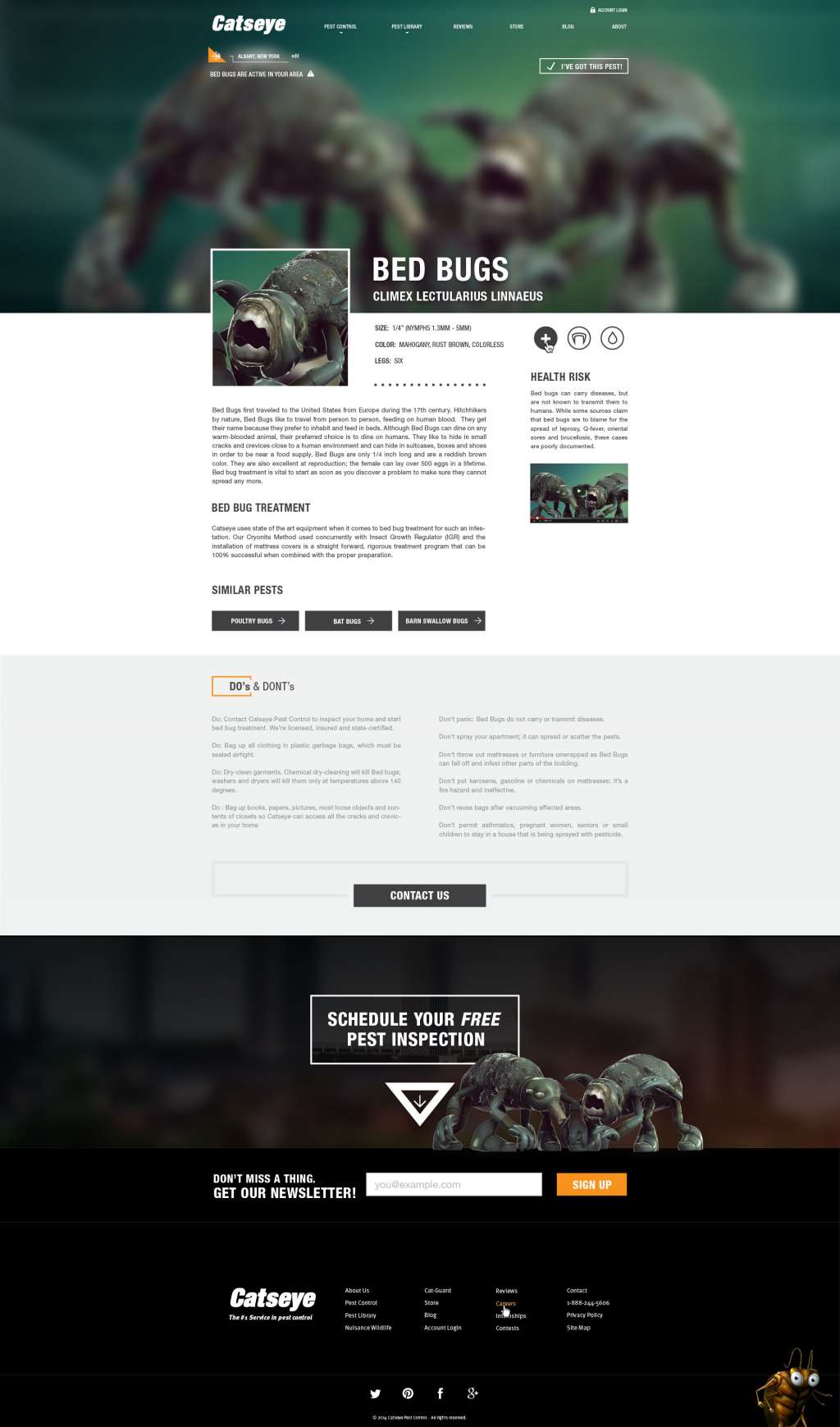 Be National But Feel Local
To localize the national brand, Overit used innovative geotargeting capabilities to customize a user's experience based on their viewing location. This allowed customers in New York's Capital Region to see backdrops of the Albany skyline, while users from Southwest Florida saw sandy beaches.
Geotargeting was also used to ensure people within service regions saw a phone number with a local area code. These numbers tracked whether visitors converted via organic search or online ads. These subtle touches gave the national brand a local footprint in specific service regions. Responsive design allowed the site to scale to a user's device.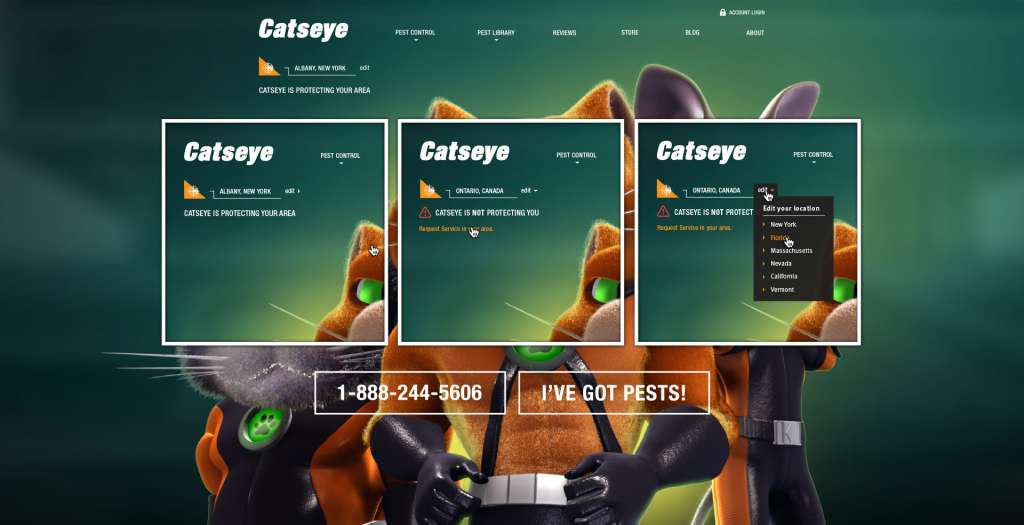 Character Design
14+ characters were created to give life to Catseye. From modernizing the Catseye mascot Caddie, to introducing sidekicks Brainy and Brawny, to creating the villains they would battle on their way, these characters brought personality, fun and fight scenes to the brand. Each character was first sketched by hand before becoming a 3D sculpture. Once approved, these models were refined and simplified, rigged up with a skeleton and facial controls, textured, furred or shelled, and made ready for animation and rendering. Each character took 80 hours or more to complete!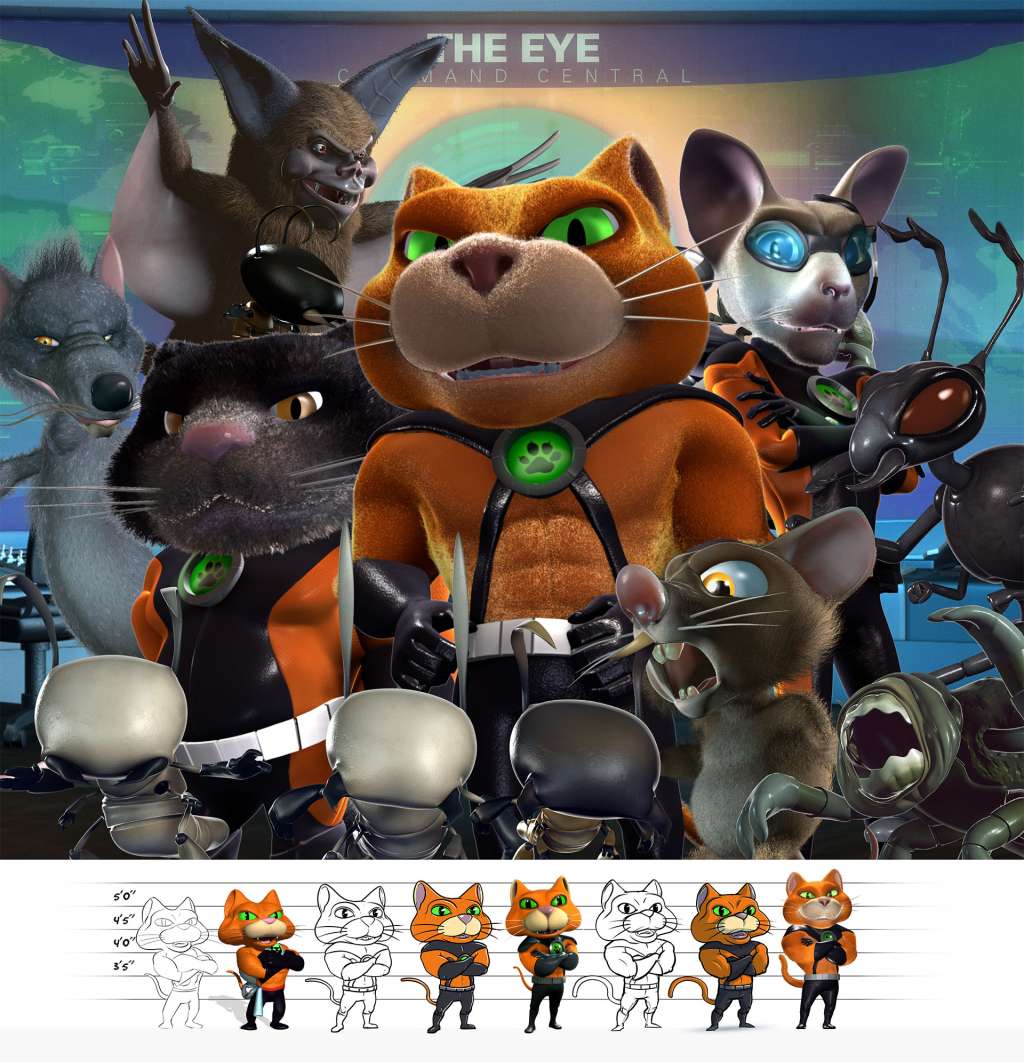 Finding The Right Personality
Although discussions were had during the creation process, finding the true personality and voice is always a challenge. Multiple casting sessions were needed to find the right person to bring each character to life.
It was essential to the project that the voice actors had a similar repore to that of the characters on screen. Personal chemistry was as important as that of the characters themselves to sell the believeability of the Catseye world. These hand-crafted characters were utilized in 6 TV spots, a 7-minute cartoon pilot and a multi-level video game.
The Catseye Mobile Game
The mobile game and cartoon were standout marketing pieces for Catseye and were used to develop the characters, their story and to build general brand awareness. The game was created using 2D artwork drawn in Adobe Illustrator for the backgrounds and pre-rendered animation sprites of the characters from their 3D models. The game was built in Corona's game engine.
An Animated Pilot
"Clawz and Effect" is Catseye's 7-minute, fully animated pilot following Caddie, Brainy and Brawny into their very own underworld and introduces us to new animated villians. Overit was responsible for full character and plot development.
Public Relations & Social Media
Overit's social media and public relations teams built the company's online fan base and, most importantly, built conversations around the brand. Creative story angles helped the brand land coverage in a variety of media outlets to drive awareness to services and its involvement in the local community.