Driving a
brand
(& region)


forward

Creative & DIgital Marketing
Fueling a community with new mobility options.
When the Capital District Transportation Authority (CDTA) retained Overit as its Agency of Record it never could have known the success or passion that partnership would ignite. More than five years later, and with a second AOR contract, Overit and CDTA work together to unite a region around the joy of discovery and exploration.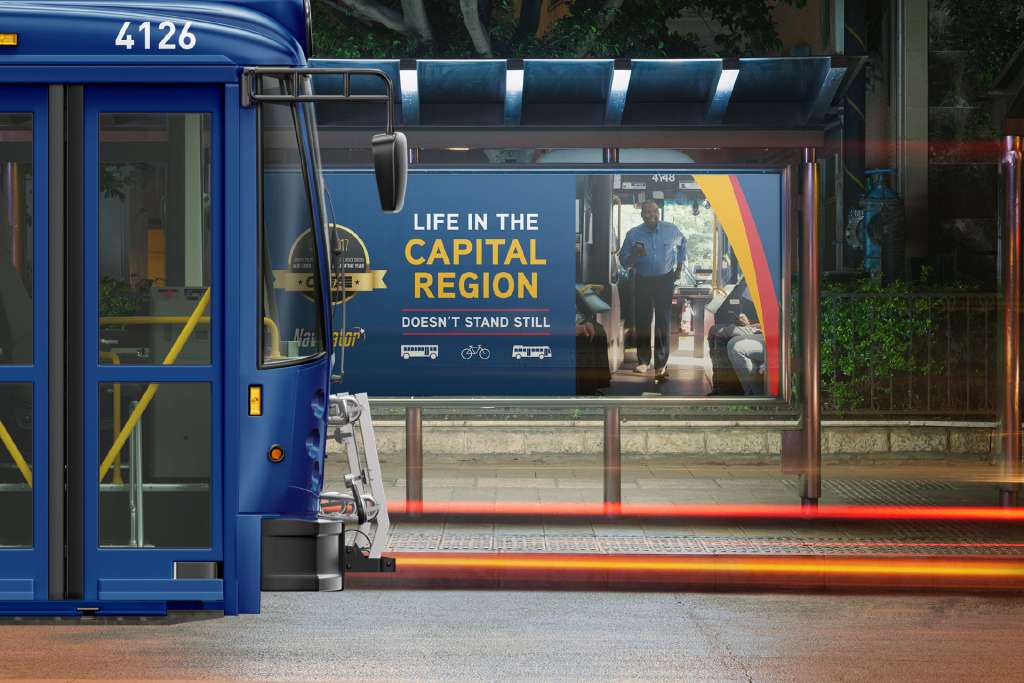 Evolving a Brand – One Ride At Time
With nearly 17 million riders, 690 employees, and a system of successful mobility programs, CDTA has been rooted within the community for more than 50 years. It was time for a brand evolution. We wanted to help the community see CDTA as "more than a bus company." That meant moving away from product-focused messaging and moving toward a higher-level sense of thought-leadership to position CDTA as a leader in technology and innovation. Overit developed new messaging themes and laid out how they would be applied across audiences. The new messaging became the basis for future ad campaigns, yearly marketing plans, collateral, and all internal and external touchpoints.
To coincide with the new messaging, updated visual brand standards were created to "bridge the gap" between old CDTA and where the brand was moving. A new visual identity was created to give a sleeker, more cohesive brand look. It also included visual templates to help CDTA create ads on-the-fly.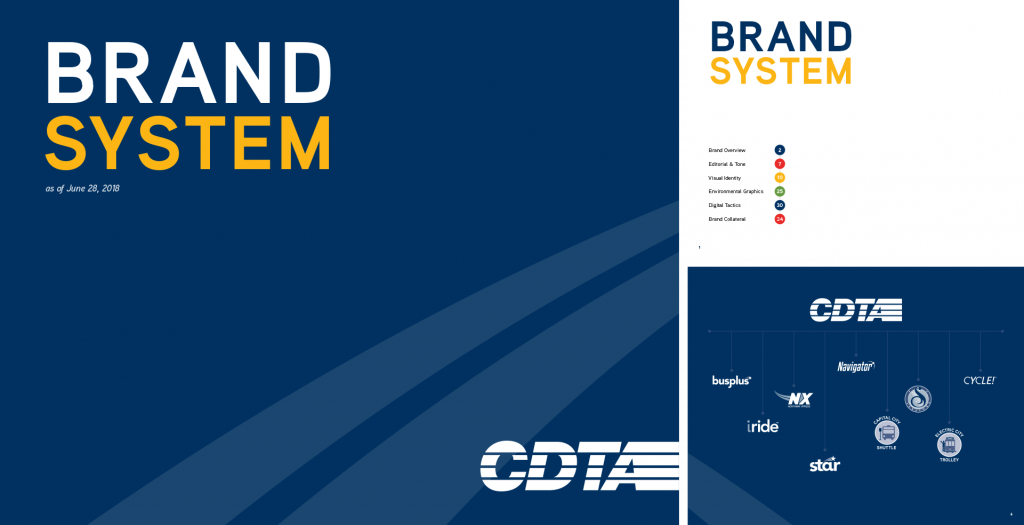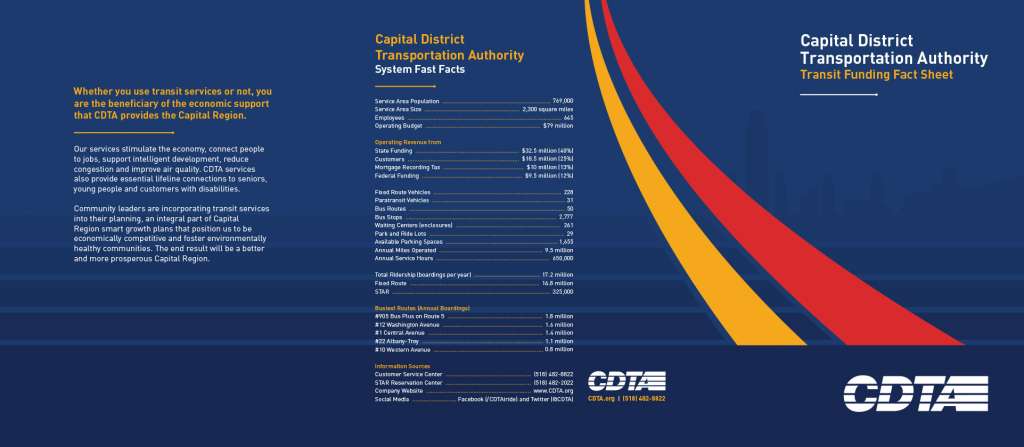 Roll Out: Navigating Smarter, Faster, & Better
Overit worked with CDTA to roll out Navigator, the transit organization's smart card and mobile ticketing system that allows customers to load funds directly onto a reusable card to pay their fare — a major initiative for both CDTA and the community.
Our team was involved in Navigator from its original idea to full execution. We worked together to create the mood for Navigator with the original teaser video, using motion graphics to create intrigue and excitement; leading the voice and messaging of all public-facing materials; developing the internal training collateral required for rollout; contributing to and helping develop the strategy for online advertising, PR, and social media efforts; as well as helping with event planning and coordination.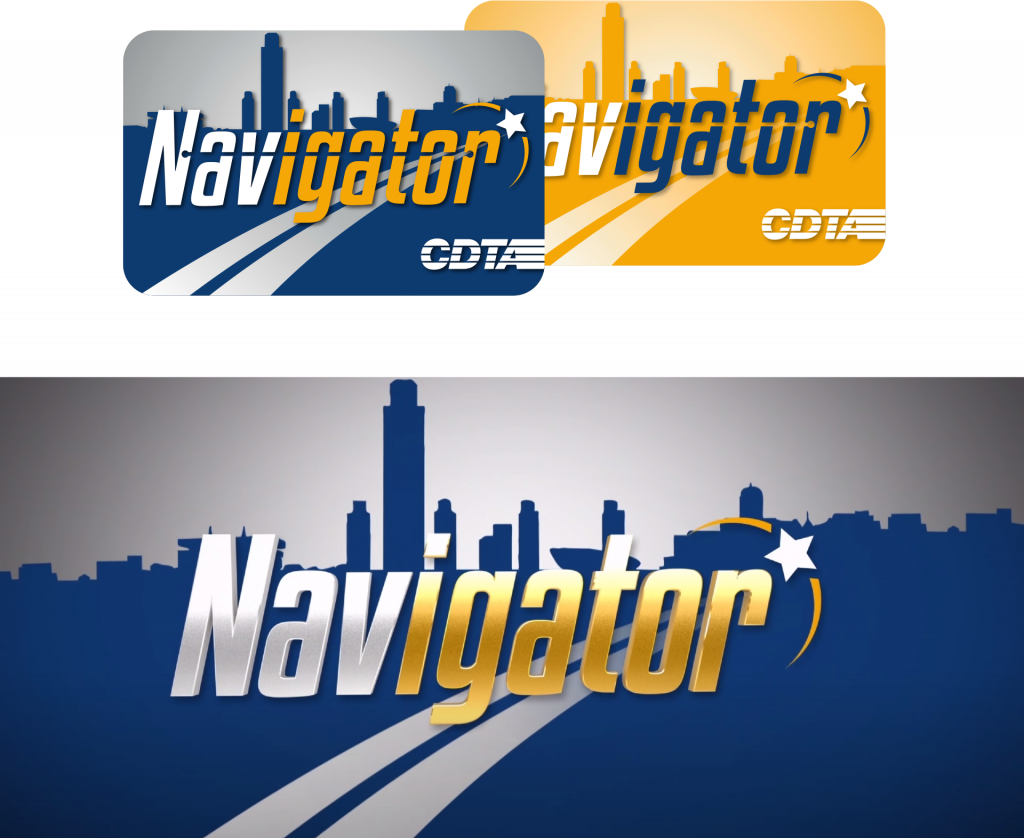 Making it a Public Affair
When Navigator was officially launched to the public, Overit's public relations and social media teams worked before, during, and after the event to garner buzz from the media, riders, stakeholders, employees, and the community at large.
The Navigator launch was extremely successful. Marketing collateral was beautifully designed and clearly messaged. The PR and social media teams earned placements in trade and local press, also leading a social media contest that garnered thousands of impressions and unprecedented CDTA social engagement (and created new social channels!). Media was given a story to cover for the rest of the year. And, most importantly, Navigator was successfully launched to a community with the tools people needed to utilize it.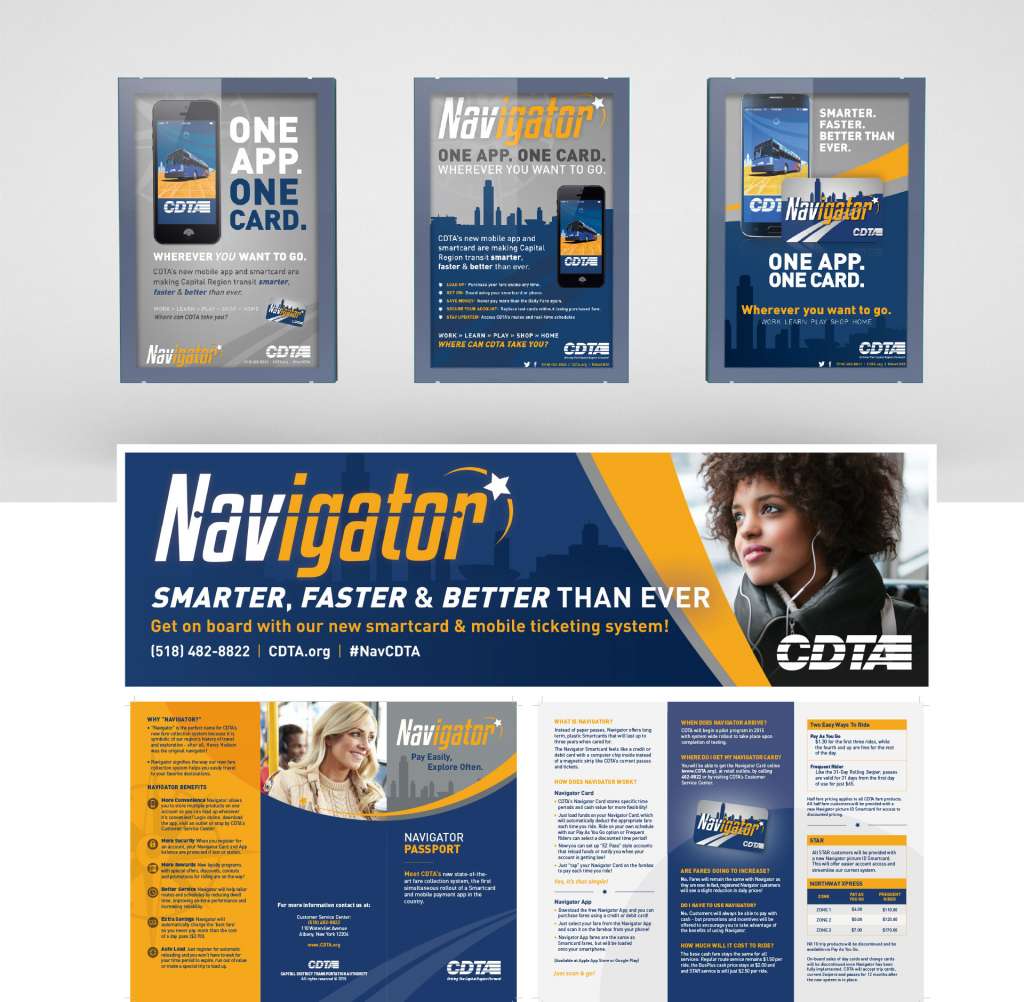 Meet CDPHP Cycle! & Trolleys...
CDTA has launched several new mobility offerings during its time working with Overit, including a successful bike share program (named CDPHP Cycle!) and free trolley services throughout the region. With new products comes an opportunity for exciting marketing campaigns to help launch them.
Overit worked with CDTA to establish messaging and positioning for each product, before creating the collateral needed to market and promote these new services successfully.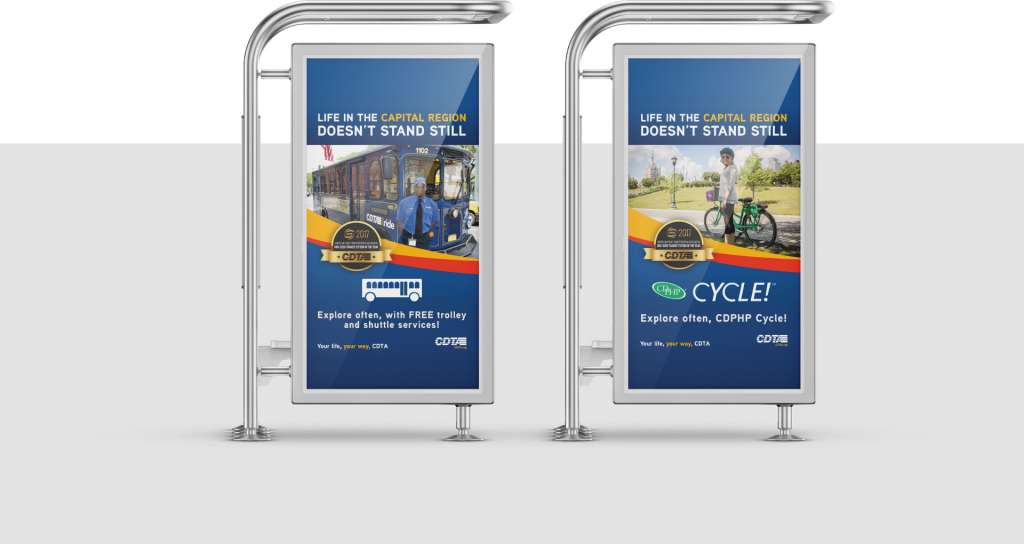 ...and the Electric Bus & FLEX
Innovation lies at the heart of both CDTA and Overit. Pilot programs around electric vehicles and on-demand transit let both teams take that innovation to the streets.
Overit worked with CDTA to launch the first battery electric powered bus in Upstate NY AND a new on-demand approach to transit that took the best of ride sharing and combined it with trust and safety of riding with an award-winning transit company. For both projects, Overit was responsible for the naming, branding, design, and communications plan.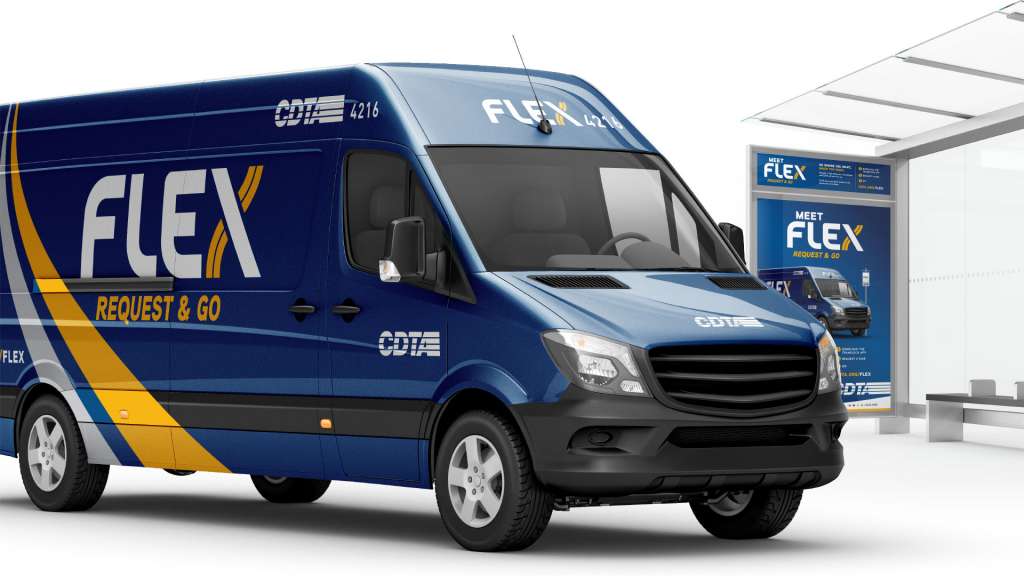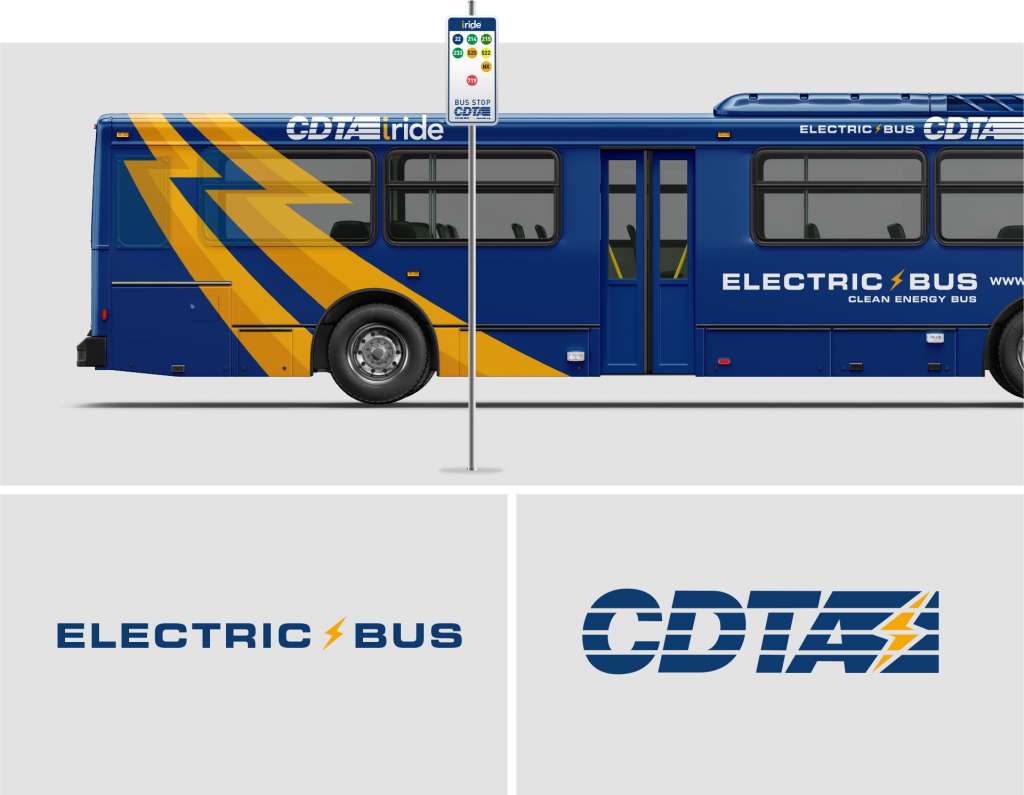 An Award-Winning Transit System
Catapulted by CDTA's many successes, the brand was named the Best Mid-Size Transportation System in North America by the American Public Transportation Association (APTA) in 2017. To help the region celebrate, Overit went to work. This included the creation of a CDTA/APTA award logo, various marketing collateral pieces (including banners, posters, billboard, and bus signage), livestreaming of CDTA's internal company announcement, and acting as press and promoters at the company's pep rally-themed public announcement.
Overit also created a tactical social media plan for the CDTA team to implement when traveling from Albany, NY to Atlanta, GA to accept the award.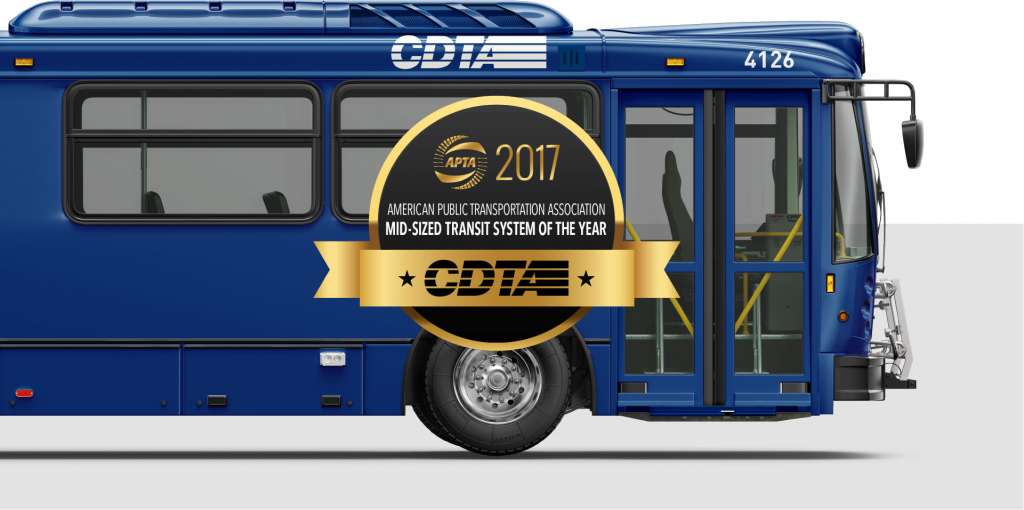 Putting the CDTA Story in Motion
Video has been an important part of CDTA's marketing mix from the time Overit first took on the account. From high-energy motion graphic teaser videos to thought leadership accounts featuring industry leader testimonials to a heartwarming animated video that said "thanks" to the community to product-specific videos designed to inform and entertain – CDTA and Overit have successfully used video to tell the CDTA story in a multitude of ways.
The videos created with CDTA have been shot both in-house at Overit's state-of-the-art production studio, as well as on location. Overit works closely with CDTA to develop a concept for the video before scripting, storyboarding, shooting, and editing each video. Scripts and videos are created with an eye towards repurposing, allowing CDTA to use the content in multiple formats, across audiences, and to highlight specific programs
Traditional Marketing & Collateral
Traditional marketing efforts for CDTA have allowed the Overit team to touch a combination of mediums – including ads for magazines and newspapers, billboards, radio, direct mail pieces, elevator signage, and more – always with an eye for matching messaging to the medium.
As the brand has continued to grow, Overit has been there to help CDTA message new services and initiatives, and to tell great mobility stories via a diverse mix of marketing collateral. Whether a bus shelter, a poster, a training brochure, a fare schedule, an information sheet, or even graphics for CDTA-branded merchandise, Overit has worked to tell the CDTA story with excitement.