Operation: Get Them to The Mountain!
Creative Strategy | Branding
With great powder comes great responsibility
Gore Mountain came to Overit seeking a boldly creative marketing firm to advance its brand and to create the marketing assets it needed to get guests to the mountain all year long.
Awards & Recognition
Albany ADDY Awards:

Winner: Logo

ADDY Award:

Finalist: Magazine Design

ADDY Award:

Winner: Out-Of-Home Advertising
The Evolution of a Brand Platform
Gore Mountain is known throughout the Northeast for giving skiers and snowboarders the untouched, Adirondack experience they're looking for. Boasting the most terrain in New York State, there's enough trail diversity at Gore to please both the most beginner skier and the most elite. It's a place where all are welcome. Despite all these strengths, Gore felt it was lacking a strong brand position—one that marked it as an exciting winter ski destination. 
To chart the course, Overit's brand team began interviewing key Gore stakeholders, including its internal team, external leadership and, of course, its guests. We also reviewed hundreds of pieces of guest research to get an intimate look at why people chose Gore and what made the mountain so special.
The insights gleaned from this research allowed us to build a new brand platform for Gore that broke out its positioning statement, five primary audiences (including Adventure Chasers, Solitude Seekers and Destination Travelers, and others), the key messages specific to each, and examples of how messaging should be applied. With this guide in place, Gore was better able to create relevant and personalized messaging on the fly for its marketing programs.
A latter part of our positioning work identified new campaign taglines to help Gore serialize its marketing for stronger effect.
Making of the New Gore Logo 
With bolder messaging in place, Gore needed a logo to match. Evolving the logo was about so much more than coming up with something visually interesting. It was about reaffirming who Gore is and identifying the tenets important to the brand. Before we began creating a new mark, we took a close look at the logo Gore already had studying the figure of the mountain, the peaks, the snow cap, and the blue sky. It was important to everyone that the new logo pay homage to Gore's history while moving the mountain in an exciting new direction. 
The redesign of the Gore logo touched every designer within Overit, each excited to offer his or her special touch. Inside, you can see the four peaks and the four mountains that make up Gore, a hidden G, a mountain trail, nods to its rich history, and to its place within the Olympic Regional Development Authority (ORDA). Typography was carefully chosen to add balance and visual interest. The final product was something that both Overit and Gore fell in love with and, most importantly, guests did as well.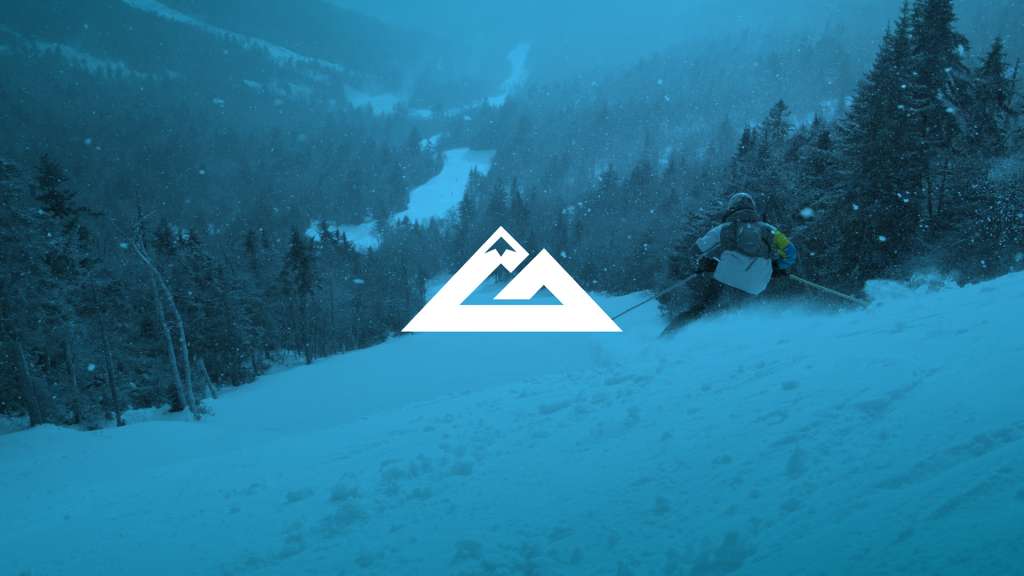 A Consultative Partner
Our team was able to act as an extra set of hands for Gore, serving as a consultative partner to help where and when they needed us. To date, this has taken on many different forms. An SEO Audit was performed to analyze Gore's website to identify any roadblocks hindering ranking, while also analyzing keyword and traffic patterns to find new opportunities for organic growth.
Understanding that Gore has its own backend team, our audit was broken out by opportunities for their developers and technical team to handle, as well as areas where their more content-focused marketing team could make improvements. This allowed Gore to tackle needs in the way that made most sense for them.
A UI/UX audit was also performed to analyze how users were navigating through the site to strengthen the Gore user journey. High-level items were noted and categorized for Gore to remedy.
Over the years, Overit has also created public relations and social media plans for Gore, finding opportunity for Gore to get its message out, to connect with media and influencers, managing social media contests, and creating editorial calendars for posting.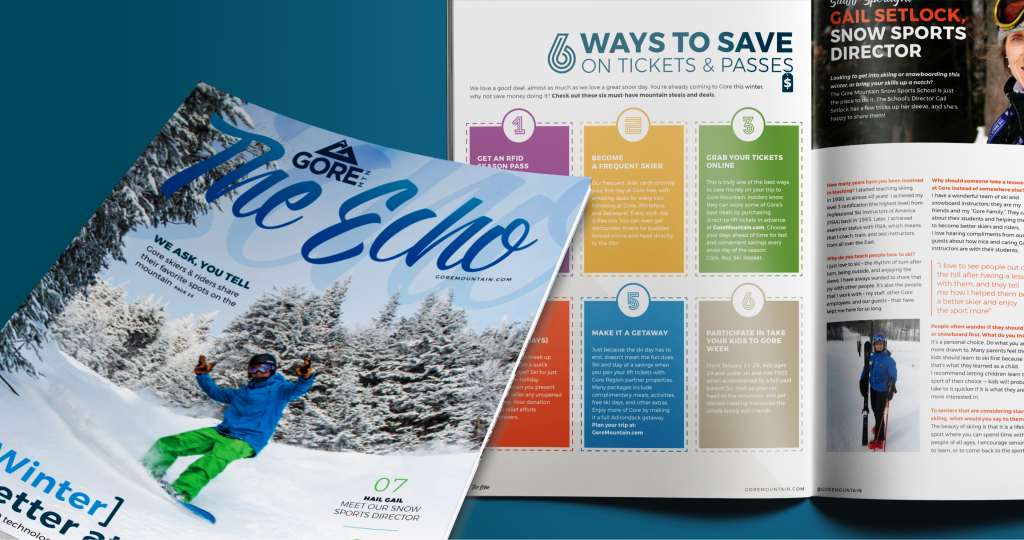 The Echo – Gore's Winter Magazine
Gore came to Overit with a vacation planner it created each year for guests–a brochure-like resource to help visitors find the program-, dining- and lodging-specific information they needed. But, we thought, what if we made it something more? What if we used this print piece as an opportunity to elevate our storytelling?
If we filled it with editorial pieces that included interviews with local skiers and ski instructors, informational pieces about the trees and trails you'll find at Gore, profiles about ski fashion through the years, glossaries to help you learn that winter vernacular, recipes for making the perfect cup of hot chocolate, and so much more? What if we created a magazine about the joy of winter?
Well, that's what we did. We named it "The Echo."
Overit branded and named Gore's new winter Magazine "The Echo," after a popular trail on the mountain. Each year, the Echo takes an editorial approach to the sport of skiing with engaging, fun, and interesting content designed NOT to end up in a trash bin but to be savored and loved. Overit has been proud to work with Gore on The Echo from the ground up, taking the lead on branding, content development, cover design, and design of all internal pages, graphics, and necessary treatments. 
But it doesn't stop there. All aspects of the Echo were considered right down to how it felt in the hands of the reader. Working side-by-side with printers, we honed in on the details that would create a piece we could all be proud of. This included everything from the physical size of the publication, adherence to mailing guidelines and weights, to finding the ideal paper stock.
We considered the weight of the paper, opacity level, brightness and finish — the age old question of coated vs. uncoated. We wanted something that would feel more natural without sacrificing the color quality of the photography. So we went with a matte finish that did just that. The result was stunning. There's nothing like holding "The Echo" in your hands, hot off the press!

Graphic Design 
Overit has partnered with Gore Mountain to create a variety of fun, visually-engaging pieces including a variety of stickers, posters, direct mail pieces, digital ads, trail maps, brochures, and much more. This gives both teams the chance to let the brand have some fun, while putting great merch and information in the hands of guests.
All in the details…
Sticker postcards put a new twist on Gore's Seasonal Pass mailer and created a fun direct mail piece.

---
Folded pocket-sized trail maps helped guests navigate the mountain to get the most of their snow day.

---
Fan favorite giveaways like stickers for gear and cars brought pops of color and pride to Gore. (We also love seeing them out in the wild!)

---
A limited edition poster ONLY available to season pass holders created envy among guests and lit up social media likes.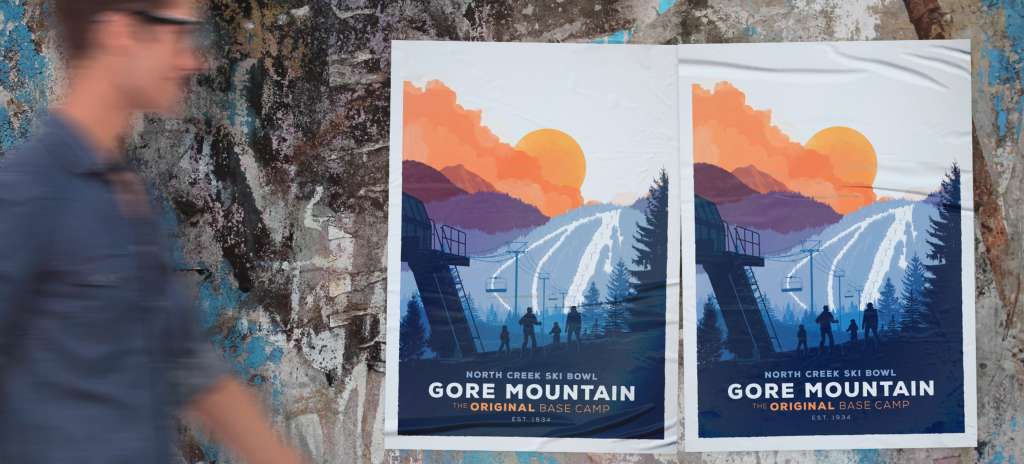 Email Marketing
When you're a year-round recreational mountain, there's always a good reason to encourage people to come visit. Overit has worked with Gore on a variety of email marketing campaigns segmented by audience and interest to keep them aware of the fun things happening at Gore.
Whether it's an email promoting the lowest Season Pass prices of the season, an invitation for fall happenings, or to promote its spring and summer activities (Mountain biking! Zip lining! Hiking! Oh my), we're always in constant contact with Gore guests.