Taking Little Pests Big Places
Branding, Digital, Analytics & Growth
A Digital Marketing Blitz
Thomas Pest Services sought Overit looking to expand its customer base and more successfully tap into digital advertising. They sought a comprehensive digital and content strategy that would drive sales, attract new customers, and deepen their brand recall in the region. A digital-heavy advertising campaign, tracked in real-time, helped the brand to increase sales and identify new offerings even through the heart of the COVID pandemic.
It's in the numbers
25%
Increase in leads Year-Over-Year
36%
Increase in revenue Year-Over-Year
$30
Average Cost per lead on digital paid ads
98%
Increase in page views and an 18% increase in overall website users
Brand Positioning
Thomas Pest Services came to Overit with big goals–and we knew we could surpass them. But before it was time to attack the big stuff, first we had to perfect the little things.That meant elevating the Thomas Pest Services brand to modernize it, to create more compelling messaging, and to better represent Thomas' position in the market and the value it brings to customers.
So began a comprehensive brand audit. Our team of researchers and strategists got to work interviewing Thomas employees, key leadership, and customers to identify what makes Thomas Pest Services unique to them. Through our interviews we learned that both Thomas staff and customers believe Thomas Pest Services treats the little things like big things. From the pests that invade your home to the personal touches that make customers feel like family. Thomas Pest Services is committed to protecting the health, home, and everything else customers care about. This idea that Thomas focused on the little things to protect the big things struck a chord with a team, and it became the foundation for our brand and marketing platform.
From it, we developed a new tagline, established key brand pillars, built messaging, and solidified brand voice. We were ready to hit the market with our new outlook, but first we had to look the part.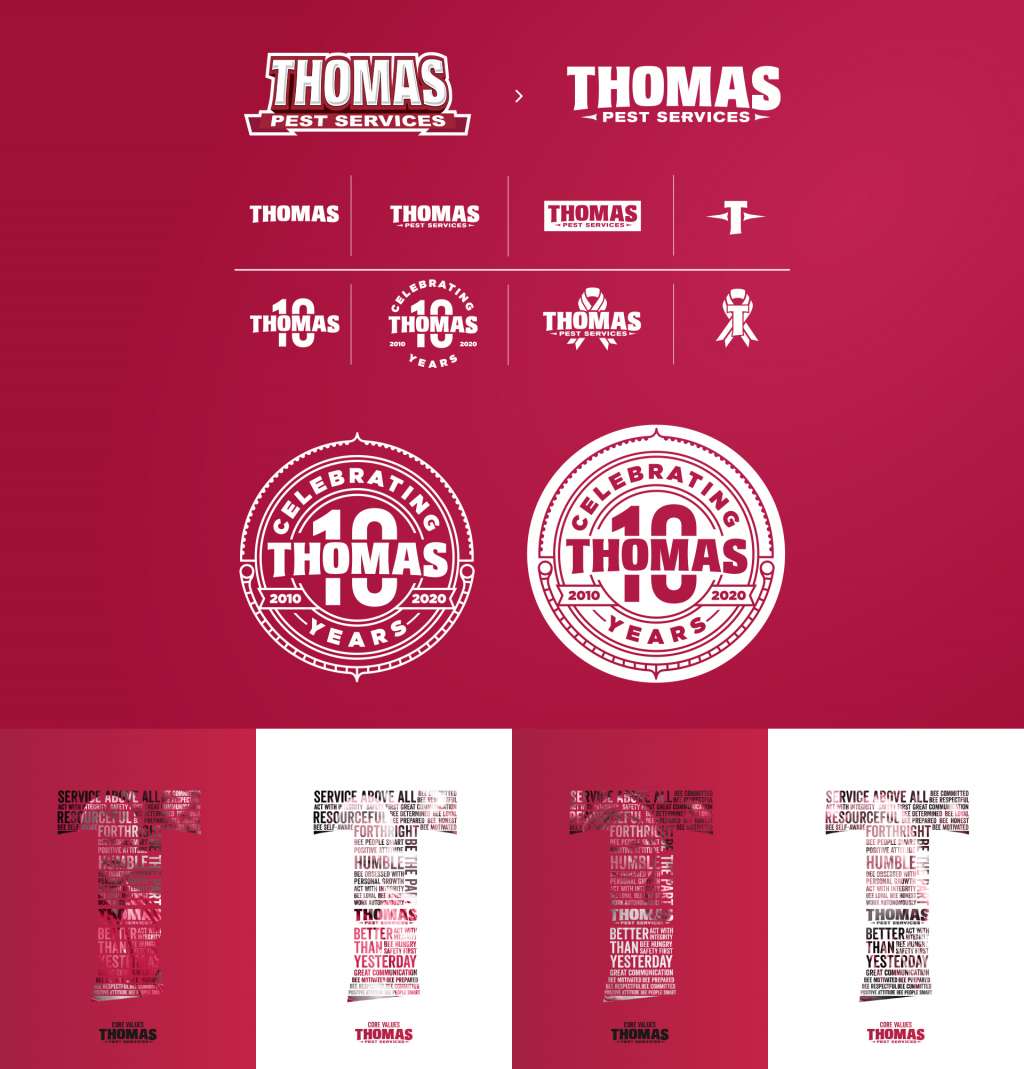 Resetting a Visual Identity
With a new path for branding locked down, our design team began formulating the visual execution.
The Thomas Pest Services logo was modernized to present a cleaner, sleeker look.
A bold mark was developed to message the We Treat Little Things Like Big Things tag. This would serve as both brand- and campaign-level messaging.
New vehicle wraps were designed to help Thomas' fleet (and messaging!) stand out on the
road.
The popular Thomas Pest Services newsletter was completely rehauled to strengthen branding, making it easier and more fun to read. This also helped better showcase the unique content the brand was creating.
To continue to bring new life to the brand, all Thomas marketing materials and consumer touchpoints were updated. This included website improvements, creating digital versions of traditional marketing collateral, updating brochures and customer Welcome packets, and carrying the brand through new traditional and digital assets.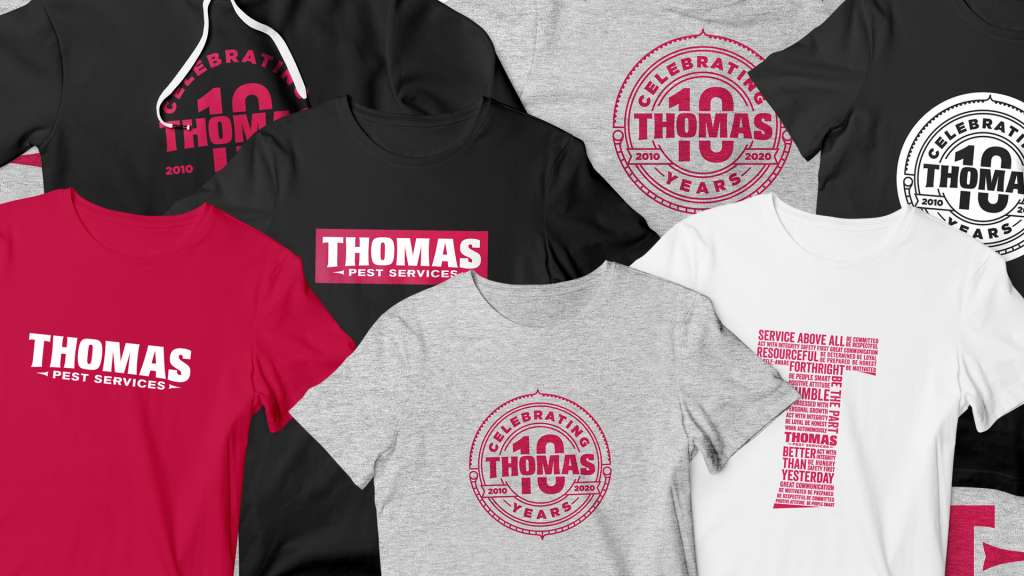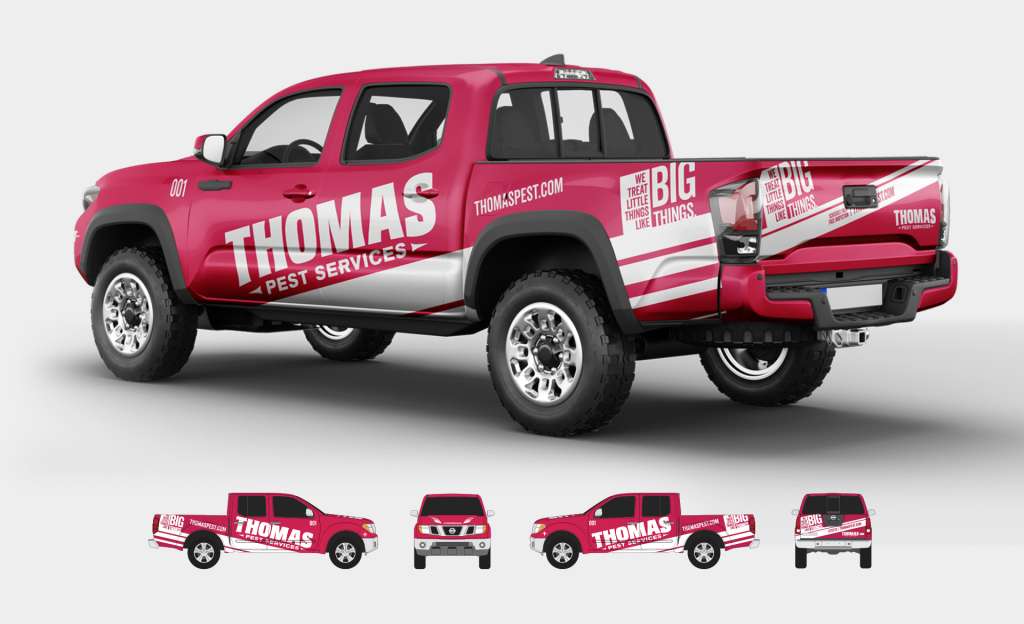 Auditing the Web
An extensive UI/UX audit was performed to assess how well the current Thomas Pest Services website was attracting and converting leads. As Thomas was looking to maintain its current site and to stay in its current CMS for at least another year, our review was able to provide hard data to show where customers were facing problems and provided actionable recommendations to eliminate these issues and improve the user experience.
Through this process, our team identified opportunities to change the site architecture to increase user flow and finability, tweak site color contrasts for greater accessibility, strengthen CTAs and improve forms, make recommend

Baiting Them With Content
Bees, wasps & hornets: what's the difference?
Why are moths attracted to bright lights?
Is this a termite or an ant?
When you don't know, you ask the Internet. Through consistent blogging (and laser-targeted keyword research!), Overit has helped ensure that when you do, you're likely to find an article written by Thomas Pest Services to help you answer your question.
At Overit, we take a people-first approach to content marketing. That's why our content and search engine optimization teams work together to create editorial calendars that are not just keyword-rich, but that are audience-focused. This has allowed us to create content that our audience needs and wants. It allows us to be the best answer for them, while also increasing our search visibility by filling content gaps in the search results.
We also know that customers are looking for different types of content. Sometimes it's an easy-to-digest blog article and other times it's a zoomed-in video of a bed bug feasting on one of the Thomas Pest owners. Our quarterly content strategies utilize both.
Through our efforts, the blog has become a powerful sales, retention, and link asset for Thomas, building up content assets, creating new ones, and creating a new sense of authority and thought leadership.
This content strategy has helped us take full advantage of the types of media that the blog platform has to offer, reinforcing the highly informative, expert brand voice ofThomas Pest Services while also peppering in something a bit more fun and loose. By both creating fresh new content and consolidating older content into better pieces better serving users, Overit and Thomas have created greater opportunity for google search-ibility and better web traffic while also opening the door for social media shareability, while tackling a mix of SEO friendly topics and more standalone intrigue topics along the way.
Email Marketing
Thomas Pest relies on WorkWave PestPac for customer relationship management, customer service, office management and field operations. We worked within PestPac to design a branded email template for offers and newsletters that could be deployed to segments of their contact audience.These campaigns include a robust quarterly newsletter, a "what to expect this month" email that is sent out to everyone scheduled a service visit in the upcoming month, and a variety of special seasonal offers and discounts. The "what to expect" campaign has been particularly popular, targeting only those with upcoming service visits with an explanation of what the service call entails, current blog posts, and relevant pest information for the month ahead. These monthly emails have resulted in unique open rates as high as 76% and unique click rates as high as 7% proving that "right message, right time and right audience" is the key to email marketing success.
Email marketing campaigns have been used to attract new leads, upsell and cross sell services, as well as to engage current customers. They were even used to help mitigate potential customer service issues.
For example, when Thomas Pest restructured its service routes, it wanted to be proactive about easing customer concerns about having a new tech in their home and on their property. They used video to introduce customers to their new tech before they ever arrived. We worked with Thomas to script, produce, and send Meet Your New video emails that allowed each tech to "just say hi" to the customers on their route and share some fun information about themselves. The emails were highly-engaged with and helped customers feel comfortable and safe having a new tech servicing their home!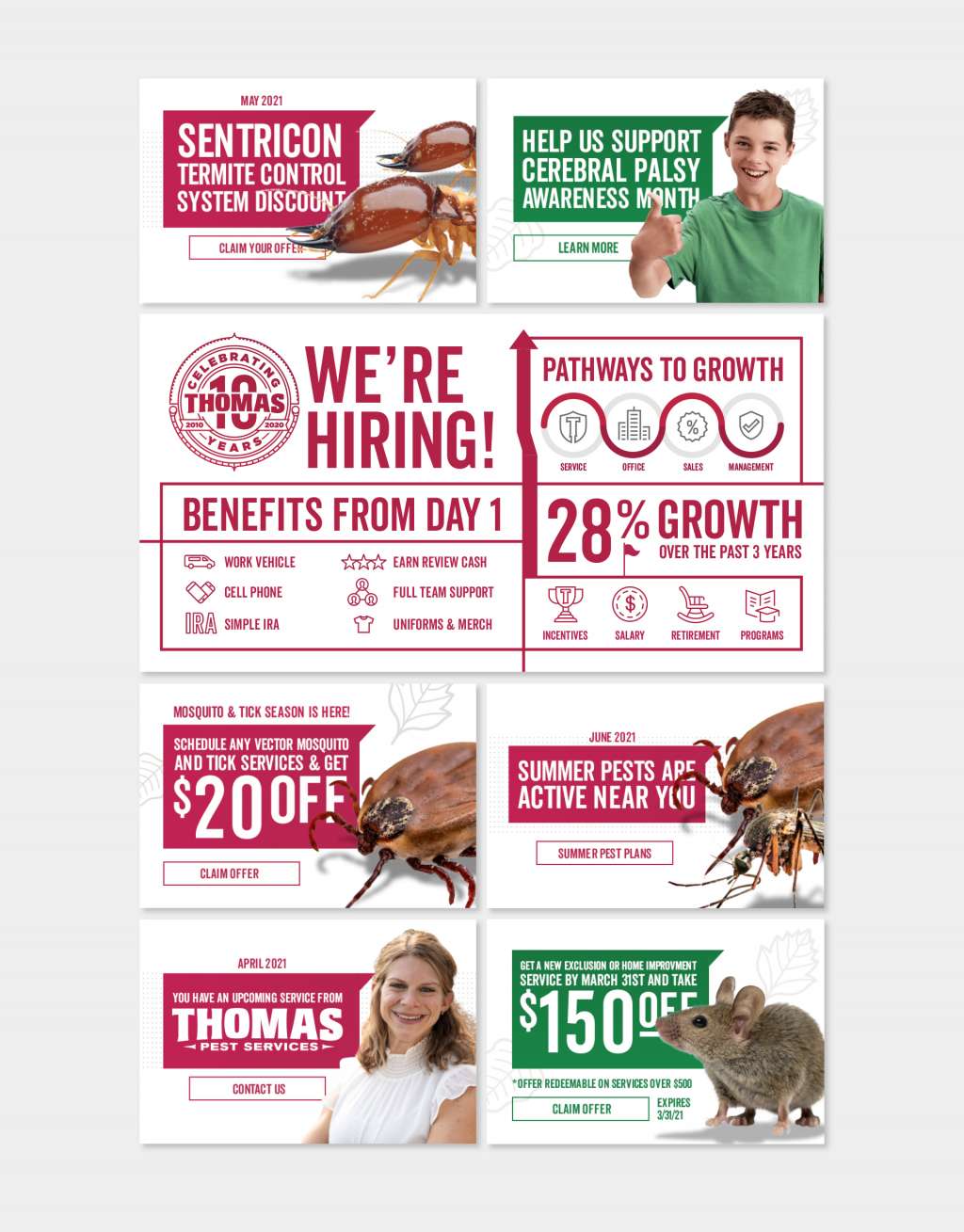 Cause Marketing
Cerebral palsy is a cause close to the heart for everyone at Thomas Pest Services, especially for owners Bill and Sarah Thomas-Clark. Their daughter Riley was diagnosed with cerebral palsy when she was just one and a half years old. Every year, during the month of March, Thomas Pest Services actively engages in raising awareness of cerebral palsy to help work toward a future where children that are diagnosed with cerebral palsy and their families have all the resources they need for daily life.
In 2020, Overit worked with Thomas Pest to put additional marketing power behind their initiative. Our efforts included:
A new cause marketing logo
A homepage takeover that turned the site green, the color of cerebral palsy awareness
An updated cause marketing landing page
An email marketing campaign
Social media images, assets, and hashtags
A PR campaign resulting in more than $9,000 in Public Relations Value
And more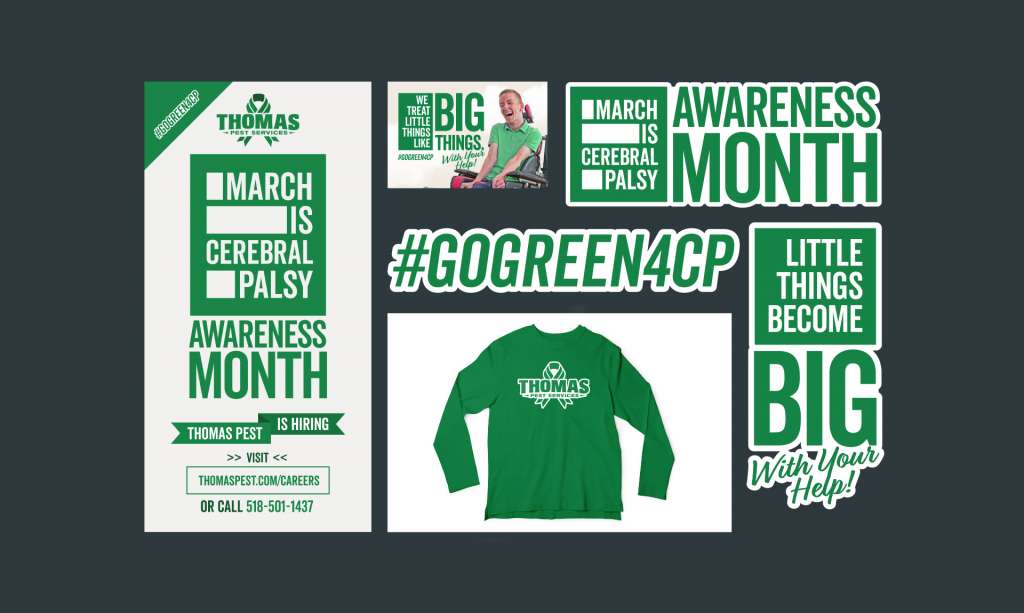 Online Advertising
Overit's comprehensive online advertising efforts target homeowners in Thomas' service region, with specific campaigns created to attract new homeowners, those on new route areas, and re engagement campaigns to get in front of former customers.
Search advertising, display advertising, geofence campaigns, intent-based display ads, Facebook ads, and video pre-roll market to customers seeking pest prevention options in the region, broken out by general brand and specific type of service (rodents/wildlife, termites/ants, and ticks). Our online advertising campaigns were supported by extensive custom ad design using a variety of digital formats, including static display advertisements, animated HTML5 version, pre-roll advertising, and more.
In addition, we helped Thomas build a robust, local online presence. Through local citation listings, garnering reviews, building a strong Google My Business page, and advertising on paid local services, visibility both organically and in paid has really grown.
Meanwhile, seasonal offers and limited-time-only specials were promoted using custom landing pages and design assets created to attract the attention of homeowners in Thomas Pest Services' target service areas.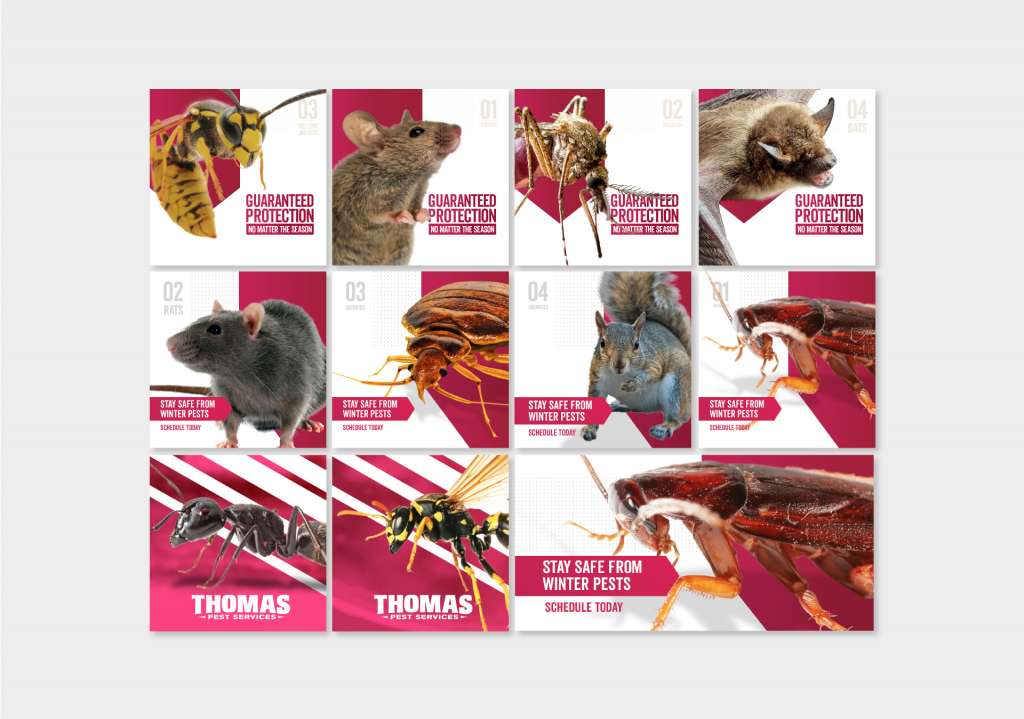 Dashboarding All Night
At Overit, it doesn't matter to us which Pest Control software you use, our goal is to get you the data you need, when you want it. To do this Overit built a real-time dashboard that allowed Thomas Pest Services to monitor the effectiveness of its marketing campaign on a daily basis. The dashboard provided constantly-updated true lead data, marketing ROIs, page traffic, and ad activity. This made it possible for Thomas to quickly see what was effective, what customers and leads were clicking on and searching for, and how their marketing was working for them.