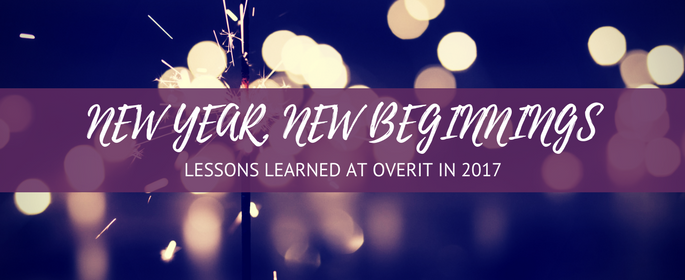 2017 was a great year for our agency.
We strengthened our leadership with the appointment of a COO and CMO
We signed exciting new clients, in a variety of industries and verticals (and have become obsessed with them)
We wrote, designed and produced award-winning creative that was engaging, purposeful, and downright beautiful
We helped our clients grow their businesses and see great success
We hosted amazing events like TEDxAlbany in our liveroom
We received a visit from Tri-City ValleyCat's Southpaw
We were named a Best Place to Work to work in our region
And much, much more!
This has been a great year for Overit in SO many ways.
But let's be real, it hasn't been all been sunshine and unicorns. #AgencyLife comes with real hardships and challenges, too. And like all agencies, we faced them. We raced against time, overcame losses, worked late nights (and early mornings), all to create and deliver creative and engaging work for our clients. With the new year approaching, sure, we want to applaud our accomplishments, but it's also important to reflect on our challenges so that we can learn and improve for the year ahead.
Here, some of our team shares their most memorable challenges from 2017, what they learned, and why know 2018 will be Overit's best year yet.
"The time I missed a great opportunity by being totally unprepared." – Lisa Barone, Chief Marketing Officer
My position affords me the opportunity to attend a variety of events during the year – whether it's to present, to learn, or to represent Overit. Despite my best efforts, there were times this year when I was not as prepared for these moments as I could have been. The result of that was missed opportunities for networking, for education, and even sales (!) that continue. With so much going on, I allowed myself to get lost in the "busy-ness" of the grind and wasn't able to step out of that to seize important opportunities. That's not okay. Being able to speak with people and to meet them face-to-face is a HUGE privilege. I owe it to myself, to the people in front of me, and to my team to be as prepared as I can be for every encounter. My goal next year is to not only put myself out there more, but to represent Overit to the greatest extent possible, at every opportunity. This company deserves it.
"The fun pitch that no one responded to." – Alison Krawczyk, Director of Public Relations 
Leading up to the holidays, I thought it would be fun to write a more creative pitch to share with media. Something that would get the point across but was more than a basic email asking, "Do you want to cover this story?" With this in mind, I drafted a note to send to the news desks (here's a snippet):
'Twas the weeks before holidays, when all through the house
Not a creature was stirring, not even a mouse…
But wait, no, what's that banging and crash?
And why's that heater spitting out ash?
We've got family and friends all coming in the morn,
Now our house is freezing and the day seems forlorn.
How could we have avoided this mess and distress?
There's a few simple things that homeowners can do,
I've got friends at [client] that can outline them for you.
Adorable, right?! But not a single reporter or producer responded to the email. Zero. I was able to quickly adjust my approach (and pitch) to get a better response rate from media, but I'm still somewhat scratching my head as to why this pitch didn't resonate. While I like to write creatively, my ultimate goal is to secure results for clients. I can only do that when I can work with the press, so I've learned to let this cute pitch go and focus on what's easiest for the media.
"Not prioritizing our internal check-ins and celebrations." – Joe Arcuri, Director of Design and UX
When you're elbow-deep into billable work, it's very easy to reschedule meetings not crucial to a project. One meeting that I've rescheduled so many times is our Creative Team Meeting. This is a monthly meeting where my department gets together to review and offer feedback on each other's work. It is so important to really see what we are all working on so that we can all have a hand in making each other better designers. However, we've rescheduled this meeting so many times its now somewhat of a joke about whether we're going to have it. Going into 2018, I am going to put an emphasis on this meeting as an important way for us to grow as individuals and as a team. We deserve that time to celebrate our wins, learn from our losses, and help one another improve.
"The time I confused my zebras and horses" – Jen Van Iderstyne, Senior SEO Strategist
When trying to diagnose a problem this year, I got SO in the weeds that I failed to catch something fairly obviously that, normally, I would have seem immediately. Eventually, I found it and it got fixed. But in talking to someone about it, I was told, "you heard hoof beats and you went looking for zebras instead of horses". Indeed, I did. It was a good reminder that many of us could do a better job keeping our horses and zebras straight. Next year, I want to keep a better perspective when it comes to finding problems so that I can create even better solutions, more customized for each unique scenario.
While our missteps from 2017 might make you cringe, take a page from our book and focus on how you too can learn from these mistakes. As stated by Denis Waitley, "Failure should be our teacher, not our undertaker. Failure is delay, not defeat [after all, it's inevitable!]. It is a temporary detour, not a dead end. Failure is something we can avoid only by saying nothing, doing nothing, and being nothing."
What about you? What did you do this year that make you cringe you were able to learn from and grow as you head into a new year?

May your 2018 be full of bold attempts and only failed moments that you can learn from. Happy New Year!