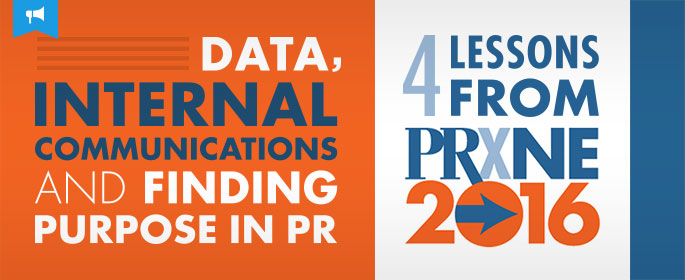 Last week, I attended the Public Relations Society of America's Northeast District Conference (PRxNE 2016) to accompany Overit's Jen Van Iderstyne as she presented on SEO, and to learn from other industry professionals from across the region.
We've all heard about how PR is evolving, but the experts at PRxNE 2016 truly drove the point home with presentations focusing on Facebook analytics, multicultural PR, influencer campaigns, LinkedIn strategies and more. I wasn't able to take part in all of the sessions outlined in the schedule, as much as I wanted to, but below are some key takeaways from the four presentations I did attend.
1. Reinventing Public Relations with Christopher Penn, SHIFT Communications
The message from Christopher's presentation was the necessity of learning to analyze data, and using that data in your public relations campaigns. As a digital marketing agency, this is an idea we're familiar with. But the keynote presentation raised some great points about the shrinking newsroom. To demonstrate, he referenced research on workforce trends indicating that, there are five PR professionals for every one reporter. That is a lot of story ideas and press releases for one person to read through! Christopher's point, then, was for publicists to use data to tell the right story to the right people.
Some other interesting facts and ideas Christopher shared are:
The number of news stories has increased 36% year over year for the last two years, adding to the influx of content available to engage audiences.
Use a "LEAD" model to drive innovation in PR campaigns:

Learn – PR pros should continue to read about their industry and their client's sectors
Experiment – Ask questions, identify different tactics and test them to find which works best
Adjust – Use data and experimentation to improve campaigns
Distribute – Go to market using proven approaches

Utilize Google Analytics and IBM's Watson to help collect and understand data
2, Oh, The Things You Can Learn from Facebook with Michael Durwin, FuseIdeas
Continuing the data-focused narrative, Michael's presentation emphasized the variety of useful information available through Facebook. He broke it down into three categories: competitive Facebook data, customer Facebook data, and scary Facebook data. Reviewing all of this available information is important, as Michael noted: "If you don't know what they [your brand or client] are currently doing, you can't help them."
Competitive Facebook data: This is not about beating out other brands, but rather gathering information on how many likes their page has, and how many people are engaging or talking about the brand. In PR we can use this information as a guide to where our client or brand stands among the industry. Though you may be a mom-and-pop shop competing with a big box retailer, it's important to note where potential customers are engaging.
Customer Facebook data: This information can be accessed through Facebook's Audience Insights page and will provide marketers an accurate representation of the brand's audience and engagement. Information on this page includes the demographics of the page's fans, who and how many people were reached, and who engaged with the page or post. This data can then be used to develop accurate customer personas, which will help create relevant campaigns.
Scary Facebook data: By using a tool like NetBase, there is also qualitative data marketers can collect about fans on Facebook. Information like fans' favorite foods, TV character, retailers, celebrities, etc. which can help to further develop customer personas. This additional insight supports the development of business and marketing plans that are tailored to the kinds of content that have the best probability of appealing to users. Michael noted an example client that had been selling its shoes in department stores like Nordstrom, but after analyzing data from Facebook considered a partnership with Target because that's where their fans were primarily shopping.
3. Creating a Change Communications Plan in Real Time with Anthony D'Angelo, Syracuse University
The thesis of Anthony's presentation was how to address a company change as a communicator. This particular topic is interesting to me because, as an agency, we don't typically develop internal communication strategies for clients. This is typically left to an internal team that knows the work culture and audience best. However, I took away some valuable information that can be applied to internal and external communication strategies.
There are three kinds of change and depending on the category, this may impact the communication strategy:

Process and developmental, which is set in place to improve processes and make a company more efficient
Transitional, which is when new products or leadership are being introduced
Transformational, which is a more expansive change across the organization

When developing a communication plan for employees, PR folks must remember that they are not creating a campaign, but should focus on the operating model. Employees can't be sold on an idea by giving out free coffee mugs with the new brand name, or pizza parties with the new CEO. Instead, the approach should be informative and personable – Anthony reinforced in his presentation that "employees are not homogenous."
Communicators should keep in mind the three principals behind change and its subsequent communication plan, which include:

The realities of the marketplace drive change. There are no organizations that operate today in the same way they did when they first opened their doors. Change is inevitable. In order to remain competitive, companies must be agile and efficient. Teach employees, rather than telling them. With major transitions, there might be hostility from employees about implementing a change. Communicators should reinforce that management doesn't have all of the answers. It's important to stress that employee input is valued as the company continues to transition.
Ignore your instincts. Much like the other presenters at PRxNE 2016, Anthony reinforced that publicists need to get all of the facts about a change, set goals and discover the outcomes of a change communications plan.
4. Find Your Strong: The PR Athlete with Sharon Barbano, Saucony
This presentation was a great way to wrap up PRxNE 2016, as Sharon's talk sent attendees (at least me) back into reality inspired and excited to get to work! Sharon has spent a considerable amount of time learning lessons of perseverance and purposefulness from athletes and sports, and has applied these lessons to PR. She outlined seven criteria to step up onto your own podiums and accept the winning gold medal:
Your 4 minute mile: For a long time researchers believed that no human could break a 4 minute mile, until one man accomplished this goal. Soon, many more followed. Publicists need to remember to begin and end with what the mind believes is possible.
Strategic planning: Research has shown that the more successful marathon runners set a steady pace and plan their finish ahead of time. This same rationale can be applied to a PR campaign – find the most effective approach to make your message be the first, most unique or best.
"B" of the bang: Be ready to run before the gunshot marks go by preparing everything ahead of time. If you are making an announcement on a particular date, get the content written and social media posts ready.
Strike out: You can't be afraid to fail because this will stand in the way of accomplishing anything. In PR, you can't hesitate to pitch a story idea to a reporter or make a recommendation to a client. Success will only happen when you go for it.
Perseverance: This goes in line with strategic planning because when you set clear goals, it's harder to quit. Again, success will only happen when you refuse to give up and keep at it. If you want a feature story for a client but a reporter tells you no, then you have to adjust and keep trying .
Passionate belief: A publicist's job is to convert others to their line of thinking, which is accomplished when they fully believe in the product or story that they're talking about. Sharon used an example with Saucony sneakers by showing the parts of a shoe – the rubber, the sole, the insert, etc. These are all great components but only when they are put together to create a sneaker does the real story emerge – the hopefulness of a first-time marathon runner or the empowerment of running a personal best.
Purposefulness: In order to get out of bed in the morning and head to the office, everyone needs to find fulfillment in their jobs and make whatever they do more meaningful. It's only when we believe that we're changing lives that all the rest will fall into place.
It was a long, full day at PRxNE but the messages were clear. Instinct and creativity will only get you so far without the support of data and science. But when that data is combined with insight, and passion you create a foundation for exceptional, modern PR.