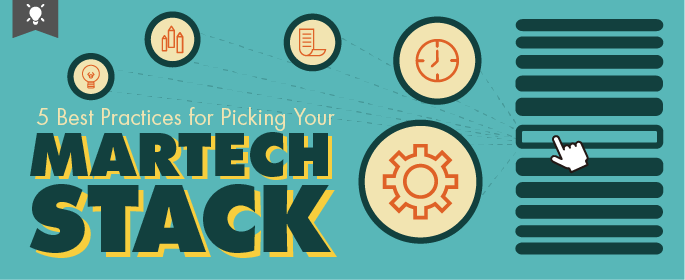 With hundreds, maybe thousands, of marketing softwares out there, and equally as many articles touting the benefits of each, how are you supposed to choose the right marketing software for your needs?
First of all, let's start off with:  what is a MarTech stack?
A MarTech stack is essentially all of the tools and softwares you're using for your marketing. This can include your CRM, your automation platform, email marketing, social media, and just about any other tool you use when marketing your business.
While we, of course, have our own favorite marketing tools, it's important to choose the software that's going to work for YOU. And no one can decide what that is for your business except you. (Well, we might be able to help, but we'd still need to consult with you. 😉 )
So that's what we're aiming to break down here:  How to research marketing softwares and build your MarTech stack so it's optimized for YOUR business goals – not just based on the latest and greatest releases.
Choosing The Right Marketing Software
When it comes to comparing marketing softwares, it can be easy to get overwhelmed. There are so many! They do so many things! I feel you. I spent several days researching in-depth several CRMs and automation platforms for a variety of needs.
Here are some tips I learned to help streamline the process, so you can pick the right tool without too much of a headache: 
Make a list of everything you need it to do.
Do you need something that just does automation? Does it need to send text messages or emails? Does your sales team need to use it for meetings, phone calls, or both?
Take some time to think about WHO will be using this platform and WHAT you need it to do.
Some companies find it helpful to create a scorecard where they list out all the features they're looking for, in order of priority. Then they demo each software and rank it on a scale of 1-10 or yes, it has this feature / no, it doesn't have this feature. That often makes it easier to make a decision, as all of the information you need is in one place and you can make a more objective decision based on the numerical rankings.
How does it integrate with other platforms you're using?
When considering other platforms and integrations, you first want to think about whether or not this can replace some of the software you're currently using.
For example, HubSpot can schedule social media posts and do social listening, potentially eliminating your need for Buffer or Hootsuite.
Or SharpSpring can serve as a CRM, automation platform, and email marketing software, removing your need for MailChimp to send emails for you.
If there are other platforms you'll be keeping, it's time to consider integrations.
Can it integrate with your WordPress site? With your AdWords account? With your social profiles? Do you need it to connect to a different CRM?
Look into native integrations (built into the platform) and third-party integrations, such as Zapier. You can also Google "platform A platform B integration" and see what comes up.
Who is going to use this platform?
Another important consideration is who is going to be using the platform. If your marketing or sales teams have been using a platform for a long time, you'll want to account for that in your transition. Are they willing to adopt a new software? Is the new software intuitive, or will it require more in-depth training? Does the interface look the way they're used to it looking or the way they expect it to look?
All important factors, because, at the end of the day, this platform needs to not only function the way it was intended, but it needs to be used the way it was intended.
What's been used successfully in your industry before?
While this isn't a guarantee that it'll be a good fit for you, or is even a worthwhile software to experiment with, it can help to point you in the right direction.
Quite often, software that is created for a specific industry is limited, simply because it's created for a very niche market, which doesn't allow for the funding to grow the software to be as robust as you might like for it to be. That's why finding a more comprehensive software that may not necessarily have been created for your industry but has been used in your industry can be really helpful.
When you're doing your research, look to see what your competitors are using. Check out case studies for companies in the same industry or with similar use cases.
How soon do you need to implement?
Possibly the final point to consider is timeline. How soon do you need this tool up and running?
With that in mind, you'll want to look at ease of use of the software, the typical time it takes to set up and implement the software, and how much customization you're going to need.
For instance, SalesForce is an incredible software. It's one of the most robust, even if complex, tools out there. But if you're looking to get up and running sooner rather than later, it's probably not the software you're going to choose, because typical implementation time is 6 months to a year and requires a specialist.
Of course, you don't want to sacrifice the quality of the platform you choose just for time's sake, but it is a factor to consider!
Now, I know all that doesn't make the decision for you, but I'm hoping maybe it makes the decision a little easier.
If we can be of any help in your decision-making process, feel free to reach out! We're here to support you!