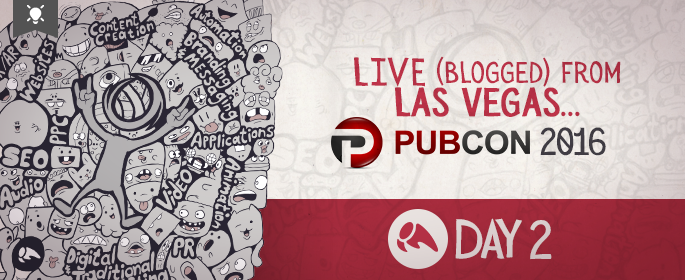 Ashley Ward, CEO & Founder of Madhouse Matters (her one-person agency!) is kicking off our session.
There are 400M advertisers on Facebook right now. 5 new Facebook profiles are created every second, and there are 1.3B daily users: lots of people to reach with Facebook Ads. (Are you using them, yet?)
There's 13 different ad objectives. Don't just pick one. Define what your actual goals are, so you pick the right one. This may seem like a basic step for an advanced panel, but too many businesses point and shoot rather than define their goals. Boosted posts aren't always the answer.
Create goals that can actually be achieved and measured using Facebook Ads. Build your community. Increase online sales. Widen the reach of your app. Name your goal, first.
Local awareness ads. They're the lowest cost ad type when trying to grow local impressions. You should be trying to increase local business's impressions. Add a get directions button – this makes it really easy to help desktop and mobile(!) users find out exactly how to get to your storefront.
Another tip – express that you're a local business immediately by adding your city into your ad content. Emphasize where you are.
Think outside the box. The goal may not always about getting new customers – it may be to get new employees or partners!
Carousel Ads
Tell a story that develops across each carousel ad. They don't cost any more than a single image ad, while being a lot more interesting for the user.
The best thing you can do with one of these is tell a story with the ad content. Don't use 4 of the same images. Explain how something works. Explain how you can use something through the series of the images. Make the CTA actionable. All Things Hair partnered with Dove to show steps for how to do a specific hairstyle. The last image was a shampoo bottle from Dove. Shows how something works, ends with action to do. If you use this shampoo, you can probably pull off this ponytail.
Offer Claim Ads
Encourage people to take action right away with these ads. You don't need to be a retailer or have an e-commerce service. You can offer a free trial or a complimentary service. You can use offer ads that require people to come into your business, as well, if you give them an offer code they have to redeem.
You can create unique promo codes to track purchases made from Facebook campaigns versus other PPC campaigns. Make sure the codes are specific for Facebook – this process just makes tracking much, much easier to track the source when you see the code #FB25OFF used, instead of having to dive into your Google Analytics to track down success.
Publish one offer to existing customers and a different one to potential customers who don't know as much about you yet. These audiences require different messaging and levels of explanation.
Lead Gen Ads
These are exciting, especially when you want to connect with a new audience or customer base. Integrate these with a CRM like Infusionsoft so that these go directly into your sales funnel and trigger automated email responses and other customer follow-up.
Add a context card. These describe what people "Get" for signing up.
Video Ads
We went from text to photos to video. Videos are the future of marketing (okay, that future is here already). The CTR of Facebook video ads have increased by 57% over last quarter. Facebook budgets are quickly shifting to video.
Targeting mobile users? Check the box that makes sure mobile users have to be connected to Wifi to avoid buffering issues, making you get charged for video views you're not actually getting due to a poor connection.
Promoting LIVE videos after you've gone LIVE increases awareness and exposure at a low cost per engagement. You can use the "Boost Post" objective for this.
Chewbacca Mom – Remember viral videos can be real people in natural environments, without being staged or high-budget.
Facebook Conversion Pixels
Everyone should be using these. Make sure they're set up properly. The pixel tracks users actions in and out of Facebook. You need unique pixels for each client, if you're an agency. You'll optimize ad costs and can remarket to everyone who has visited your site. There is a ton of opportunity here.
Custom Audiences & Lookalike Audiences
Upload email lists to target existing customers. Encourage upsells and put out new offers.
Lookalike audiences help you create new audiences to target on Facebook. Advertising to page fans, website visitors, and audiences based on their interests.
Mobile is Life
This is not going to change, and should be the primary focus for your campaigns. A mobile-only ad that says "shop now" should be targeted only to people connected to Wifi. If they're not able to make their purchase quickly using their phone, they're going to leave. Make sure your objective is achievable on a mobile device.
Create mobile-optimized ads and content that make sense to a consumer on a small mobile device. Some ads will do great on desktop, terrible on mobile (and vice versa). Choose your advertisement methods wisely.
Instant Articles
These make reading articles through Facebook on mobile devices a pleasant user experience. Advertisers can take advantage of these by using the Audience Network and get paid to show relevant ads to your demographic. There are opportunities to use display ads, and you can even sell ads for the content you can create.
Call To Action Button Choices
Don't run a "contact us" CTA on your ad when your store is closed. Avoid using CTAs that require specific hours, or, instead, designate when your ad will run to align with your CTA.
A/B Test Facebook Ads
Test objectives to see which are most effective at getting the desired action from your target audience. But also, test interests and behaviors you're targeting. And, you want to test different creative. Do this testing in multiple ad sets.
All this testing requires time and effort. Be prepared!
Ads Need Keywords, Too
AdEspresso likes these 5 keywords: You, free, because, instantly and new.
Track Ad Performance
Pay attention to which ads are most effective. As well, pay attention to which days have the best results. According to Bitly, the highest traffic midweek occurs between 1 and 3 p.m., while engagement is highest on Thursdays and Friday.
Ashley's wrapped up. Her slides can be found here. 
Dennis Yu isn't here to cover the basics. He kicks off by saying the easiest way to tell if your campaigns are screwed up is to check your relevancy scores. Those should be higher than a 5 (he likes 8s, 9s, 10s). Not that high? Something's wrong with your content or targeting – pay attention.
If you're doing a good job on Facebook, you've probably optimized your other channels well. You can leverage all the things you find are working in your other channels when setting up your Facebook campaigns.
Create lookalike audiences only when you have an effective custom audience. Don't just throw 100 emails you have into a list.
You can essentially automate and segment within Facebook ads. If someone watched your video, you can send them another one.
Dennis says the smarter Facebook has become, the less work we have to do. He wants you to bookmark this page. For everything we could want to do, Facebook has been incorporating the targeting and advertising capabilities. It's all getting baked in directly to Facebook.
Optimization of Facebook ads is where most people screw up, because they don't start with a good foundation@dennisyu #pubcon

— Greg Gifford (@GregGifford) October 12, 2016
Did you know you can be a certified in Facebook advertising? There's an entire catalog of courses. Dennis isn't at Pubcon to do training that's already for free online. Just do Facebook's Blueprint courses.He doesn't think the certification itself is really worth anything yet, but the courses themselves are valuable.
The audience is loving his "did you know?" technical explanations of how Facebook ad campaigns work (find more did you know facts I didn't quite get jotted down here). I wish I'd been recording this, because it's so jam-packed with info. Luckily, Dennis handed us all this awesome cheat sheet for social amplification, which you can access and get more Facebook ad tips right here.
According to Dennis, what Facebook is trying to do now is, say, put a quarter in the machine, let the machine do all the work. Press the easy button. If you can feed the system goals, content and targeting, the system is going to try to optimize against your goals. They're looking to make this easier. Facebook is trying to be the system (rather than Hubspot or Infusionsoft) that helps you market to your target audiences most effectively. The system will learn what targeting, bids, etc. are most effective for you. We're moving in that direction. Right now, Facebook just can't make your content for you. Otherwise, they're quickly working to figure out how to do everything else.
Excited?