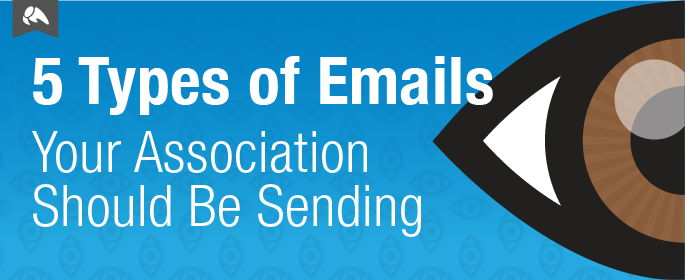 You work for an association. You have members, followers or, at minimum, people who look to you to provide them with the information, tools, resources and likeminded connections they need to make them better, faster and/or stronger. The more engaged this audience is kept, the more successful your association will become.
You know this. That's why 68% of associations say engaging members is one of their top priorities. One way many associations look to do this is via email marketing.
Our question is, how's it working?
For those looking to improve member engagement, below are the five email types your association should be sending.
Welcome Emails
My father always told me that you only get one chance to make a first impression. If you are not sending welcome emails as soon as someone joins your association or signs up to get updates from you – you're missing a prime opportunity to engage them when they are most excited about what you do. welcome emails are positively crucial for onboarding, allowing you to point new members toward:
Tools or resources available to them
Important areas of your website
Where to go for help and who to contact
Important dates/reminders
Event information
New members are likely to be some of your most engaged. They're new in town and they want to know how they can help, where they can leave more and what's available to them as a card-carrying part of your organization. Your welcome email is a prime opportunity to answer questions and get members engaged.
Content-Rich Newsletters
I suffer from a problem.
I like being informed. I like reading articles about topics that interest me. I like reading commentary, news pieces, hearing new ideas and learning about new ways of doing things.
That's not the problem.
The problem I have is that I don't have a lot of time.
Your members have the same problem. Help solve it by offering content-rich newsletters that aggregate the information your audience craves, into a single email newsletter, delivered to them when they need it. In doing so, you'll not only solve their immediate problem, you'll nurture an engaged, more loyal member.
What kind of content should you share via your email newsletter?
Blog or articles you have authored
Hand-picked content from other sources
Resource guides that break out issues of interest
Member stories
News about your association
There is an enormous opportunity for associations to find great success with content marketing simply by the nature of what they do. Whether it's promoting a cause or connecting like-minded people, there are common interests, passions and beliefs your association unites.
They have questions and concerns and wants and things they want to learn more about. You can engage them while building trust and loyalty by being the brand that gives them what they're looking for – resources to solve these needs and answer their questions.
Anniversary Emails
Most email marketing programs will allow you to send an automated anniversary email to recognize important dates in your member's life. This could be the anniversary of the date they joined, an important event in their or your association's life, their birthday, holidays, etc. Anniversary emails, especially when automated, provide an easy way to reach out and create goodwill among members. Anniversary emails should always be personalized as much as possible to let members know you are thinking of them, that you appreciate them, and that you are grateful for the value they provide.
Surveys
How can you engage a group of people? Ask them about themselves. Find out:
What they like about your association?
What is the value you offer them?
How can you offer them MORE value?
What kinds of events would they like to attend?
What do they want to see more/less of?
What did they find most helpful this year?
What do they want you know?
You can discover the answers to these questions simply by asking them. Send surveys (especially if your audience has been less-than-engage lately) to get their thoughts on what they want to see or how they want to interact with you. And then act on that feedback. Put their suggestions into action and create a more member-focused organization. That's what all this is about anyway, right?
Emails They're Not Expecting
The emails listed above? It's everything you should be doing to cover your bases with your audience and email marketing – but every now and then, throw in a curveball. Surprise them. Send members something not intended to inform them or help educate them, but to delight them. Maybe it's a video you saw that had you in stitches. Or a stat you heard about the industry that inspired your own ranty feelings or commentary. Check in with your people. Share what you're thinking about and encourage them to hit reply or to head to Facebook/your blog/wherever to talk more about it. Wear your heart on your sleeve and invite them in to learn not only more about your association, but the people behind it.
Creating A Plan To Increase Member Engagement
Increasing member engagement is a top concern for association marketing across the board, and it's hard. Getting others to tune into your message and to open to have a more active relationship with you takes work. It's something you have to earn. Start the relationship by providing value. Email marketing, starting with the email types listed above, is a great first step. But it's only the beginning.
Learn more about what you can do, right now, to start increasing member engagement. We've laid it all out for you in our free ebook linked below.
Subscribe to our blog to receive all the latest tips & tricks from the Overit team!