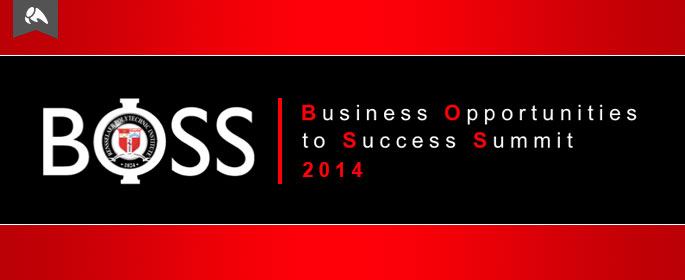 Good morning, everyone! We're at Business Opportunities to Success Summit 2014 (#BOSS518) today, getting ready for 60+ five minute presentations from senior executives, entrepreneurs and business leaders. And if those short presentations weren't enough, there's a few longer ones in there for good measure.
You ready?
James E. Spencer, Jr., Executive Director at Rensselaer Technology Park, is kicking things off. He speaks about Rensselaer Polytechnic Institute's mission to drive innovation, and how it's facilitated by the school. The big question – "Why not change the world?" How do we make change? How do we accomplish that? It's one thing to have a project and laboratory and another to take that and make it a product or service. The university is organized in such a way we bring about social economic change.
We're going to hear more about this later, but we're going to jump into things now.
Michael Hickey, Chairman of the Center for Economic Growth (CEG) is up to give the State of the Region Address.
All new net job growth has come from startups. Old companies are laying off. Yet we also know that 90% of new businesses fail. So the question becomes, "what if?" What if that 10% success rate was 20% or more? One of our strategic partnerships needs to be entrepreneurship.
Here, we have a rich tradition of manufacturing and innovation. We've been tested by periods of stagnation, but we've moved toward leading edge high-value industries and innovations, such as nanotechnology. Tech Valley is on its way to an economic future of exceptional promise, with cutting edge developments here. We're a model of economic revitalization.
16 Capital Region firms are in Inc.'s fastest growing 500. Global Foundries employs twice the initial expectation. Significant IBM research is Albany-based right now. There are many hospitals and science-based schools in the industry. New organizations are coming to our area. Thousands of companies and tens of thousands of jobs are being driven by this movement toward innovation. Other regions are looking to Tech Valley as an example of how to spur growth and change.
And we're off.
Session 1: Cultivate
Lorenzo Agnes, Lead Culturist, Package One Industries – Culture is a Person
Over the years, he's come to appreciate that every time people interact with you, they're meeting this person ("Bobby") who is always present. Bobby is your corporate culture. And if we think of this person as a metaphor, we can identify what we're doing right, and what we're doing wrong. Give it a personhood, know your values.
Personhood can be shaped, it can be developed. What we believe, how we behave, who we become.
We are very specific and intentional about shaping the world of our children. We need to be intentional about how we shape our corporate culture the same way.
Good Bobby enables deep choices. When you have good values and vigor, good personality, you can make good choices. Are you intentional about developing your Bobby?
Would you hire your own Bobby?
Sujata N. Chaudhry, Principle, Tangible Development, LLC – Motivating a Multicultural Workforce
We no longer live in a world with borders. The topic is apropos today because we have entrepreneurs to executives here. All of us need to be cognizant, whether it's a startup team of different cultures, or leading a team as a manager, or leading a corporation of 500. We have to think about how to motivate them.
Everyone is faced with this challenge. We have to learn and understand the differences, while acting on the commonalities.
She gives an example where three different people from three different cultures do something three different ways. They're making an apple pie. Regardless of the process, we still end up with a lot of sliced apples ready for pie (yum).
"Not everyone is as American as apple pie. But we can all appreciate and get a piece of that pie."
Angela McNerney, President, Tech Valley Connect – Why Corporate Culture Matters
She talks about how people coming to the area to work often bring spouses and other family members who need jobs, as well.
People are made up of their networks – family, personal and professional. A lot of times, they don't come by themselves. When you are bringing somebody in, you think they're going to be consumed with their job night and day – that doesn't make them take root in the community. There's no "stickiness" here. So we need to focus on community integration and networking. Relocating is a disease of isolation. If you only focus on the new employee's job, they'll jump to the next shiny job they see. Tech Valley Connect works with families for one year to make sure they find a life here.
Employers have to look at your human capital – and what they need.
Scott Tannenbaum, Ph.D., President, The Group for Organizational Effectiveness – Building a Culture of Collaboration
Anyone here on a team? How about more than one team? Any leaders?
Anyone been on a very effective team? Well that's good. Struggling? (a lot more hands there)
Over 90% of people at work are on teams – less than 1/4 think their teams are effective. We have to figure out how to crack the code. Three quick observations:
Teamwork does matter. Teams that demonstrate better teamwork behaviors outperformed other people. That doesn't mean they liked each other – just better behaviors.
There's an emerging science of teamwork. It's not just about let's get together for lunch or a retreat. There are a certain behaviors and cognitions we want to move teams towards.
When teams work as teams, your culture spreads. Effective teams outperform others by at least 20%. As a leader, don't do most of the talking. Do most of the asking.
Joan Regan Hayner, CEO, Capital Care Medical Group – Cultivating Strategic Partnerships
She's a competitive ballroom dancer. There are analogies here. Both require partners, timing, effective communication and core values. You have to have a bold vision and be able to effectively articulate goals – to be sure you're dancing to the same tune as others. You need people to understand their individual roles to build the organization's success.
The most successful ventures will be between organizations that partner around ideas (collaboration). Each person brings value to the partnership to enhance the team. Sticking to the program. Discipline. Preparedness. Partnership is two individuals or organizations doing everything to be on top of their game. Connection with the partner, sending and receiving nonverbal messages. The concept of lead and follow – not about strength or weakness. Understanding how to work in unison, by complimenting and not competing.
As a couple moves toward their intended target, they pause to think about where they came from. An appropriate metaphor for companies who can't lose sight of where they came from.
Jacques Bastien, CEO, Boogie – Why We Don't Work On Wednesdays
Are you being productive or just active? Have you, like Jacques, spent hours talking about cats vs. dogs and fears of dogs with your coworkers? For two hours, times four people? Because these cats and dogs scenarios happen. YouTube. Facebook. (Apparently 70% of explicit videos are watched between 9 and 5, btw).
Boogie prioritizes an 80/20 rule, strict to-do lists, and only booking six hours for an eight hour day. Happier employees leads to happier clients and better work.
Larry Davis, Founder & CEO, CommSoft – Making the Workplace Fun
Larry speaks to days when technical geeks were the minority and were looked at differently. You didn't have to be there at 8 a.m. or wear a tie. This was good, because you needed a reason to attract other technical geeks, and this differentiated the environment.
Your people are basically your product – your intellectuals. Your worth. You need these people to be happy, because they are what make you successful. They're your biggest asset, so make it fun to come to work, and relieve the stress of day-to-day life. Offer flexibility wherever possible. Create a culture people want to talk about. It's not just that they can have beer at work. It's also that they can tell their friends they can have a beer at work.
Make coming to work fun. Relieve stress. Offer flexibility. Communicate, recognize, reward.
John Robinson, CEO, Our Ability – Get Off Your Knees and Advocate
"If you get off your knees, this line would move a lot faster." He was told while standing in line in college. A congenital quadruple amputee, that wasn't the case. But he uses it as a metaphor for identifying your turning point. When will you take responsibility for yourself, your role and what you can offer? How people see you, how you present yourself?
As an entrepreneur, as he was asked to go out and speak,  he would tell people that when he was a young person with a disability, he had no role model. No one to ask, "How do you do this?" He realized there was an opportunity to mentor, connect and inspire people with disabilities. That's the turning point with what they've done with Our Ability, which helps people with disabilities find employment. Etiquette, sensitivity training, recruiting, and more. Why do we do that? Four out of five people with disabilities have left the workforce.
How can you get off your knees and stand up to the responsibilities that you have, and what you can offer?
Keegan Hayes, Program Manager for Center for Economic Growth, is wrapping up the session. Somewhere years ago, we lost our focus. We forget to start businesses, grow and collaborate. When the recession happened, we feared change. But we saw entrepreneurs carve out their own opportunities to exist. Now we're seeing new businesses move in, new schools being built, new programs, new organizations and events. We saw we were at a tipping point – and we could go far. So where do we go from here?
Back in a few with Session #2 – Create.
[Looking for more #boss518 coverage? It's right here.]