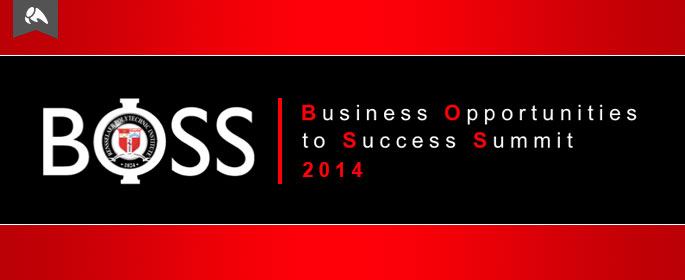 Still with us? Last session of the day, on "making a difference in the world and giving back when you succeed and prosper."
Water L. Robb, Ph.D., President, Vantage Management, Inc. – Taking Risks
Yogi Berra – "When you come to a fork in the road, take it."
Well, if you come to a pivot, grab it!
Walter encourages us to avoid incremental thinking. At his company, he didn't want to be the 14th company to make a better medical scanner. Move faster. They had a prototype in 18 months, and 6 months later they were in production. That breakthrough allowed them to become a global business – in two years, they were number one in the world. Another time, they achieved 1st place in world share for an MRI machine. These two pivots – these two challenges they took on – were critical.
When your business is faced with a pivot, don't rush into an incremental stage. Step back and find the breakthrough that's actually going to make you successful.
Oliver Kardos, Senior Vice President, Business Banking Leader, KeyBank – Life After "The Sale"
Takeaways on life after the sale:
No Surprises – the ones took into account their age, their desire to work after their sale, their management team, their family members in the business… they asked tough questions along the way. Some dabble in real estate, in consulting – the ones that made a dabble while they were CEOs and owners were the ones that made the easier transition.
From CEO to CEO Emeritus – There's the entrepreneur that has the CEO mentality. One that focuses on brand and management, execution, profitability, etc. These are the folks that really need to manage companies. They go on to buy other businesses. Rule: Don't try to change the way you are wired. Stick with what you're good at.
Timing is Everything – It's not necessarily the most cash for your business. It's about getting the best price and the best scenario for this stage in your life.
David Gertler '83, '84, CEO, KryptoCore – Define Yourself by Helping Others Succeed
 What do you do with FU money? What would you do with it?
"Numbers are important – Impact on others is essential." The right employees are much more important than the wrong customers. He's got a wonderful plaque for "manager of the year" collecting dust, nobody cares – but to this day, he still keeps in touch with people who he's worked with throughout the years. It's not okay to just do well, you also have to do good.
"There's always room for jello, and there's always time to help others." What would you do with that FU money if you had it now? Why aren't you doing that right now? Start doing that good.
Paola Horvath, Franchise Owner, Orangetheory Fitness – Serial Entrepreneurship: Reinvesting Experience & Money
She didn't know what an exit strategy was until after they sold their business, so exiting was difficult, but she's learned from it, mentored and now became a franchise owner. No matter if you're starting your own business, or franchises, or corporate world, these takeaways apply:
You always need an exit strategy. You need to be open to all opportunities that come along. Never give up. Have a mission, have passion and have a drive.
Robert J. Tannor, General Partner, Tannor Capital Management LLC/Tannor Partners Credit Fund LP – An Ending is a New Beginning
Pick your advisors well. It's really hard to do, but it is costly to make a mistake. He's made that mistake. Your brand is very important when you use an advisor. He uses a big four accounting firm to handle most of his legal work. As a startup, those brands, even though you don't have a lot of experience, will pay for themselves in years to come.
In restructuring, management is everything. Everything. You see the results of bad management all of the time. Corporate restructuring can be successful.
Jeffrey Buell, Owner, Sequence Development – Mentors and Sponsors
Advisement, financial investment and moral support. These are the most important things to be offered by mentors. Have people to guide you and help you avoid pitfalls. The world is filled with people who know more than us, and leveraging those people can help you succeed. But how do you do that?
Belief – Don't mistake confidence for belief. We all have a gut feeling – that is not belief. Belief is transferable, people want to be part of it. You can only be truly wrong once and right once.
Passion comes from belief. When you genuinely understand something. Divide into two camps – those who care about what they do – and those who don't. Chase the idea and the money will follow. We believe in certain things, we passionately promote an agenda that improves our communities and our bottom lines. We're natural optimists that are being deflated.
People capable of mentoring and fostering future growth haven't lost that optimism. Belief and passion are great, but without resolve, they're completely useless.
Angelo Mazzone, Owner, Mazzone Hospitality – Exceeding Expectations
Four core values: Vision, Integrity, Passion and Hospitality.
He was told not to open the banquet facility in Scotia. Friends said no. Banks said no. Another time, he was also told no one was going to buy $45 steaks in Albany.
But they had passion, they delivered and they took care of customers. They believed it would happen, and it did. He says to always under promise and over deliver. WOW your customers.
And remember that your people are the most important thing to you.
Greg Eastin, Vice President, Institute Advancement – Why Philanthropy is Important
"Someone is sitting in the share today because someone planted a tree yesterday." – Warren Buffett
Leadership is what changes the organization, and it's what will change your company. That leadership and that vision for the institution.
What is the legacy that we're leaving? What are we doing in our communities? We can shape lives on a daily basis.
"I hear and I forgot. I see and I remember. I do and I understand." Consider where your passion lies, and see how you are investing in that. He presses us to consider using your time, talent and treasures to improve the community.
That's it for the sessions! We'll catch up with an overall recap tomorrow, along with takeaways from this afternoon's special presentation. In the meantime, check out all #boss518 coverage right here.