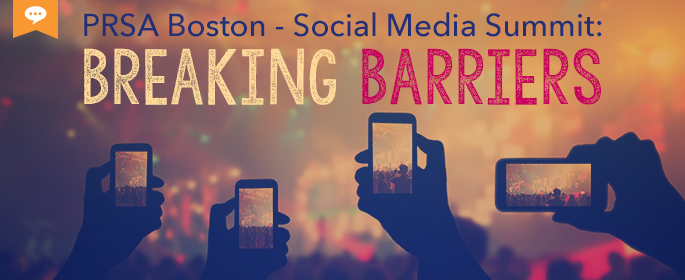 PRSA Boston puts together a Social Media Summit every Spring that provides actionable insights for Social Media Strategists and Public Relations professionals. This year, I was lucky enough to attend and learn from folks who are encountering the joys and challenges of working in the ever-changing world of social media. This year's theme, Breaking Barriers, is particularly apt, as algorithms continue to change, privacy concerns rule the conversation, and the toxicity of some channels lead us to consider how best to use the different platforms that are available.
Read on as I share what I learned at the Social Media Summit.
Opening Keynote – Deirdre Breakenridge, CEO at Pure Performance Communications
Deidre gave an inspiring keynote that reminded us to ask questions and to be curious in our online engagements. She set a positive, inspiring tone for the entire day with her thoughtfulness and philosophical tone.
Important points that she made sure to include:
The modern communicator's job is to be relevant. To do that you have to be curious and willing to pursue the questions that matter.
As communicators, we have to pause and pay attention to little moments. Life, and all our marketing and communication efforts, is a journey of choices.
One point I truly loved is that we overthink perfection and cosmetics like perfect sound and lighting. Our followers are going to value the human moments we put out there. Instead of overthinking, just say yes! Test and try.
You are a creative content driver. As people's attention spans dwindle, we have to be more creative to get attention.
Whatever you do, try not to 'finish familiar,' which she defined as staying in your comfort zone. As marketers and creators, we have to try new things, invest in technology, and invest in educating ourselves in data and applying the insights from the data we collect.
Deirdre is a believer in connecting the right people, and that great things arise from our relationships. She has sometimes felt wary of those who have approached her on projects, only to enjoy the new paths that those projects took her on, like podcasting and consulting on new topics.
Panel Discussion: Using Storytelling to Build Engagement
Moderator: Adam Ritchie, Adam Ritchie Brand Direction
Panelists: Tory Starr, WGBH; Tomas Kellner, GE; Ben Holmes, Aeronaut Brewing Company
This panel blew my mind! Storytelling is an integral part of what we do at Overit, and I hoped that the panelists would provide food for thought- they definitely did!
Tomas defined the ingredients of a good story: a protagonist you can relate to, overcoming an obstacle, with a specific outcome. I tweeted this as he was speaking because it's a succinct definition that we can all use in our content creation.
The panel showed us some of the stories they worked on and a common element of each is that they were relevant to their audiences and resolved the questions an audience may have.
Ben Holmes feels that every piece should build excitement, have a mystery, and then a reveal.
Tory Starr, who is the social strategist for WGBH, made many points during the session that I found myself nodding along with, but especially that social media is now a production platform (e.g. Facebook Live); you need the creative energies of multiple people to make it work- the merging of strategic and production. She also reminded us that we need to be authentically communicating with our audiences.
The panelists all spoke about cultivating loyalty by offering special perks to your most loyal 'key people' whether its a newsletter that speaks to their interests or some reward that you finely craft. Provide surplus value for your customers.
Tomas gave examples of how a piece that he works on for GE Reports all week can be sliced and diced for different channels. For example, a story on 3D printing can be made into a Facebook Live video with an engineer, and edited for Snapchat, or used in a podcast. It's important to reformat what you have for different audiences.
The panelists were careful to add that chasing numbers in the age of algorithmic overhauls is a bad strategy. Chase loyal, engaged users instead.
Finally, the best stories are about people, not products. Always remember the human perspective.
Panel Discussion: Keeping Your Brand Reputation Clean
Moderator: Beth Gibbons, The Hollywood Agency
Panelists: Jenna Reynolds, Planet Fitness; Steve Gallo, Oofos; Christa Maryland, Natick Public Schools
This panel gave us an opportunity to hear how brands interact on social for customer service, in crisis situations, and that introducing new platforms can be an advantage.
Christina's role is bringing to light the efforts of a school district on both the school and district level. Social media and PR at the educational level have many nuances, not the least of which is being prepared for crisis situations. Parents also have expectations about how they will be informed and want to see events/information on the platforms they are on. Christina picks those messages that will resonate the most.
Jenna works at one of the top fitness franchises in the country so being on the pulse of social media is important. Snapchat geofilters, a private social media network for members, and chatbots are some of the ways they stay ahead of the curve competitively. She also feels that working with up-and-coming influencers, in her case members who have compelling stories, is a great tactic.
Steve says social is just getting faster, more confusing, and that the role of influencers is more critical than ever. Using social media to address customer issues is critical; you have to respond quickly, and be as personal as possible- no canned responses are welcome at Oofos. Christina agreed and said it's important to talk about problems- you have to let people know you are aware and talking about any issues- don't hide your head in the sand.
Both Jenna and Christina spoke about their robust escalation plans for problems. But as Christina put it, it's important to not be reactive, but to wait and share correct information. You need a plan in place internally so everyone is on the same page regarding how to handle a problem if it arises.
The panel tackled some of the most prominent issues of the day, from school shootings and being prepared for worst scenarios, as well as the #MeToo movement. Once again, the notion of being authentic and balanced was key to all of the panelists.
Keynote Speaker. Stephanie Kaplan Lewis, Co-founder, CEO & Editor in Chief, Her Campus Media
Stephanie told us the amazing story of Her Campus, which began at Harvard University, and is now at hundreds of campuses around the globe. The founders started Her Campus because there was a gap in content for college-aged women (although plenty of content for the high school teen and professional women was available). Stephanie also gave us insight into this market and the hopes, dreams, and aspirations of women at colleges around the world.
The college woman is savvy, but because she is still trying out so many things, her brand loyalty is up-for-grabs.
Social media is more important than ever for this demographic, and it's vital for brands to make content specific to social.
Her Campus is not just online, but has 2,700 micro influencers, a publishers network, sampling and product ambassador opportunities. The young women who are involved see all of these as career paths and springboards.
The 2018 survey that Stephanie shared provided fun, interesting, and market driven info, such as: Instagram is key for brands to this demo, while SnapChat is a way for these users to stay in touch with their closest friends.
These young women take email seriously and it is the first thing they check in their day.
For brands, it is important to make content that college women will want to engage with, whether it's taggings friends, or re-sharing.
Brands should not be afraid to make a statement! These young women are passionate about issues, but especially gun control and reproductive choice.
Panel Discussion: Measuring Success on Social Media
Moderator: Shannon Giordano, Serendipity Social Media
Panelists: Melissa Mann, Education First; Lucia Maffei, BostInno; Rachel Happe, Community Roundtable
Metrics, ROI, and audience engagement were the key themes of this panel. And all of the panelists agree that you can't measure success if you don't start off by asking yourself the right questions.
Start by asking yourself what your KPIs are- what does success look like to you? Melissa emphasized this as well as putting content out there that your audience cares about. And you can't put content out there if you have not studied and learned about your audience. Like earlier panelists, she finds that people-driven stories are the ones that are most compelling.
Rachel said that you must manage different communities in the way that the specific community finds appropriate. You always have to build trust to get into higher levels of engagement.
Lucia says that numbers are misleading- that you must 'do content that is good' and provide authority and context. For her company, subscriptions are the most important metric- everything leads back to that important number.
All three panelists take time to evaluate analytics and behavior of users but it's most important to delve into the user behavior of those followers who are most engaged with you: what resonates with them?
Melissa made a point that has stayed with me: "Social Media is a tool to keep you top of mind," meaning that a user may not purchase your service or product right away, but if you are telling the right stories and using social as a customer care opportunity, then you can stay top-of-mind when a user is ready to purchase.
Rachel also feels that inviting your followers to co-create with you is a way to ensure that they will stick with your brand in the future.
Lucia emphasized the importance of listening to your '5-star users.'
All three use influencer marketing and tactics but Rachel calls influencers advocates and thinks that researching your advocates and what motivates them, then offering 'win-wins' is a way to have successful advocate relationships.
Roundtable Breakouts
The last part of our day was Roundtable breakouts, where we sat in small groups with an expert to go over a topic important to us. I sat with Angela Pitter of LiveWire who emphasized more storytelling points as well as the idea that 'likes don't pay the bills.' For her, thinking about the goal before you begin any specific tactic is important. You can't track your return if you haven't thought about the goals for each piece of content.
Other points she made, as we studied successful videos like Slack's Sandwich Video:
Social media is a two-way conversation- you need to hear and jump in where appropriate.
Every piece of content can be repurposed.
Not every topic is going to resonate- and that is ok. You can test what will work on Twitter more than any other channel.
Cross-promote your platforms!
Ask yourself: what's the story, what's the outcome, and then Be Consistent in your delivery.
In summary…
Social Media Summit offer an informational and inspiring day of learning! Social Media is a powerful content delivery channel. Brands that lead from authenticity and humaneness will be able to tell stories that resonate with their audiences. Remember to be grounded in reality on social and success will follow! Most of all 'tell a damned good story! (Tomas Kellner)'*
[We created a Twitter List so you can easily follow all the panelists, moderators, and speakers]