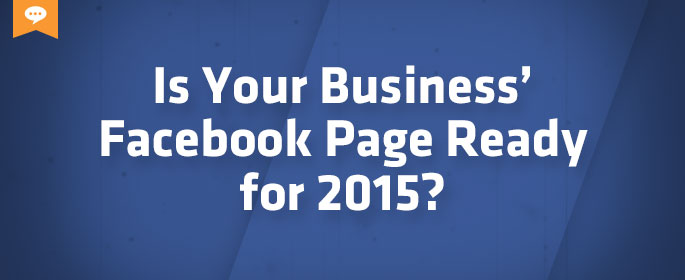 Ready or not, 2015 is coming, and so are changes to the beloved social networking site, Facebook.
While up until now, it's seemed to be a no-brainer that most brands and businesses can benefit from an active Facebook presence (if engagement is nurtured and you provide good content people want to read, of course), things are about to get shaken up.
Yes, it's still going to be important for brands to be present and engaged on Facebook, but the nature of your organic posts and their ability to reach your fans is changing. Beginning in January 2015, Facebook plans to improve users' News Feeds by reducing the organic reach of posts that are too promotional, or seemingly irrelevant to the user.
Facebook & The Fight Against Overly-Promotional Posts
As part of an ongoing survey, Facebook asked hundreds of thousands of people how they felt about content in their New Feeds.
The verdict: People want to see more stories from friends and pages they care about, and less promotional content (cue the sobs of a thousand marketers).
Facebook investigated further, and determined that the content users see as being "too promotional" was in fact coming from Pages the users had liked – they weren't talking about ads.This seems… weird, right? You'd think if someone made the decision to like a certain page, they would expect, and hopefully welcome, promotional updates from that business or brand. But if we listen to Facebook's data, it's not that simple. We like Pages and being fans of them, but we don't love their promotions. So, Facebook is restricting the organic reach of your overly promotional brand posts. If you want to promote your products or apps, you'd better prepare to pay up to reach your fans through advertising.
According to Facebook and their News Update in November, these are the three no-no's of organic promotion:
Posts that solely push people to buy a product or install an app
Posts that push people to enter promotions and sweepstakes with no real context
Posts that reuse the exact same content from ads
So, what will this affect? If you're a business, big or small, what can you expect to happen from tighter controls on posts from Pages in fans' News Feeds?
Expect your organic distribution to fall significantly over time. Ouch, that's the way the cookie crumbles. If you aren't paying for Facebook's advertising or promoted posts, don't expect the same reach you once had in the past. We've already seen organic reach decline significantly over the past year, and that downward trend will continue.
Don't expect an increase in the number of ads users see in their News Feed. Instead, Facebook plans to increase the relevance and quality of the overall stories, including page posts people see. If you aren't paying to promote your most important posts, you'll want to consider it. But, if you're already using paid promotion and advertisements, you won't necessarily need to create more ads – just work on improving the quality of your organic posts to fit Facebook's new standards.
Facebook Guidelines for SMBs and Big Brands
While the rules should apply just the same for small businesses and large, SMBs are likely to take a harder hit. With lower budgets for advertising, many SMBs rely on good organic reach to spread their messages and earn attention. Business owners may want to seek guidance from a social media expert to help them develop a plan and adhere to the new guidelines. Regardless of whether or not they seek help, it's going to be important for someone on their team to create a social strategy and content calendar to ensure posts are relevant, helpful and entertaining to fans.
Larger businesses may have no qualms about shelling out extra funds for advertising, but they'll still be wise to up their organic-post game, too. Thinking like a smaller business, larger businesses should strive to connect with fans and write posts that engage their fans, instead of selling to them.
Maintain reach through good communication. It's becoming harder to gain reach and attention, but harder doesn't equate to impossible. Brands and businesses can adapt to these changes and head into 2015 prepared and optimistic. We recommend adopting a healthy mix of non-promotional unpaid posts, relevant promoted posts, and targeted social advertisements.
Facebook is where fans should get to know you. This is kind of obvious, but it matters more with the new 2015 updates. Create a robust page that draws users in with photos and videos that showcase your brand and the culture behind it. Facebook is a place to communicate who you are, and what your brand is trying to achieve. If your mission or culture clicks with a person, they'll like your page. Keep providing stories that reinforce their reasons for liking you and believing in your mission.
Facebook is where you should get to know your fans. Perhaps you're a small bagel shop, and you want to test the waters to see if your customers would come in later in the evening if you stayed open. Facebook is an ideal place to get feedback from customers and find out if there's interest in starting an open mic night, or creating a cozy, quiet atmosphere for local college students to hang out and study.
Use your words wisely. When posting organic, non-paid status updates and photos, you'll want to be mindful of the message you're writing. Steer away from promotional buzzwords like "download, buy, like, and share." While Facebook hasn't come outright and said that these words will hurt you, they're likely to be something they'll look for when determining which posts are overly promotional. And please, don't reuse the same messaging that you're using on a paid Facebook ad.
Guide users from Facebook to your website and email list. Facebook doesn't have to be (and shouldn't be!) the end of the road for your fans. Share relevant and resourceful links from your website to encourage users to go there, where they might find the promotional offers that Facebook is discouraging from organic posts. You can also utilize your own fans to help get the word out, provided it's done in a non-promotional manner. Creating content that's share-worthy is a good way to get your posts seen by new eyes, as fans share your posts amongst their networks.
According to The Guardian, native videos will also have a prominent place in the marketer's toolbox in 2015. Videos uploaded directly to Facebook, rather than links to YouTube videos, already generate more than 1 billion daily views.
Have hope, Facebook marketing is not dead. You can still communicate and build trust with your fans. It's still a great place to let users find out more about you – and to learn about them. Just be prepared for changes in your reach – and have a plan to address these changes.