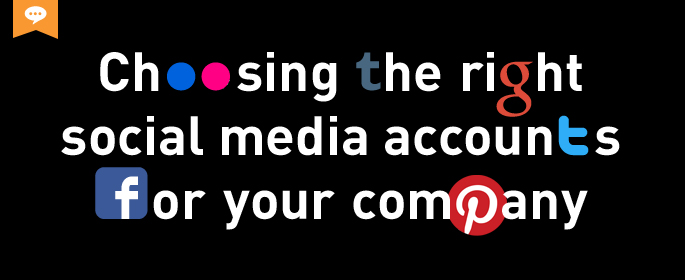 Starting a business today requires a few things people weren't focused on when the YellowPages were the go-to place for finding the businesses and services we needed.
Is there an appropriate dot com available?
Do ugly, unrelated results appear when my innocent brand name is searched?
Can I create a suitable 15 character (or less) Twitter handle using some recognizable version of my brand's name?
Among the many decisions small businesses are making today is, "What social media accounts should my company have?"
Because everyone's on Facebook, right? And we should be on Twitter because that's where all the news breaks, and Instagram because people like pictures, and well, moms really love Pinterest… so we should be on all of them, right?
Wrong.
Small businesses don't have the time or resources to be active – and successful – on all social media platforms all the time. There are too many.
But at least…
No, not at least you have them. You can't set social media accounts up and forget about them, not even because you think they'll probably rank pretty well. Neglected social media accounts may do your brand more harm than if they didn't exist in the first place. If your Twitter account isn't responsive to a question asked, what expectations can we have of your customer service people? If you don't bother to pay attention to your neglected Facebook, can we expect you to have the time to pay the attention to the details my request as a customer requires?
When it comes to social media accounts, we're thinking quality. Not quantity. There are a number of points to consider when you're identifying which social media accounts to create for your business.
Know your bandwidth.
How are you building your social media team? Is social media the responsibility of one person or many? Do these people have other responsibilities that may distract them from a social media message that requires an immediate response? Do you or members of your team plan on paying attention during nights and weekends?
Some social media platforms require different levels of attention. Maybe you can post to Instagram 2-3 times a week and see interaction. Post 2-3 times a week on Twitter, and for most brands, you might as well not be there at all.
Knowing your bandwidth from the very beginning will help you scope out your possibilities. Can you handle one account successfully? Two? Will you be actively managing a Facebook page while devoting time to other online efforts such as review monitoring?
Understand how much time you'll have to devote to social media, and when that time will come during the week.
Identify your strengths.
Social media platforms such as Pinterest and Instagram are tremendously engaging in part because they're image-driven. These posts rely on more than words to get the message across. Voice, tone and emotion are conveyed through photos and illustrations shared by both individuals and brands.
Does your line of business provide the opportunity for eye-catching photography? Do you find yourself frequently able to visually share new products and experiences?
If you don't – say, if your entire business takes place in a room of cubicles, or you're not allowed to share iterations of any project you're working on – those platforms may not be right for you.
What are your strengths?
Do you have great storytellers who can blog longer stories and write short intros for Facebook?
Do you have people who can craft engaging tweets that will drive people to your website and convert as your goals desire?
Does your company's day-to-day leave opportunities for capturing excitement on video, by Instagram or Vine?
Does your company regularly introduce new services or products that could be captured through writing, photos and video across multiple platforms, or is your company quiet on the news front for long periods of time?
By evaluating what your strengths are, you're able to have a realistic idea of what would be successful. Yes, visually creative Instagram accounts can be a lot of fun. But don't make that decision if you are going to be out of photo ideas by week 3.
Find your audience.

Source: Leverage.
You can be the most active person on Twitter and feel really good about all of your hard work, but if your potential customers don't use Twitter, your effort is wasted.
Do the research necessary to know where your target audience spends their time online, and when they are spending that time online. Study social media stats and trends. Do this research before you begin your social media activity, and watch for trends in the weeks and months after you start posting. Are some platforms showing more results than others? Are certain types of posts or times of day more successful? Your strategy should continue to evolve based on the patterns social media tools are helping you identify.
Evaluate your budget.
Social media accounts are often free to set up, but a small social advertising budget may be necessary, particularly at the beginning when you're first drawing attention to your accounts. For Facebook especially, paid posts are going to reach far more people than these posts would organically – and if your page is brand new or has a history of poor interaction, that organic reach will be next to nothing.
Remember your goals.
No matter what platforms you're on, your social media efforts must tie into your larger marketing plan. How do you define success? Is their a particular campaign you are supporting? Is broad brand awareness enough or do you want to track social media interactions to the point of purchase?
Tweets may be small, but you can't forget the big picture. Throughout all of your social media efforts, your brand voice, tone and messaging must be consistent. They must be recognizable. The person finding you on Instagram must feel like this is the same brand that they interacted with in-person the day before.
You don't have to be everywhere.
You have to be where your audience spends the most time. Where your customers (and potential customers) will find you and where you can successfully interact with people – to teach them about your company, to learn from them about their concerns and what they desire, and to build relationships that will last.