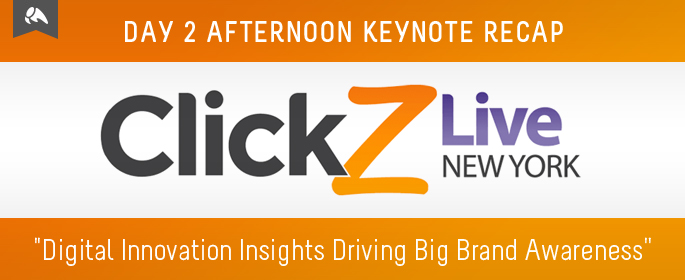 What a day! ClickZ Live New York Day 2 ended with an afternoon keynote titled "Digital Innovation Insights Driving Big Brand Awareness."
On the panel this afternoon:
Leading the conversation was moderator Aaron Kahlow, CEO and founder of Online Marketing Connect.
Below, you'll find the highlights of the conversation from the heads of digital at top creative agencies (typed in session and not guaranteed verbatim).

Aaron: How do you define digital strategy and the pillars for good digital strategy?
Jordan Bitterman: We shouldn't be looking at things as digital strategy anymore. It should be strategy with digital built-in. You have to be looking at it as what you're doing for your clients.
John Baker: Large organizations need to have a plan – that's of course strategy 101. For digital strategy for our clients, a lot are trying to figure out how to better integrate their larger marketing goals into digital channels. How do they decide how much of their brand-building budgets should be put in digital vs. traditional – and how do you get it to blur? Every campaign and every client is a little different – but it's about achieving that blur.
Jon Wegman: Strategy is a coherent set of logic for making some decisions and not others – we have to be judicious about what we're not doing. Our audience – where are they, what are they using, what are we looking for? Etc.
Aaron: If you were to give advice about what everyone should stop doing – what would you be telling your clients not to be doing even if they want it?
Jon Wegman: Measuring impressions. You look at a lot of measures and a lot of what we're looking at as success. It's not about measuring impressions – it's about measuring expressions. Is your message relevant – is it reverberating? Was it resonating? What are those expressions we're getting back from people?
John Baker: To the things that people shouldn't do – our industry is incredibly faddish. We chase after shiny objects – remember Facebook tabs- currently, it's now content and native. Each time we move, go back to e-commerce, search, the origins of targeted display, tracking banners, right now the line – each one, there's a spotlight put on it. What we've got to do is a) take the current ones in the spotlight and remember the business objectives, b) remember what happened before. Stop being madly focused about the fads.
Aaron: Why do we coin these fads?
Jordan Bitterman: We have to put things in buckets in order to make them real. We put a whole bunch of terms together all the time (like paid, owned and earned) – we do it in order to make sense of it, until someone says that definition is stupid because we've moved on but the terminology hasn't. We use these words to explain to brands what we're doing.
John Baker: If we know that you visit a site, we can immediately follow you across the web. How come we're not doing this across the web? We haven't caught up to the resources we have.
Jon Wegman: People are looking for experts, content, etc – we have to call it something. We have to have something to call it. To teach. That's where these shiny objects get named.
Aaron: Do you run into trouble clarifying landscape and what you're talking about to brands?
John Baker: People come saying "We need…" (banner ads, etc). Why do we have so many strategists? It's not so much what you're going to say. Months is spent on what you're going to say, but it's also what are you going to do.
Audience: One of the comments is that there's a lack of talent. Is that because universities are training students based on old material? Do we need to retrain them?
Jordan Bitterman: What's being taught – the curriculum being taught is far and away better than it was a number of years ago. I think the bigger issue is that you need to be a cross-trained athlete at this point to be truly successful in our business. There is so much you have to do. 25 years ago, the sophistication of the marketer… looking back, it was pretty quaint. It's so much more complicated. You have to be an educator. A salesperson. A sponge. And not everyone wants that. The more dynamic you can be as a professional – your personality and curiosity – matters. Every new thing that we talk about, it all has its roots in the soap operas of the 1950s.
John Baker: Well, I wouldn't latch on to curiosity. Yes things are changing all the time. Let's say you're talking to a group of graduates, you always have to say you're using social in your daily life – how will you use it in your business life? If you forget the digital culture of social channels, you've stepped back.
Jon Wegman: Academia in general. Marketing funnel, aging professionals. There are programs that are problematic. I don't think it's the students that are coming out and what we're teaching – I think it's us clinging to our models. How many times are we going to add more tails to it? It's wrong. The funnel is an asinine concept, and we're still teaching that and using it. And when students come to shadow you – now they're doing reverse shadows, where the CEO is shadowing students. Reverse mentoring, reverse internships. You'll see a CEO say "you don't go to YouTube and type things in?" I think that's education that we could take on.
Aaron Kahlow: I disagree. Universities are absolutely failing – you cannot say students are coming out of school ready to do the job. I really think the agencies building curriculum to get these folks to build a path to the career and the things you've got to learn… what are the search skills, content skills. Can we define these skills and get the students to learn the skills they need?
But we'll move on.
Audience Question: With the speed that technology changes today, there are hundreds of vendors that offer to solve every problem. With the whole strategy process that the agency has to go through to understand this, how do you guys adapt to the change to the environment when you have to pick a video vendor and there's so many?
(rephrased) How do you pick vendors for clients? And how do you keep your eyes open when you need to change?
Jordan Bitterman: I don't use the word vendor, I use partner, and that's how the relationship should be. It's a two-way street and not a one-way. I'm saying that as a lead-in to: we had 35 companies at my agency not long ago. We're looking for action partners who can help us move in real-time. We put an RFP to them that day. It's not an all-or-nothing game. Different software, different approaches, technologies, all lead to different reasons why we want to use them. Yes, you typically pick partners you can do a lot of work with. You get to know the people who are there. Where did their CTO come from? Are they going in a direction that you're going in? We put our saddle on the fastest horse and ride. You want to be taken somewhere – pick wrong, you've put data and client relationships in the hands of companies that aren't going to be there in 12-18 months.
Aaron Kahlow: Summarized – A) Do your matrix and find your differentiators. B) Know the people. C) Take it for a test drive.
John Baker: We're looking for that experience that's going to move the brand and be memorable. It's about knowledge sharing. It's about relationship. The way that you go from idea to execution is a long process. You need a champion to run that whole thing. For a production company that has some really cool way to do a video – it's getting them in front of a creative director to see how that relationship will work for a client.
Jon Wegman: Results. We all have different size organizations, parent companies, etc – but to me, it all comes down to performance.
Aaron Kahlow: My take is we've gone too far on the performance and measurements side, versus just brand advocacy. Do we spend too much time there, measuring? 
John Baker: There's a reason why tech companies are still selling on performance. The dollars are still there. But the larger part of the budget is still in that larger brand piece. Clients are recognizing audiences are in digital channels. What they're still figuring out – more than driving clicks – is how do we drive bigger brand objectives? Where is the retargeting campaign that has everyone talking that built major brand awareness? At the end of the day, the key ones that drive the brand objectives – awareness, intent to buy – those are the ones to pay attention to.
Jordan Bitterman: Obsessing over performance will eat us from the inside… We're optimizing the shit out of everything. It's interesting because that is a challenge. We're all trying to get results. One of the things we've focused on is looking at the numbers and efficiency – we're focused on performance through. Participation. There's a human being who wrote that query. If you're focused on motivating participation, you're going to get more performance.
Aaron: When you think about performance and optimization, you're whittling down the strategy – you know you have to keep making it better. But it keeps us from all these things we can and should be doing.
John Baker: To say that we would stop measuring and just start looking for the big idea is naive. The reality is, while you're measuring, you've got to keep that big picture in mind because that's what will be memorable.
Audience Question: When you're trying to build a new product or a new brand, there are hundreds of things that you can do, from invest heavy in TV or digital, shiny objects – how do you prioritize that and set that into motion? 
John Baker: Take Macy's, who will come out and say "This year, we're not going to do our usual campaign." That doesn't mean we're not doing anything – what are we doing instead?
You have insight about your customer, and insight about your brand. It comes down to how do you want to execute that? You can go all along the spectrum as long as you're focused on the insight of the consumer. There are any number of options you can take – then it comes down to efficiency and effect.
Audience Question: How do you still test before you invest time and resources? 
John Baker: From a creative messaging standpoint, this is the brilliance of social. If you're going to spend millions on one message, you better spend months nailing that message down. But social turns that on its head.
Jordan Bitterman: If you're doing it right, you don't necessarily have to have testing budgets. The budget can be optimized as you go. The trick is know the KPIs as you go. If something is performance-based, awareness-based, don't accidentally fragment results if you're measuring the wrong thing and switch gears.
Jon Wegman: There is experimentation, and that's part of the deal. There's a learning agenda – the education and awareness adding more value to the client. We sometimes have to guarantee results, so there are some tactics we know are going to work, but there can be a learning agenda, as well. It elevates you as an agency because you're bringing value – and trying something different.
Aaron: Mobile. Innovation is a big part of what you live and breathe. Talk about a good example about innovation as it relates to mobile.
Jordan Bitterman: I love what American Express is doing. Walking down the street in Manhattan, you've got your cell phone in your pocket. It gives you an offer for a restaurant nearby. What I'll love about it more is as it gets smarter and know more about me – transaction data, what I browse, etc – the particular value that I've gotten is $25 off of something $75 or more. They don't know if I want to eat there, but I might. And the smarter it gets, the more valuable its recommendations will become.
Jon Wegman: It's a concept, for me. It's humans that are mobile. Mobility – we talk about that. Walking down the street – it's the store, bluetooth, car that's aware. Doesn't really have anything to do with the phone itself. It's what you're doing and have done. The idea of mobility is important because – in the next ten years, the device won't matter, you'll be talking into your car and watch (if you aren't already) – mobility is most innovative. Just the concept.
John Baker: Quite a few of the good mobile campaigns are around value. Zurtech Allergy, Benadryl social app – great content that mixes in reward while helping you out. The first one you launch isn't going to have everything you need – longevity and vision are important. You have to think about it as a product you iterate on.
Audience Question: Haven't heard a lot about omni-channel experiences. Thoughts? Is it growing? Also, what do you do to interview your prospects to find out if they're the right customers for you?
Jordan Bitterman – During the Grammy's, #RTMGrammys was trending across the U.S. Which means people are thinking about that as part of the experience. That says all you need to know about being in multiple places. You have to tell stories better, leverage channels better.
Aaron Kahlow: Integrate isn't a buzzword – it's a necessity.
John Baker: Different channels are used differently, with different cultures attached to them.
Jon Wegman: Omni-channel is something that has existed for hundreds of years. I think where we're getting now is we can do something with that. Participation activated. You've signed up for a blog, and the associate knows what you last bought, and there's a special loyalty section just for you. That's omni-channel, but it's only driven by the realization of the data behind it. It's the application of that data. So many of the clients have home-brewed systems and complexity in CRM and point of sale – if you want to see an impact based on data, all those systems have to talk to each other.
Aaron Kahlow Question: You've made your way in digital, you're respected. What's your one or two pieces of advice for people trying to take their career up a notch?
Jordan Bitterman: I like to think of people's careers as a Venn Diagram – what's important to the client, what's important to the agency, what's important to you. If you can find the sweet spot – it could be a ten-year plan or a ten-week plan. If you can get your agency and client to support what you're doing, it's about you in your industry.
Aaron Kahlow: The problem we're talking about with millennials – the circle is really big on the you and the me, and not the other components involved.
John Baker: You do have to find something that you enjoy doing. That doesn't mean work is fun – you need to find something that keeps you engaged since you'll put a lot of time and energy there. Also, taking a risk. Doing something a bit entrepreneurial.
Jon Wegman: Observation. The more you move up, management experience, complexity – especially in this industry – the intense speed at which it moves, if you close your eyes, you will be out of touch with this industry. If you have to watch people at the mall or how they shop in Best Buy, you have to get out there or it becomes very insular. It's about being curious and hungry, getting outside of your comfort zone. Bring different people in so you are exposed to more ideas.