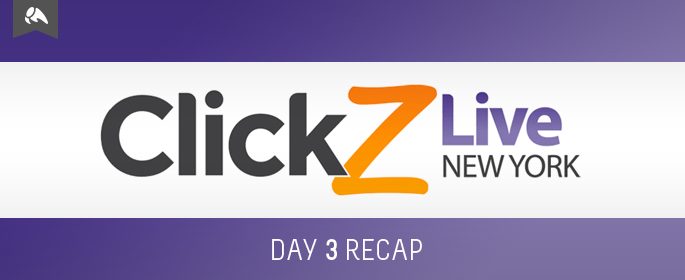 We're back from ClickZ Live New York. Sad it's over, but we brought plenty of information back home (and we had plenty of fun with friends like Ryan Jones and Erin Everhart).
Below, find a recap of three sessions we checked out on Day 3 of the conference.
Responsive Design, Dynamic Serving, m-dot: Which Mobile Approach is Right for You?
Benu Aggarwal, Founder & President, Milestone Internet Marketing, begins by stressing that we must understand the intent of the user (that seems to be a common theme!).
Desktop users are researching, probably during office hours or late at night (if they're geeky and reading SearchEngineWatch, she kids. ;)). Tablet users aren't looking for long content, and mobile users are looking for property locations, directions – quick information.
What people are looking for on mobile is very different than what people are looking for on desktop. On mobile, people are looking for Starbucks locations – not so much on desktop. Starbucks is going to have to put "Find your store" much higher than everything about their coffee beans on their mobile app. This is the kind of research you had to do before you build your sites.
Identify whether or not you have strong tablet users – maybe you have to tailor an audience for them, or maybe that doesn't have to be your priority. Know your target audience, look at analytics, figure out what they're looking for, and design to meet the need.
You have three main options for your mobile sites:
1. Responsive client side.
Same website & URL.
Different layout but same elements resized.
Same content for desktop, mobile and iPad.
2. Adaptive Responsive (RESS)
Same URL and website.
Different layout, different elements.
Different content/same content served according to device for desktop, mobile and iPad.
Site speed is good and server-side caching is effective.
3. Separate Mobile Site.
Different URL.
Different layout.
Different content for desktop and different content for mobile.
Site download is heavy.
The key difference between client side versus adaptive, according to Benu? On client side, page load time is high. On adaptive, the page loading time can be controlled based on the device type.
Benu is surprised most people in the room are doing responsive. She thought it was still a new wave of thought – not the case anymore!
You have to have a good mobile experience. Google is penalizing sites for poor UX in smartphone search. Benu prefers adaptive responsive because a 1 second load delay = 7% conversion drop [comScore]. You have to avoid that damage.
Do not 301 redirect all pages to mobile home, and if you decide to do a separate mobile site, have rel alternate and rel canonical tags in place. Finally, integrate your mobile site with your CMS. Make sure there is a way to customize content for that platform.
Benu and Cindy both stress performance testing.
According to Cindy Krum of MobileMoxie, there are mobile ranking signals that Google has explicitly talked about.
Google cares about the HTTP header: 'vary: user-agent'. If you're sending this, it's the clearest way to show you have a mobile-friendly page.
No broken content. Broken content is anything unintentionally lost between desktop and mobile versions – Flash. Popups. Hover effects. Sideways scrolling. Tiny font sizes. Tiny Buttons. Device-specific content. Slow pages.
They care about quick page speed. They care so much about mobile page speed, they're expecting them to load above the fold in about one second or less. Most people can't accomplish that – especially people doing responsive.
For 'm' only, you can use U/A redirection to an 'm.' subdomain. But you don't always have a 1:1 ration of desktop and corresponding mobile pages, and this can create a problem. Google also asks for bi-directional annotation – the statement in the code that says here is my desktop page, and here is my alternate version (mobile page, tablet page, etc.).
There are also some mobile ranking signals Google has indicated, but not explicitly discussed.
No side-to-side scrolling. Outside of a carousel, they see this as a negative mobile ranking factor. They think that the site needs to fit in the phone screen without this.
Optimized about the fold rendering. They're focused on loading the content above the fold. What's below the fold is not as necessary.
No Flash
Efficient CSS Selectors
Deferrred Loading of JS
Good font and target size. Don't have font we have to pinch and expand. Don't have buttons we can't tap.
Why is page speed so important?
It slows the page crawler, which hurts the crawl efficiency. The crawler's only going to spend so much time with your site – if your efficiency is slowed, fewer pages will be indexed.
It also hurts the user experience. Slow page loading makes the mobile WiFi experience bad, and it's worse on mobile 3G.
Google pushes responsive, because it makes sense – it's one site structure, and they only have to crawl it once. Unfortunately, we know load time on responsive is slower. Head scratcher – Google prefers responsive design, but also fast pages.
Cindy's takeaways for speeding up responsive design:
Talk to team about designing and developing for mobile first. If you design for mobile first, it forces developers and designers to come up with what's essential on the page. As they get more room going from mobile to tablet to desktop, then they can add less-essential bells and whistles.
Remove unnecessary code.
Minimize file size. Compress all files, minimize all files, send sized and compressed images. These are all methods for making them faster and smaller.
Consolidate DNS requests. Mobile load time isn't just based on file size. In the mobile world, the number of trips the mobile has to get to the server and back for the website's elements, that's what slows you down. How many roundtrip requests are your sites doing? You have to consolidate those.
Optimize Load Order. Inline JS and CSS for above the fold content. Put small images and layout elements into Optimized CSS Sprites. Defer or asynchronously load JS content below the fold.
Cindy recommends checking out Google PageSpeed Insights, Mobi Test from Akamai, MobileOK Checker from W3C and the MobileMoxie tool. Each of these will provide the data you need to understand what about your site is working and what is slowing you down – ultimately hurting conversions.
The Marriage of Social Media and PR: Making It Work for Your Brand
As soon as the Internet came along, newspaper advertising revenue began to crash. That's the opening to this session, as Mel Carson, Brand Ambassador of Majestic SEO and founder of Delightful Communications, set the scene.
27 percent of our time online is spent on social media. How? We can look at where people are spending their time and how people are sharing materials. We can find that 9 a.m. to noon is the peak time for Internet activity, and more happens in the evening. We know that entertaining content replaces informational content as the day goes on.
Mel tells a story – one that has happened time and time again. He hears "We got a mention on Forbes." And Forbes has a circulation of (this very large number) many people. Well, sure. And the PR person is very happy about that.
But the byline was published at 11:13 p.m. on the West Coast, and nobody read it but Mel's friends. Forbes publishes approximately 150 thousand posts per year.
That name+circulation = results formula doesn't work. It's all smoke and mirrors.
The web is very crowded, but you can use it to brand-build. You have to marry PR and social – building and nurturing human relationships by having real human beings at the end of it.
Mel talks about the science of great content (its "DNA"). A+U+R+A.
Authentic.
Useful.
Relevant.
Actionable.
You have to make every update count. Why are you posting what you're posting? Do each of your posts hit at least a few of the following?
Emotion
Real-time
Measureable
Affordable
Actionable
Product detail
Aspirational
Something for everyone
We'll take care of you
Call to action
Personality
How are you uniting your content and social strategy and stitching things up "so people can hop, skip and jump across content"?
PR tip – Mel recommends looking at your website's backlinks to see who is linking back to you (furthermore, look at who is linking back to your competitors). Find new influencers – the ones that didn't make it into your first media list. Find out where they're influential and how you can create more interactions.
And remember multimedia, which increases impressions of press releases. Use images and videos, include links and be tweetable. Make it easy for people to want to share your press release.
Think about the ROI of your efforts – it's not just about awareness. In the end, you are lowering cost. Digital and social customer service help lower cost. You're not just trying to drive revenue. You're creating brand affinity, increasing customer spend and anticipating the return on in-action.
Finally, Mel stresses that above all, be agile, be delightful and be unexpected. Standing head and shoulders above competition by surprising people makes you impressive.
Brad Miller, Director of Business Development at Fathom, started the next segment of the session by reminding us to step back and remember what hasn't changed. Social channels are just a tool to communicate with people. Depending on what industry you are in and what your product is, you'll use different channels. But don't get caught in the weeds and forget that communication is still communication. Relationships are relationships.
Don't let tactical details overwhelm you.
But what has changed? We're no longer dependent on major news outlets for information. This is exciting! We're getting news from colleagues and influencers, and that 3 degrees of separation has been eliminated. We're interacting with people on social networks throughout the world.
Brad wants PR to start focusing less on the corporate side of things and more on people. Our employees. Why shouldn't we enable them to broadcast their expertise? Ask for volunteers and a commitment, and provide them a foundation to build their social justice. If they have stories but they aren't writers, have an editor available to help produce valuable content that can be repurposed and shared across platforms.
Screw Link Building: Creating Revenue from Relationships and Brand Ownership
Ryan Jones, SEO Manager at Sapient: "This is a story about you, me and links."
Less than 20 years ago, search engines didn't use links. Then Google came about and we were ALL ABOUT LINKS.
Before that? We just wanted to get traffic. But then we needed traffic from Google, so we wanted links. And we went about it so many ways – most of which Google has since penalized or banned.

According to Ryan, they were penalized or banned because we got the intent part wrong. We didn't think about useful traffic or useful visitors.
Google said, "Thou shalt not guest blog."
They don't want us to just try to get links – they want us to add value. They want to rank useful sites the highest. When we talk about search engine penalties – they're not taking action on tactics, they're taking action on intents.
Tactics and strategies are very different.
Lots of us have tactics with no strategy. Getting links isn't a strategy. Guest blogging is not a strategy.
Ask yourself what's the goal? That will lead to your strategy.
Don't be a linkbuilding idiot.
We need to inherit our links – not creating, evolving. Google doesn't want to rank a site that has the most forum profiles linking to it. What are signals of usefulness?
Quit creating links. Start earning them, through brand building, content marketing, press mentions, social engagement and "going viral." Those are earned links.
Don't try to automate it. If you can have a computer do it, it's probably easy for Google to use a computer to find it.
Search engines favor big brands because brands earn links. Search engines have a brand bias because people like brands. They treat link building like any other type of ad.
And pay attention to the links you already have.
Tha
t's 3600 links already built to his site that result in a 404 page and gives him no value. It's sitting there not doing anything for him. Ryan reached out to those people to say "Thank you for linking to my site – you're linking to this but you want to be linking to this page instead."
Ryan implores us to stop wasting time with vanity metrics that make us feel good but do nothing for us. Stop worrying about the number of links, PageRank, Page Authority and linking root domains (LRDs). Pay attention to visitors and new visitors. Watch conversions. Monitor unique referrals and domains. Those are the points that matter. Ryan doesn't care how many are linking – he cares about how many are sending him traffic.
So don't do link building. Do brand building. I don't get links, I get endorsements. We've evolved to relationship building and real marketing – we're not just SEOs and Link-Builders. We're marketers, and that's how we have to start thinking about it.
(Ryan's entire slide deck from ClickZ Live New York can be found on slideshare)
Adam Melson, digital marketer at SEER Interactive, kicks off his talk on SEO by reminding us of old conference session titles like:
Where to get linkbait from Digg
Link baiting 96 different strategies
Links with Maximum juice and minium risk
Scaling and systemizing your linkbuilding
There is nothing about relationships or value in those titles.
Adam once worked on a link building stragy that involved a scholarship. You have a scholarship that requires a short essay of 500 words, and you get all the local high schools to link to it. It worked in acquiring a few links. The next year, they hired an actor to call all the guidance counselors. The actor converted 20 percent of the links, because it was a more personable approach. The following year, they called it the "Cheap Content Lens Scholarship,"  containing useful brand anchor text. The scholarship itself – and all those essays – were relatively unimportant.
They they decided to build value – not links. They used data to create an asset that was valuable, and it was shared a lot. Instead of just trying to get links, they used resources that had been in front of them the whole time – and they increased visitors while links were built.
williamssonoma versus williams-sonoma
Multiple product articles over the years were linking to williamssonoma.com. Unfortunately, the website is william-sonoma.com.
301 redirects would have been easy. But it would have been the wrong approach. Instead, they used the opportunity as an ice-breaker. "Hi! That link is bad – if you want to link, you should link to this page instead. We also wanted to let you know about our updated products that have been released since your original article…"
Honesty makes us human.
Adam's team once sent out the dreaded "Dear [Insert Site Name]" e-mail to half of his prospect list, complete with "[Insert site here]" in the body.
The team could have just found new prospects, and accepted the bad first impression of the prospects with the bad mass e-mails. But instead, they sent an apology to each, with a coupon attached.
From those apology e-mails, they got a higher conversion rate than any of the e-mails sent out correctly the first time. People like honesty.
Don't miss opportunities
Find your audience and give them what they want while getting valuable information in return. If your audience wants free shoes, have a giveaway that requires entrants to tell what kind of shoes they desire.
Adam's team once sent $15 worth of socks to a motorcycle enthusiast. That $15 sent 30 new visitors to the client's website, resulting in $785 of profit.
Under Armour doesn't do coupons, but people are searching for "under armour coupons." Who was benefitting from that? Not Under Armour. RetailMeNot was. Own your brand's organic results – even if you make a coupon page that says you don't offer coupons (but here's all the ways you save by choosing us).
That wraps up our ClickZ Live New York Coverage – we'll be at SearchLove Boston next week!