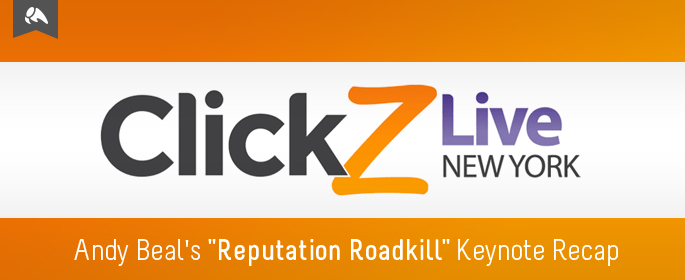 Just because you're a big, successful brand doesn't mean you're not susceptible to making serious, embarrassing mistakes. That's the moral of ClickZ Live New York's Day 2 morning keynote by Andy Beal, CEO of Trackur and author of recently published "Repped: 30 Days to a Better Online Reputation."
"Andy Beal… an Internet search engine developer, was involved in the development of… commercial space launch ventures."
No, he wasn't – that was a mix-up by a reporter. A big one.
How do you manage what's being said about you online? And what will be said about you online? That's where reputation management comes in.
What exactly is online reputation management?
"It's an effort to increase the number of positive Internet discussions, while limiting the damage of any negative ones." – Radically Transparent: Monitoring & Managing Reputations Online
Why is this so important?
83% of businesses will suffer a reputation attack in the next five years that will devalue their businesses by 20-30%.
87% of consumers tie the reputation of the CEO with the reputation of the company.
Up to 97% of consumers are going to do online research to read the recommendations of others.
Reputation management is a big deal.
Example #1: Phil Robertson
When he made anti-gay comments in an interview with GQ, he did so in a personal interview. As Phil Robertson. What he didn't realize is that those comments would become the stance of Duck Dynasty, his sons, and to some extent, A&E.
Lesson: There is no personal reputation separate from a corporate reputation. You can't segment your personal – whatever you say off the record will be applied to your company.
Example #2: Cory Booker
DMs with a stripper. Flirtation. What could go wrong?
What happens offline makes it online. There's no distinguishing between what I do offline and online. The two are going to merge.
If you take a photo with a My Little Pony doll, it's going to show up in everything forever.
Example #3: Paula Deen
She got in trouble for using the N-word (not Nutraweet). This happened a long time ago, but it surfaced recently. She lost sponsors, had some damage control issues.
Lesson: You can't hide your true character.
Andy gets asked to clean up reputation – you can't just sweep it under the rug. You have to focus on the underlying character.
Example #4: Emma "I have the right of" Way
Her tweet on the now-deleted account?
"Definitely knocked a cyclist off his bike earlier – I have right of way he doesn't even pay road tax! #bloodycyclists"
Don't brag about hitting a biker. People, including the police, will notice.
Her biggest regret? Not that she hit the cyclist – that she tweeted about it.
Just because you can brag doesn't mean you should. Self-censor. You might think it's only going out to friends on Facebook or even your private Twitter account. But it just takes one popular person to share it, and half the Internet knows.
Example #5: Mitt Romney
So he dissed on half the country, and let himself be caught on camera doing so.
Lesson: You are always being judged. There's no off-the-record. There is no closed community. Whatever you say is going to get out there. So, behave yourself at all times.
It comes back to character – be yourself (and a good person) all the time.
Example #6: Minibar in Austin, Texas


(image via: ABC News)
A "funny employee" wasn't so funny. And the bar had to do some immediate damage control.
Lesson: Make sure you train your staff. Make sure your employees know your reputation plans. Know what to say and what not to say. They're the ones with your customers. They're an extension of your brand.
Example #7: Twitter Profiles
Make sure you train your staff. Make sure your employees know your reputation plans. Know what to say and what not to say. They're the ones with your customers. They're an extension of your brand.
There are nearly 200,000 Twitter profiles that have some variation of this:
"Views are mine and not of my employer."
Well, duh. You wouldn't be posting others' views. But this does nothing to protect your employer. Reference the stories of Pax Dickinson and Justine Sacco. Justine got on a plane after tweeting a racist AIDs joke, got off the plane and lost her job.
Lesson: What you put out there is going to reflect on your company, and your employer is going to take action, if nothing else, because of public pressure.
Example #8: Family Feud
.@SpeakerBoehner, stop letting extremists sabotage our economy. End the #TeaPartyShutdown now. Speaker Boehner don't let Cruz run the US.

— Family Feud (@FamilyFeud) October 5, 2013
Family Feud claims the deleted tweet was due to the account being hacked.
…Who hacks the Family Feud account? Hack something better than that, come on.
Reaction? "I was hacked" is the new "I was drunk."
What really happened? Someone probably logged into the wrong account. It happens to everyone. It even happened to trackur.
Lesson: Use the right account. Have a way to check these and keep them appropriate. But bigger lesson: Hire the right people – the ones who aren't going to tweet obscene remarks or angry political comments on their personal accounts. It does nothing good for their reputation – or your brand.
Example #9: Pearl Izumi

An ad implies a runner ran so long and far, his dog nearly died.
"How many idiots approved this ad?"
This wasn't just a rogue tweet. This was signed-off on by many, many people.
The company's own customers were offended, as well as those outside of the target audience.
Lesson: Know your audience. And just because your audience will like it doesn't mean you shouldn't think about how others will react.
Example #10: British Airways
An angry customer gets back at British Airways by promoting his tweeted complaint. As promoted tweets were just newly launched, this was rather brilliant – it was a first. Lots of people picked it up. Mainstream media picked it up.
And then:
@HVSVN Sorry for the delay in responding, our twitter feed is open 0900-1700 GMT. Please DM your baggage ref and we'll look into this.

— British Airways (@British_Airways) September 3, 2013
Oh, no. Lesson: Be present. You might not be online 24/7, but you can use plenty of monitoring tools (Andy name drops trackur, his own). Have a system with your employees. Rotate weekends. Be on-call. However you have to manage it – Twitter doesn't close.
Example #11: Tesco
Tesco has an automated tweet they use at the end of the day.
It's sleepy time so we're off to hit the hay! See you at 8am for more #TescoTweets.
Harmless, right?
But that day?
They were fighting fires because their products were found to have way too much horse meat.
Lesson: Don't automate engagement. If you're going to schedule tweets, pay attention. If you're in the middle of a crisis, know exactly what you have scheduled – and turn it off.
Example #12: SpaghettiOs
Of course, it doesn't have to be scheduled to be offensive. You can be spontaneous and mess up pretty badly, too.
Remember when SpaghettiOs branded a remembrance of Pearl Harbor? Or when Marriott offered free coffee and mini muffins in remembrance of 9/11?
Lesson: Greed is ugly. Don't capitalize on every event. Just because it's a major event doesn't mean you should sit around thinking about how you can tie your brand in. There's no need to tie in your brand into everything unless there's an obvious, natural fit.
Example #13: Samsung
Samsung got fined $340,000 for hiring people to write fake reviews of their products. They also paid people to write negative reviews about their competitor, HTC.
Don't sink to this.
Lesson: Don't talk trash about your competitors. We know the weaknesses of the particular competitor. That does not mean we have to talk about all their bad points. We can speak more intelligently about our strengths based on that knowledge.
Example #14: Healthcare.gov
This isn't news to anyone – we all know this site launch didn't go smoothly.
Lesson: You can't cover up nasty. It goes back somewhat to your character – if you put the effort in to building a great service, you're going to build a great reputation. If you push out something half-baked and think you can manage the reputation, you're going to get in trouble.
It's very popular to think you can push out a barebones product, and sometimes it can go well, but you only have that one chance to make a great first impression.
Example #15: Lance Armstrong
He comes clean admitting he'd been doping. It wasn't just his reputation hurt – it was the reputations of everyone around him.
Lesson: You can try to hide things, but they will be revealed. Lies will be exposed.
So, who's doing it right?
United.
We've reviewed the error that occurred yesterday and based on these specific circumstances, we will honor the tickets.

— United (@united) September 13, 2013
United sells a lot of tickets at the wrong (very-low) price. The company new that if it denied these fairs, there would have been a lot of problems. The cost of offending customers was higher that honoring these mistake low-cost fairs – quite a bit of future business would have been lost.
Kmart
[youtube]https://www.youtube.com/watch?v=I03UmJbK0lA[/youtube]
#shipmypants. The ten-year-old in us giggles, "You almost said it!"
Andy's tired of people saying, "Write good content." Oh, really? Because we were all thinking "Today, I'm going to write something crappy."
NO!
Today, you have to wake up and think, "I'm going to write something amazing."
Something out of the ordinary.
Mattress Firm
This store had a ton of bad reviews. It was the last place Andy went to when shopping.
But one employee, Mike, made the difference. Even when the first mattress wasn't right. That's okay, we'll take it back. Second one, as well. The third time was the charm. Mike walked Andy through that process and made all the difference.
SOLA Coffee
Andy went there for coffee and donuts. An employee comes over and asks "Do you like pancakes?" Andy says yes, and the employee makes him a particular latte for free. The employee then asks where Andy heard about the coffee shop. Through this conversation and customer service, the employee spurred a lasting relationship.
Perfection is hard to maintain.
Clients want to know "How much is it going to cost?" and "How long is the campaign?"
Reputation management is still in a very reactive mode. It needs to be proactive, as well. You have to keep working at this. If you have a great reputation, you'll get links. You'll get press mentions. You'll be known for that great reputation – and all will follow.