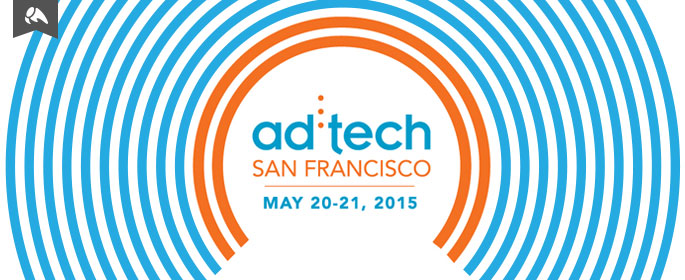 Good morning! It's time for Day 2 of ad:tech San Francisco! Are you geared up for this?
We're kicking things off with an all-star morning keynote. Talking about the new customer journey we have Sridhar Ramaswamy (Google), Chia Chen (Digitas), Michael Menis (InterContinental Hotels Group PLC) and Darren Stoll (Macys.com).
Kevin Ryan is our host. He tells us that ad:tech San Francisco is moving to LA next year. Which is very exciting. And just like that, he's done.
Sridhar is up first. He's going to give a short keynote before we bring out the other panelists.
He says we're living through a surprising revolution right now. It's the mobile revolution. We all think of search as representing humanity's intent in the moment. Mobile queries have surpassed desktop searches in ten countries around the world, including the US. Our phones are now extensions of ourselves. 2/3 of us sleep right next to our phones. We are much more likely to check for our phones before we leave the house than we are our wallets or are keys. It's part of our collective consciousness, and that's pretty remarkable. In this mobile world, even more than before, getting the right message in front of the consumer at the right time is what's going to win.
If you're like him, you take your phone out dozens of times a day. The average person takes their phone out 150 times a day. That's more than 10 times every hour. A lot of these are mundane task (checking time, texting your spouse). In these moments its not important for brands to be there. In fact, showing a message when a consumer doesn't want it may do more harm than good. But there are those moments that matter a lot. These are the moments when you and I are looking for answers, or are trying to discover something new. These are the I want to know/ I want to go/ I want to buy moments. These are micro-moments and they're rich with intent. They represent the battleground for the hearts and minds of consumers.
He believes our success in our industry lies in a deep understanding of these micro-moments and the consumers behind them. Tasks that used to be clumped into one insurmountable task (like buying a home) are broken into smaller tasks, accomplished by users looking up information on their phones. These moments are important to consumers, but they're also hugely important to brands. While we do see that customer behavior is fluid (we pick up device after device), the driver of his behavior will change. Mobile is the driver of this change. There are a lot of opportunities.
The other thing important about phone-driven behavior, is that it's set new standards for what we expect. We want them to be responsive, to have amazing graphics, and they should help us get our jobs done right then and right there. Our take is that those companies that understand the intent behind micro-moments and meet the needs of consumers at the moments that matter, they're the ones that are going to win in this world that we live in. Understanding intent is what's made Google, Google. They started out with the mission of making's the world information accessible to all. Their search page is focused on just what the user wants. The team he worked in for over 10 years at Google has the same devotion. They only show results that pertain to what the user wants right now. This has been incredibly effective for ads. Users only see ads when they want them, and advertisers only spend money when users show a clear intent for taking action. Intent, and a clear understanding of it, is a deciding factor.
34x increase in "near me" searches
80 percent mobile searches
50% of mobile searchers visit the store that day
18% of mobile searches make a purchase within 24 hours.
Over 90% of people who look for a product on their phone, end up buying that product.
There's been an explosion in the number of How To videos on YouTube. That's where we go to learn new things.
YouTube is the place where an entire generation is going to explore their interests, and to consume content. Mobile YouTube has more viewers in the 18-35 demographic than any cable channel.
He shows an ad from Nike that is 4 minutes long and has been viewed 110 million times. It's an AD! When you combine a great medium (like video) with great messages you get great results.
He announces a new ad product from Google called TrueView Ads for Shopping. They show information cards in the video that tell you where to buy the product. Wayfair found out that combining shopping information with the True View ad increased completion rate by close to 20 percent. He thinks this is the ultimate combination of a new medium and a drive to action.
What does this mean for us – what should WE do?
Identify the moments to win. Look beyond your own company to get information. Google Surveys are cheap and can provide valuable insight.
Figure out how to deliver on the needs in the moment. Be there when consumers are looking for information to drive brand loyalty.
Measure ever moment that matters. Gone are the days when we sit in our search silo and say this much goes to search, this much goes to video, this much goes to the newspaper, etc. YouTube ads drives search. Search drives store visits. So do coupons.
Understanding intent and delivering the need of the consumer at the right time is how we will win.
Awesome talk from Sridhar. Now it's time for the rest of the panel to come out. They all introduce themselves.
Sridhar: How do you figure out what consumers want on mobile? How do you gather that insight?
Darren: It's trying to take what we can provide and bleed that into the life of a consumer. How can we tie what their looking for to what they offer and be there at that time? So its not just the product at the great price, but the solution or the answer to their "I want to do."
Michael: At the core of their digital strategy is the idea of shifting from mobile as a vertical to a horizontal. That means mobile plays a part at every stage in the journey. It's less of a mobile strategy and more about understanding what guests need at every stage.
Sridhar: You have to persuade your customers about the importance of mobile – how do you begin to think about that?
Chia: Part of it is making sure there's the data to actually that story. Use data to show how the brand can intersect with those key moments throughout the day. They've encapsulated that into this idea that mobile makes life addressable. People have their phone within arms reach 85% of the day.
Sridhar: How do you manage executing to this mobile world? Looking ahead but still running the business?
Darren: You still have to develop across the platforms. We talk about "mobile first" but you need a team to build. It's more of a mindset to how we're allocating our marketing dollars. Back in 2012, the person who started at macy's on a smartphone, they were twice as likely to shop on the desktop over the next few days. Now they're 2x as likely to covert on a smartphone than they are on a desktop within that 7 day period. You talk about the unique experiences we're looking to drive, mobile is a core part of that. There's a reality of organizationally setting up a team and a structure that thinks about mobile.
Michael: The rapid pace of change is hard to deal with in mobile. He was the first hotel company to have app on every major device. You have to be comfortable with failure. Mobile is still in a place where it needs real subject matter experts who understand usability. Mobile is no longer one thing, but Web is not yet dead. As mobile rises, we haven't seen a decrease in Web. Digital and mobile are no longer walled off in the corner of things people don't understand.
Sridhar: Macy's has been an early adopter – how do you think of measurement? What are the components that go into it?
Darren: We've done work to understand how the interaction on Macy's,com influenced the store. That really changed the mindset. Identifying how these things connect is critical. When a customer is by our store, we want to be there. If we just look at it in the context of the interaction (click x conversion =sale) we would make very different decisions. The big shift is this continued aspiration to be very customer-centric instead of looking at a single touchpoint. We want to sew everything together to understand the fractured funnel.
Chia: We want to create an integrated data set so we're integrated data around a bunch of different sources to see if we can get to a better inference of the outcome and tie it back to the set of inputs that were part of the path.
What kind of products do you want in the ad tech industry??
Darren: We're trying to provide value to our customers. We have all this great data. The customers are in control. How can we compliment us trying to get the right info to the customer with a conversation — letting the customer tell us how we're doing. We need to empower them and let them provide us with feedback so we can continue to build that relationship.
Michael: When he thinks about the role of technology and digital, he's more interested in how to improve the guests' lives. There's still too much complexity into what they do. There's so much complexity because of the stage that we're in. Have the technologies and the ideas be rooted in what they can improve. How can we reduce the complexity while still being able to provide custom experiences to the individual.
Chia: We want to see a shift towards the moments-based view of targeting. We want to buy moments programatically. The other thing that's interesting is how do we use mobile signals as a way to segment the audience. For example, for an airline we want to ID people who are flying a lot, but who aren't flying exclusively a lot. That's hard to target. Can we actually use a location to say, "this person is at Brand !'s terminal, but they're also appearing at other brand's terminals. How do we target them?"
What advice do you have for our audience?
Chia: It's two things. You can't think about mobile as just a channel. It is a channel but its also a change in how people are behaving. There are big changes in expectations. Mobile makes life accessible – we think that's a huge deal. You have access to moments in people's lives that you never had access to before. Think about mobile not as the third or fourth screen, but as the first screen.
Michael: Customers are changing the way we do our business. Almost everything has changed with what can now be delivered through a mobile device. The hard part is being able to act quickly to adapt to this change. This involves subject matter expertise and a comfortableness with failure.
Darren: As marketers we've always tried to map consumers intent and desires to motivate behaviors. That hasn't changed. Now it's just multiplied. What's going to be critical is breaking out from this idea of interaction-centric valuation of success. Move away that each time you touch the customer that there is one metric to evaluate if you were successful. It's really about building an analytic mindset to manage how these connections behave.
Woah! That was awesome. Time to run to the next one!
[Want more from #adtechSF? We don't blame you–find all the ad:tech San Francisco coverage you can handle right here.]