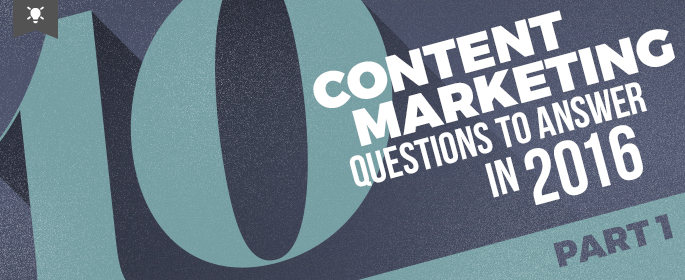 There was a plan. A plan to write something, and then one thing led to another and I'm hitting publish on my 2016 preview piece after Valentine's Day.
No, it's not ideal. But, I bet I'm not the only one who's made plans only to have them not pan out immediately. Things happen! Priorities shift. There are simply too many cool digital marketing tactics to explore all at once.
Content – it's not just words. Not only is GoPro cool itself, its Instagram caters to its audience well. So, how do you do it? How do you make sure you prioritize, check things off your to-do list… and most importantly, make the marketing decisions that will most positively impact your business this year? Over the next two posts, we'll explore 10 key questions you need to answer to help you make the most of your content marketing efforts in the next 10 months of 2016. Let's start with some "where we are" questions. In the next post, we'll tackle what we do next. 
1. What Are Your Goals for 2016?
Make money. Yeah, yeah. This one's not as easy as it sounds.  Let's go a few steps further. What do you want to achieve with your digital marketing efforts? Many focus on increasing brand awareness. Everybody wants to be recognized. But for what purpose? Maybe it's one or all of the following: Attract new customers: Who? From where? What are their buying habits like? Re-engage existing customers: How engaged are they now? How many customers already are repeat purchasers – and how many never came back? Why? Focus sales on X product: Is there a top product/service you want to sell, because 2015 was really good for it, or it's a new release this year? Or, did a promising product perform lower than expected in 2015, and you want to rethink how it's marketed? Build e-mail marketing lists: Maybe your organization isn't sales focused, but rather exists to keep certain populations of individuals informed and active in a particular discussion or event. Increase customer feedback: You might need to build up reviews in public forums. Or, you may privately survey customers to help you make decisions about future iterations of your product/service.  There are many more options here – what are your goals? Attach data to these. You want to sell more? How much more. You want to reach new people? How many more people. What will you consider success?
2. Who Are Your Ideal Customers?
It turns out, your current customers might not be the ideal ones. Maybe they don't purchase from you often enough, or they purchase your least-profitable products/services. Or, your current customers are fantastic, and you want more of them. Whichever it is, make sure you understand who these ideal customers are.
What are their needs or problems right now?
What solutions does your company offer them? What does your ideal customer look like? Think: Where do they live? How do they spend (and what do they have to spend)?
What are their interests? Gender, age, marital status? Are they a homeowner? A jetsetter?
Once we know who these people are, we can decide how to market specifically for them. 
3. How Are These Customers Most Effectively Engaged?
People research, shop and consume media in many different ways. Periscope wasn't something we were talking about this time last year, but it's here now. And it's not the only new opportunity to consider. Chances are your marketing budget isn't unlimited. You need to identify how to best reach the people that are most important to your organization. This will take some research (don't dismiss the ideas of focus groups or some preliminary A/B testing).
morning routine, in order: wake up check twitter check instagram check email check facebook check twitter again get out of bed — Matt Bellassai (@MattBellassai) September 5, 2014
Where, when and why are your target customers spending their time online? Many people are checking their Facebooks and the latest news on their smartphones before they even get out of bed in the morning. Is your brand awake when they are?
We love Sharpie's Pinterest and blog. They're actively capturing DIY-interest people for arts, crafts and decorating by sharing content that would be of interest.
What messaging is most appealing to your target customer? Depending on the product/service you offer, the tone of your message will be critical. Are you fun? Or helping people during a time of emotional crisis? Can your brand bring the laughs? Or does a more serious tone need to strongly convey that you can be trusted?
4. How Are You Tracking Success?
Everybody wants to be successful, but not everybody knows how to measure success. Thousands of marketing dollars are wasted every year when opportunities to track effectiveness and ROI aren't in place.
Maybe you can't always track the impact of a billboard perfectly.
But you can track how many of your website visitors are converting, and know how these converting customers got to your website. And you can act on that information.
You can track how many people watched your pre-roll videos and which of your three videos seemed to resonate with your target audience the most. And you can act on that information.
You can track whether people prefer to call your business or fill out a form. You can track which parts of your too-long form make people leave before they purchase. You can track which social media channels are doing anything for your business. And you can track if you're creating marketing assets that hold your viewer's attention and make them investigate you further.
Before you embark on any new content marketing quests this year, make sure you know how you can track those efforts, and take the steps to implement that tracking effectively. Make sure Google Analytics is installed correctly on your website, and set up your Goals and Events, your macro-conversions and your micro-conversions. Start using vanity URLs, custom phone numbers (we like CallRail) and custom URL tagging, if you're not already. Putting content out there isn't enough. You have to pay attention to its results.
5. What Content Marketing Assets Do You Already Have?
Content marketing has been around for decades, but has never more popular than in the last few years. The fact is – there is a ton of content out there. It's just… not all very good.
In 2016, more content isn't the answer. You need better and more effective content. You need content that is going to support your goals and make a difference.
But that doesn't mean you always have to reinvent the wheel. You might have plenty of content that could be repackaged in a more appealing, user-friendly manner. You might have a whitepaper that was too wordy for the reader to digest your key takeaways. Or an infographic who's design was… well, lacking. Or a great piece that you published the same day your main competitor shook up the industry with some crazy news.
Plan to re-work some existing assets, and prepare yourself to balance it with timely content that reacts to what's impacting your audience right now.
Take a look at what you have and what you've done. Start setting those goals. In Part II, we'll get to work.