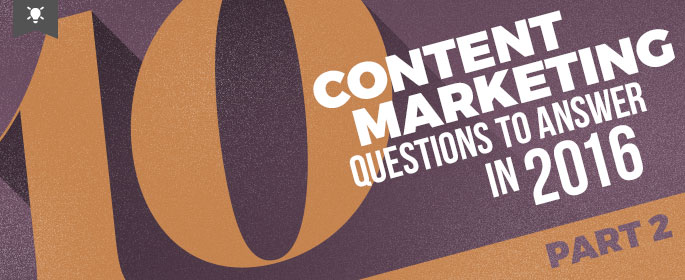 In part 1, we figured out our goals, who we're trying to reach, and what content marketing pieces we already have to work with.
Now, let's get to work.
6. What Is Your Editorial Calendar?
You know your audience. It's time to nail down what you're going to offer them.
Editorial calendars are the roadmap for your content creation. At the most basic level, they should establish:
Topic & title
Type of content: Ebook, infographic, podcast, webinar, video, blog post(s), something completely out of the box…
Summary of piece: What it is about and who it is intended to reach
Timeline of production and release
Establishing an editorial calendar is necessary prior to creating any singular content marketing asset. It helps ensure your content marketing efforts stay on track – that deadlines are met and your marketing efforts move forward in a manner that makes sense for your business. There is so much more to successful content marketing than just "writing something good." A calendar will help you break the entire process down into smaller, more manageable pieces.
You can also use an editorial calendar on a more macro level to plan out a year's worth of content initiatives. In a dedicated brainstorming session you can lay out your plans for creating an array of diverse content, from videos to resource articles.
A calendar can be used to see your long term content game plan and to delve into the minutia that is required to execute every single piece.
7. Moving Forward, What Are Your Resources?
Your editorial calendar is a significant step in understanding not just the pieces you're creating and the topics you're covering, but also more specifically nailing down how you are going to make use of your budget and employee bandwidth.
Content creation is just one part of the process. In most cases, you'll want the following covered:
Someone to research the preliminary piece and write or script
Someone to fact check and edit (this is representing your brand – you always need a second eye on it!)
Someone charged with the presentation of this piece to your audience (designers, videographers, etc.)
Someone (or a team) charged with promoting the piece
Someone to monitor audience response, engagement and action
Someone to evaluate the success or failure of the effort from internal expense to external response based on the metrics and goals we established previously.
Budget and bandwidth for content marketing extend beyond the creation of the content piece(s). Nail down your internal resources and begin allocating time to them now so you're ready to take your content from concept to your community.
8. Are All Systems Go?
Bad user experience is not something to joke about… pic.twitter.com/xgcHhl5VAC

— Andria Clark (@TheAndriaClark) January 24, 2016
We see this all the time. You want to write, but your website doesn't have a blog.
You've created this great e-book, but there's no place to put it on your website.
You've created an impressive amount of content on your website, yet no user can find it easily, whether on your website or in search results.
You create an infographic but it's hardly readable once embedded on a page.
You've created a terrific resource, but it's of no benefit to your mobile visitors (also, they hate your website on mobile).
Your content can't just exist. It has to be accessible to the user. If you're going to go through the process of creating a content marketing asset, don't let a last minute oversight prevent it from performing.  You have to make sure that your website is primed to house the new content.
This means a dedicated page, optimized so that that will help people find your content. Embeddable code for videos and infographics (if people want to re-publish them, that's awesome, but you should have some influence in how that occurs).  If there is a form on your content, is it tied to a platform or at least a tracked Goal in Google Analytics? Is your server prepared if this piece blows up? Do all of the links in the piece work, and go to the right places (been there, done that)?
Finalizing and polishing a piece is a crucial pre-release phase. It's what helps prevent mistakes and makes sure your hard work has the best possible chance to succeed. Imagine taking a beautiful piece of art and putting it in a cheap frame. You wouldn't put a masterpiece on the wall with Scotch tape, so make sure the way you present your content to the world is as well thought out as the work itself.
9. What Are We Going To Do To Promote This Content?
Sure, going "viral" is the dream. Putting something out there with light promotion and allowing the public to push it out to their networks while you watch views and interactions (and hopefully, sales) soar.
You can't rely on that. You have to have a plan for promoting your content.
In 2016, there are more ways than ever before for content to be promoted to your target audience. Just a sample…
Use social media advertising to target your potential customers on platforms such as Facebook, Twitter and LinkedIn (depending on your audience, you might want to consider Instagram, Pinterest, Snapchat…)
Use pre-roll and display advertising to catch the attention of your potential customers while they're browsing the Internet
Create targeted e-mail marketing campaigns that directly reach out to your potential customers, pointing them back to a custom landing page where they can find your content
Mesh your content marketing efforts with more traditional marketing methods, such as public relations
Native advertising and "Advertorials"
Considering the time and energy that goes into making great content, you should probably be using more than one of these methods. Budget paid advertising into the initial cost of the project during the planning phase.
There is more content on the web now than there ever has been. Part of making sure that yours has an impact is choosing the right channels to put your content in front of the right people, at the right time.
10. Are You Ready For Anything?
You've assessed and allocated your resources. You've reviewed your current audience and identified your ideal audience, exploring where they spend their time online, what they need, and what you can offer them. You've established budget and bandwidth for your content marketing plans. You've developed the creative roadmap, and ensured that your website is prepared to not only host and highlight your content, but also to track its engagement. And you've figured out how you're going to promote this content online.
But then your competitor launches the same service two days (or two hours!) before you do.
And a disgruntled customer rains on your content marketing parade with angry comments about how they feel you let them down.
Or… you launch a new editorial series, and three editions in, you realize no one is really that interested.
Are you prepared to switch it up? To act on the fly? To adjust… quickly?
If you are, then we're excited for you. The only certainty in life and digital marketing is that nothing is certain. All the planning and thoughtful execution cannot prepare you for the sea of variables that is the rest of the world. The ability to adapt is the key to surviving the challenges of content marketing and frankly, marketing in general.
So, you've asked and answered all of these questions?
Then why are you still reading? Go make something (great!)!