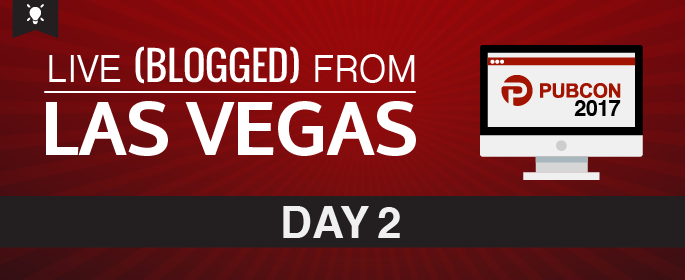 Melissa Fach from SEMRush is our solo presenter for this one. She's pretty amazing so I'm excited. Sean Jackson is moderating and gives her a kickass intro.
In this industry, writing well is a good way to make a name for yourself. Writing badly is a great way to destroy your reputation. Blog for yourself, but also get on the bigger publications because you're gonna be seen more. There's a lot of content out there, but there's not a lot of GOOD content out there (amen, sister friend).
Why is it bad? Because the reasons for their writing are flawed. Her most important fact of the day — writing useless content will do NOTHING for you. And the majority of what she sees is absolutely useless to the sites.
Useless content does not help your image or brand. Stop massproducing content that no one wants to read.
What do editors look for? Each publication has completely different goals. Determine why they are publishing in the first place.
Ad revenue
Be a resource
Increase sales
Build a community
The why determines what is published.
Example: One SEMRush Goal
Goal: To be a resource.
To offer how to, actionable content their readers can replicate
Make sure each tip, concept or suggestion is accurate.
Should meet a need by offering a valid solution
To get published you should know and follow the publications guidelines. They put a lot of work into them. All editors can tell if you read the guidelines or not. If you waste their time…they didn't have that time for you to waste.
They remember who you are and editors across publications talk, often. We know who is stealing content. 50% of the articles she rejects are because the writers didn't read the guidelines close enough. Learn a publication's patterns, know the subjects they cover, and observe their gramar style.
Personal Pet Peeves: Contractions
Too many contractions will make an article sound casual and not authoritative.  And people don't read in their heads the way they speak. When you put "should've" in an article, that's not how they read and it trips up their brain. Ignore the contraction "it's." Contractions stop the flow of reading. They have to figure out if the contraction makes sense. You are forcing people to read sentences over and over again to see if they make sense.
Most Irritating Contraction: There're.
Learn more about the editors and use the info. For example, Melissa likes superheroes. If you contact her, and mention something she likes, you'll stand out. You won't sound like a cold pitch.
Want to Stand Out?
Know the guidelines
Know the site/blog subject matter
Know what puts you on friendly terms with the editor
What does she look for in a writer?
She doesn't care if everybody loves you or if you have a million followers on Twitter
WOW her with her expertise
Editors also know if you are just  "writer" and not an expert in what you are writing about.
Someone who can give her readers something they can use in the long-term
You need to be better than the last article I published on the same subject
A good article should be a pleasure to read. It should NOT take effort. Avoid choppiness. Don't tell her the basics that everything knows. Don't tell her that mobile is huge. She's heard it 900 times already.
Avoid empty promises. Don't promise something in your title you can't deliver in the article. Write less, and write better.
Things to ask yourself when you are finished writing:
What words are not needed?
Keep it as simple, clean and easy to read
Go paragraph to paragraph.
Don't repeat yourself – words and concepts
Do the images/graphics support the text?
Creating Content for Learning Styles
Seeing
Hearing
Touching – hands on, learn by doing
Consider who is reading your content. Are they noobs, intermmediate or advanced? Is it the assistant, the boss or the decision maker? Consider readability for your audience.
What makes editors angry?
Badly written text
Number grammar efforts
Obvious laziness
Text that needs to be rewritten by the editor to make sense
My job as an editor is no to give you a link. It's to protect the brand.
What ENRAGE editors?
Stolen content
Disrespect
Repeatedly submitting content that never improves
Stolen images
If you're rejected, really read their feedback.
It's not her job to do your job. If you're pitching or submitting, make it as easy as you can for the editor.
Danny Goodwin from Search Engine Journal joins Melissa on stage to answer questions and offer some help.
He encourages writers to have a goal with their content. What do you want your content to do? After you create the article, what do you want people to do? Know your target audience and who you want to reach.
Sean: When submitting, is there something that really catches your attention?
Melissa: I can tell in the first paragraph if I'm gonna fall in love.
Danny: Headlines are a good screening process to get into the writer's mind. He's looking for good ideas. There's a lack of good ideas in this industry. If you can come up with a new take on an old topic.
Sean: If you really want to get onto someone's radar, start doing your own research and build infographics around it. It's a really powerful tactic.
Question: How do we make sure the email pitch gets opened in the first place?
Melissa: Be real. Be personal. She doesn't need a long pitch email. She just wants to know you. What are your skills and what can you write about.
Question: Talk about content syndication. 
Danny: We have agreements with certain sites to republish our stuff. From his side, he doesn't find it that valuable He sees the value in that in terms of getting on Medium or LinkedIn.
Melissa: The only thing that bugs her is that they change up the title. It's a great way to go in other industries.