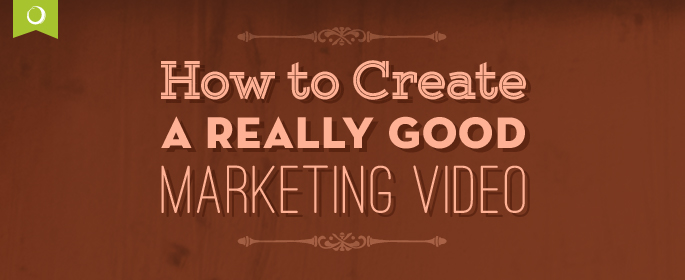 More businesses are moving their marketing budgets over to online video. And why wouldn't they? Videos deliver a 74 percent increase in your visitors' understanding of your product or service (compared to pictures) and increase the likelihood of purchase by a serious 64 percent [source]. The only thing hotter than content marketing right now is video content marketing.
Most of us already know the power of a great marketing video. They can be used to sell products, to simplify messaging, to show your WOW moments, to highlight a kickass company culture or even to amuse and enlighten your audience. Video is a strong marketing medium and it's one we're a wee bit obsessed with here at Overit.
So…how do you create a good marketing video one? One that gets seen and even shared?
Know its intended use
So you've decided to put your video production skills (or someone else's skills) to use and creating a marketing video. Good for you. Now how are you planning to use it?
If you don't know, STOP and figure it out. The intended use of your video will reveal important information regarding the appropriate length, tone and purpose of the video.
Determine:
Will it be a :90 brand awareness video that plays in movie theaters?
Is it a :60 television commercial timed for a national event or holiday?
Will it be used as two :15 pre-roll video ads?
Is it going to sit on the homepage of your website where length is pretty flexible?
Are you creating a :90 video to be sliced and diced for different online purposes?
A 2:00 brand awareness video is going to differ greatly from a :15 pre-roll ad. Figure out what you're creating before you even start thinking about the script.
Focus on the story
Why does one video get stuck in the mind of viewers and others are forgotten in an instant? It's the story, stupid.
Great videos speak to viewers in an intimate way – whether it's a character they see familiarity with or a video that addresses key questions and concerns about a product or an issue they're facing. They do it through proper scripting. A well-scripted video is able to convey a story in an interesting an emotional way by capturing the necessary information and delivering it back to the end user.
What should you consider when scripting your video?
The reason for the creation of the video
The problem/need you are addressing
The feeling you want to evoke
The most important information for the viewer to take from the video
Who you are and how that will be conveyed
Whether it's a PSA intended to pull at the heartstrings:
Know The Odds – Friends & Family :30 from O Studios on Vimeo.
A whiteboard video designed to answer questions about a heated issue:
Common Core – Test Refusals Hit Main Street from O Studios on Vimeo.
Or a commercial used to play off your new brand characters:
Renn Honda – "Main" :30 Final from O Studios on Vimeo.
Know the answers to the questions above and make sure you're hitting them. Write our the main objectives of your video and set them in view so you're certain you're addressing them (am I the only one who does that?).
Without the right script, the message of your video will be lost, regardless of how good the production is.
Read your script. Dramatically.
We write differently than we speak. That means the poetic prose written on a piece of paper (or, you know, via a computer screen) may not sound as beautiful read as it does on that piece of paper. Test it out by reading your script the way you intend for it to be delivered in the video. Test out inflections. Hunt out awkward sentences. If it sounds awkward to you, it will sound awkward to the listener.
I recently stumbled upon this great video from Wistia that does a great job explaining the importance of the table read. Check it out.
Don't underestimate color and sound
Last year Lawrence Basso, Overit's motion design director, schooled us all on how to change your video's mood through color and sound. It doesn't matter if you're creating a culture feelings video or walking customers through important data. The color and sound treatment used on the video will affect the way it is perceived, the emotion it evokes and, ultimately, how shareable it is.
We all received a strong lesson in this when Facebook gave us a "look back" in honor of its 10 year anniversary. The sound used not only tied the images together, it tied the experience together in one high-impact, holy-viral video.
Seed it for visibility
In a perfect world, you would create a video, it would be hilarious and it would go viral within moments. However, in the real world, we have to seed things to help them be found by the right people.
This means using a descriptive headline, using keyword in your description and tags, enable sharing via YouTube and Vimeo, and including a call to action in the video to get people to take action. It means having a plan for content promotion to get it in front of the right eyes.
Is any of that rocket science? Nope.
Do people NOT do it all the time? Yuuup.
Accordingly to Cisco, consumer Internet video traffic will make up 69 percent of all global consumer Internet traffic by 2017. Position your business for success NOW by making video part of your content marketing strategy.
Video is sexy, and sex sells.