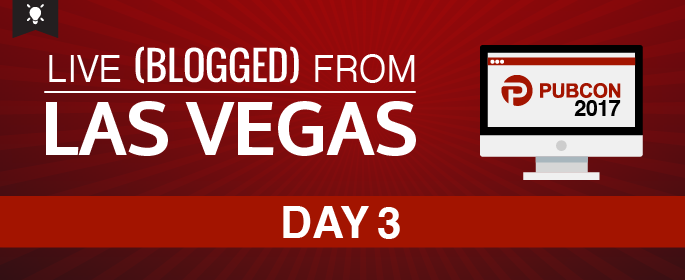 If you're here with us in Vegas, I hope you survived lunch because now it's time to dig into data and analytics. Guiding us on this journey are Annie Cushing and Cynthia Johnson. This promises to be good.
Up first is Annie Cushing. 
She says her Annielytics brand started as a joke on Twitter. She bought the domain before a skeevy marketer would and it grew from there. That sounds about right. ;
She's going to do a deep dive into Google Analytics dashboards. She says she doesn't work for Google so she doesn't have to lie and say its wonderful. See, I told you this was going to be awesome.
Her first impression of GA dashboards is  a guy in a really sharp suit…who has really, really weird shoes. She's going to show you why she thinks Google Analytics dashboards kinda suck.
1. Inflexible Structure
All the other dashboard tools in the world are built with AJAX and you can construct them. Not GA. It gives you limited options for layout and she thinks the one that would be the most useful would be an even thirds (which doesn't exist). She says that's likely because the developer didn't want decimals.
2. Lack of your ability to brand
Any GA dashboards are branded for Google, not for you. Every other dashboard tool on the planet let syou create branded reports.
3. No MCA Report
4. Custom Report Confusion
They're not intutive to share in dashboards. Often when you get a custom report, you have the ability to add a report to your dashboard. Then, you can take the dashboard and share it with anyone in your organization. The custom reports in GA are nowhere to be found. You actually have to share the custom reports with whoever is going to be using the dashboard before you give them access and THEN the report will show up in their dashboard. A lot of times people don't think about that. Google doesn't offer a prompt for it.
5. Link Widgets to Reports
She says to go with the automated option for report linking but it's not intuitive. You really have to know the structure. Look in GA inteface and see how it's broken out and then you'll be able to find your report.
Cool Features in GA Dashboards
1. Single-Metric Widgets: When building out a dashboard in GA, you have the ability to choose the metric option which will pull out a single metric. This helps to shows a finger on the pulse kind of view. Lets you create an entire dashboard of micro-charts with single metric widgets. You only get 12 widgets in a dashboard.
2. Filtered Maps: You can filter by region so you're not looking at the whole map.
3. Donut Charts
4. Horizontal Bar Charts: Bar charts are vertical by default. But you can opt for a horizontal orientation which is helpful for long labels.
5. Pivot Charts
Must Have Content Reports
1. Landing Page Report: Hands down her favorite content report because it allows you to pull in conversion data. The landing page is just one more characterization of a session. Because it's a single descriptor of an entire session, you can associate conversions with it. It's absolute gold. You can reorder your landinge page report by which page is driving the most revenue, then add one highest rev pages + highest bounce rate to help get the BR down.
If you're looking at landing pages, you can also drill down by the channel. So by going to the Channels report, you can click on the channel and change the metric to look at landing pages.
2. Content Drilldown Report: Shows you a breakdown of your site by directory so you can click on a top-level directory and drill down until you get to the content. This is a great way to see how individual areas of your site are perfroming.
3. Most Popular Links On A Page: This is an awesome feature tucked away in the Content Reports. Use it to find out which are the most popular links on a page. Go to your Content Reports, drill down to a page, click on Navigator Summary page and see the Next Path (whenever ou see the word "path" replace it in your head with "URL"). This is good to know if you are doing a site redesign.
4. 404 Pages: See if you have any pages that are 404ing but are getting a lot of page views.
5. Page Speed Suggestions: This can be really powerful when you identify particular money pages on your site to look at the page speed on them. If you have a page with a low page speed, Google offers suggestions that pulls open the URL you selected, scores it, and gives you very specific suggestions as to how to fix the page.
6. Demographic Insights: With the Demo reports, they used third-party data. This isn't coming from GA. GA is pulling it from other providers but if you enable these demo reports on your site then you can pull them into any report.
Next up is Cynthia Johnson. 
She's going to share a bunch of tools. I love these types of presentations.
The Perfect Message:
Track Your Efforts
Amplify Your Content
Improve Your Content