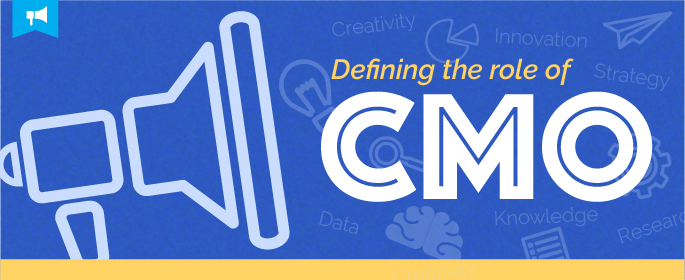 Last summer, Overit founder and principal Dan Dinsmore asked me into his office looking to talk. Freshly back from a generous maternity leave, I knew the context – we needed to catch up on The State Of Things. During this meeting, Dan updated me on what I had missed over the last four months, including company successes, struggles we had overcome, the status of key accounts, new opportunities, and, planned organizational changes to move the agency forward.
Most notably, I learned of his plans to bring on a Chief Operating Officer (Paul Fahey would be hired a few months later) and his wish to appoint a Chief Marketing Officer to Overit – me.
Welcome back, Lisa. It's time to get to work.
Today, on the heels of the announcement, I wanted to share what the role means to me and to Overit in the effort to help define a new age of CMOs coming into a quickly-evolving industry.
Here is how we define it.
1. CMOs are brand storytellers.
Pardon what's at the end of this colon but: duh. Right?
When you think of a CMO within an organization, this is where it starts. CMOs have long been looked at as brand storytellers. They were the ones responsible for creating the company's marketing materials and telling the company's stories. That's who CMOs were; today the role is much more. It is not simply to tell the story but to embody it and, most importantly, to evolve it.
I joined Overit in 2012 because I believed in, and was impressed by, the work the agency did and the team behind it. Overit is where knock-your-socks-off creative is seamlessly paired with grown-up data collecting and results. Overit represented a story that I was excited to tell.
Five years later, I have failed at telling it. Other priorities, other projects, other responsibilities have taken precedence over the thing that I wanted to do most. My colleagues would tell you I have had great achievements during my time here – and I have – but telling the Overit story has always been personal to me. It's why I'm here. Stepping into this new role provides me a stronger opportunity to lead that storytelling and to make good on my original promise. I won't fail at it twice.
2. CMOs design customer experiences.
It's easy to understand why ambiguity exists around the role of CMO – it's the "marketing" part. Ask five people to define what marketing is in 2017 and you're likely to get six different answers.
But today's CMO is not just the head of a marketing department or the holder of the collateral. As our buyers (clients) perform significantly more of their decision-making process online, independently and across channel, we need to speak to them differently. It requires more than just clever marketing campaigns, but creating proactive experiences that match up with the journey they are on, as well.
Who is our buyer? What they are looking for? When are they looking? How are they looking?
In this equation, solving for X takes:
Understanding our customers, their needs, their pain points and their preferences.
Understanding our company's offerings, our strengths and our point of differentiation.
Understanding the common space that exists between these things.
It's about using insight to capture people the specific way they need to be captured, using us and our brand as the hook. This is the math problem I am tasked with solving for Overit.
How do we solve for X when attracting new, larger clients?
How do we present our Y to a new, non-regional audience searching for support in different ways?
How do we convey our creativity, while not taking away from our ability to tie every action to a data point?
How do we balance retainer clients with exciting, soul-nourishing project work?
How do we use specific industry successes (like association marketing) to other verticals?
How do we use the data we have already collected to not only define our customer, but to predict behavior?
I have plenty of questions. In the months ahead, I am tasked with answers.
3. CMOs are business accelerators.
This is where our definition of a CMO often diverges with others. It's where the role of CMO has grown the most over the past 5 to 6 years. It is using all the above – the client insights and the brand storytelling – as fuel to accelerate the growth of the business. This is where the most opportunity lies for Overit and it's what makes this role an exciting one for consumer-focused, brand-obsessed, metric-inspired marketers like myself.
Overit is obsessed with data. We are obsessed with knowing all that we can about our buyers and the buyers of our customers so that we may use that insight to create smarter "things." Whether it's messaging that breaks through or a visual that tells a complicated story, you can't accomplish great things without the data to back it up.
The role of CMO is an opportunity to bring it all together in a tangible, numbers-backed away. To use insights to make a business not only smarter, but more profitable. We've long talked about the importance of getting to know your customer, but now we get to use those insights to make money that we can invest in creating cooler things. What could possibly be more exciting than that?
4. A CMO is a partner at the table.
The CMO has a seat at the table. Not because there's an errant C in the title, but because it's the CMO who is responsible for guiding the CEO and COO toward a position of brand- and customer-focus. I often joke with Dan that it's my lot in life to wrestle our COO Paul Fahey over priorities. As COO and someone who assists in providing white glove service to our clients, he has priorities and beliefs as to what deserves the company's attention first. As the person responsible for moving our brand and our clients forward, I also have priorities.
Sometimes there are conversations not to be won, but to be wrestled. Because without living the Overit mission, we will never be the company we are destined to be. I love these conversations. I love being part of a team where these conversations don't just happen, but are encouraged.
I also realize that while I have a seat at the table, I am not a lone voice. Working with me is an entire team that I can empower to convey the same vision and voice for our company. My constant (annoying) beating of the drum, gives them power to drum in rhythm until the Overit story is heard.
I doubly-realize that I am a woman. A woman at a table notoriously filled by men. There is a responsibility here, an example to set, and an opportunity to change how things are.
Above represents what we believe the role of CMO has grown into for today's creative agency. It's more than "just" a marketing position, it's a role critical to business success. I have my marching orders, I have my team, and I'm ready to go.
I invite you to come along with us and to be part of what we're creating. Get updates (you can sign up in the right sidebar) and be part of this new story. Like I said, I won't fail twice.