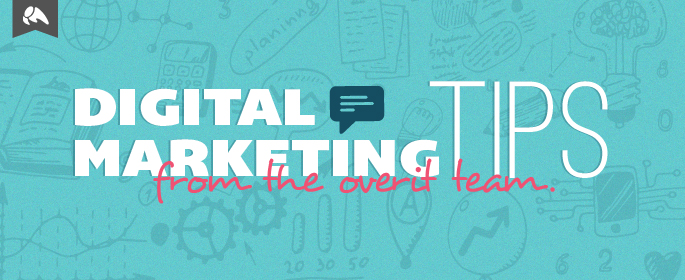 Most digital marketers have their favorite tips for newcomers and pros alike. But the more digital marketing evolves and expands, the more we find ourselves as specialists. Without meaning to, we can become deeply entrenched in a particular niche or space. That's not necessarily a bad thing, but it's easy to lose perspective from the front lines. If you're in PR, how much do you think about development? If you're in SEO, how often do you get involved with video creation? If you write the content, do you get to think about tracking its performance too?
Having an array of specialists often means having to rely on the combined vantage points of an entire team to get the full picture.
At least, that's what we do at Overit.
So we've collected our best digital marketing tips from across the company to help you look at your marketing programs for this year and beyond. 
Lawrence Basso
Director of Creative
Motion Design, Animation, Video
Don't copy your competitors; do your own thing. Unless there's a very specific reason or strategy behind the imitation (like spoofing for comedic effect), copying what someone else is doing because you view it as successful is not going to make your business successful, too.
In fact, it might actually hurt your business. You need to identify what can set you apart.  Identify what you can do better than anyone else. Make people want you for the new ideas you offer, not mistakenly choose you based on marketing that is similar to others. Otherwise, there's no reason for them to stay. There's a lot of crap out there in the digital marketing world – you need to stand out. Be different.
Tim Jensen
Senior Strategist
Online Advertising & Analytics
Don't make assumptions about what works or doesn't work until you've tested. Use every means possible to track results from any change you make to your website or any ad campaign you launch: conversion tracking, accurate analytics tracking on your site, etc.

Luis Ortiz
Senior Developer
Web Development
My advice for people who are involved in furthering a digital marketing strategy is the following: assuming that you have enlisted the help of programmers, you will have given them a specification of what it is you've commissioned from them. If they have questions for you, really listen to what the questions are. You'll see that so much more goes unspecified than is specified. The programmer may find that s/he can accomplish the stated requirements, but depending on how they do it, there are different side effects. They typically don't know your content/business as deeply as you, and things that you may think are a given may not be quite so obvious to them. To use a common trope from mass media, think of the programmer as a genie, willing to do your bidding, but in a literal way.
Susan Merrick
Creative Manager
Design
Effective communication is key. This goes beyond just the words and the delivery method. Your customers are very visual and it is a must that your marketing efforts grab their attention immediately, or they'll move on. A well-branded, visually enticing message with a strong CTA is what you need to accomplish this.
What does that mean? Let's break it down:
Branding: Your company's brand should be highly visible and treated in a manner that reflects your other communications. This provides strength and consistency in your visual brand and instills familiarity and trust in your customer.
Visual Elements: In addition to strong content, the graphic elements that make up your message should be impactful. Imagery should speak to the message content. Typography should be easy to read, paying attention to font size and line spacing. Different sizes and weights should create a hierarchy within the content, calling attention to the most important parts of the message. Color can be used to help emphasize these important items.
Call-to-action: This is typically the most important part of your message. It is what the goal of the communication usually is – how you want the user to react to what you are saying. Whether it is directing someone to watch a video, download a resource  or complete a sign-up form, this CTA element should have a strong visual weight so that it cannot be overlooked by the user.
It's a common theme in popular fiction. You asked for something and that's what you got, but you also get some unintended side effects. If your programmer feels they need to talk to you (if they do, it's possibly for a very important reason), get to the bottom of it, make sure you both see eye to eye. Ask about edge cases, ask what if's. Be sure that they understand your requirements beyond the simple bulleted list of specifications.
Janae Quackenbush
Senior Strategist
Traditional & Digital Marketing
It's been a few years since businesses really began to embrace social media as a way to market to current and potential customers. A LOT has changed in those few years, including how people engage with content, what their online habits are like, and what those "best practices" are. And it's not just the options for the customer that have changed – the ability to use social platforms' advertising platforms to get your voice heard have not only become helpful, but quite often necessary.
Consider hitting the reset button on your social media strategies, especially if you've been running them the same way for months, or even years, now. Take the time to review what you've done, what has been successful, what may not actually be working for you – and update your approach accordingly. This may or may not involve entirely new social accounts! (And remember, your effectiveness on social media relies on having content to support it and the time to make sure your accounts don't go dormant.)
Jeff Fugelsang
Motion Designer
Motion Design/Animation/Video
Hire the right the people and partners to do the job you need done. I know that seems simple, but people tend to want to cut corners when promoting themselves. Sometimes that means looking for things like stock animations (or stock services in general, not just for animation) and similar services that let them "create" their own animations (web sites, graphics, etc.), or using someone within their company who has no experience in making what the company needs.
Overall, I believe you get what you pay for and people can tell when a company takes shortcuts with their own imagery and design aesthetics. It's your brand. It's worth the investment to put your best foot forward.
Dan Dinsmore
CEO and Founder
Sales/Strategy
The most important part of digital marketing is to set specific goals and develop a plan to reach those goals. It's surprising how often businesses don't have a long term strategy, or don't know exactly what they are trying to accomplish with digital marketing. The other issue, one that we sometimes run into here with Overit inbound, is having so many goals and so many ideas that it becomes hard to bring any one of them to the finish line. So you've also got to prioritize. Then you can plan to approach your goals in order of priority. To do that, you've got to step back and consider from a 10-thousand foot view, where you are, where you want to be and what it will take to get there. Then you can start to prioritize your tactics to help fulfill that vision. In order to determine whether or not your strategy is working you've constantly got to measure and refine.
Oh, and don't jump on bandwagons.  In this industry there's always going to be some new idea or technology that is on the market. Make sure your plans include opportunities to test new tactics, but don't allow yourself to get distracted or constantly change course because of the latest trends.
Jaimyn Chang
Strategist
Digital Marketing/ SEO


SEO works best when you take a "hands-on" approach. You can read blogs and follow "gurus" but there is no method of learning that is more effective than testing and measuring.
Alison Krawczyk
Senior Public Relations Strategist
Public Relations

Public relations is a critical piece to any marketing campaign. It's how you get your story told to a larger audience, and build confidence and validity for your brand. By relying on reporters and news outlets to tell people about how you got started, what differentiates your company, or the latest new feature of your product – your audience will begin to recognize your name and find value in your products or service.

Lisa Barone
Director of Strategy
Digital & Traditional Marketing
Don't chase the tactic.
Whether you sit on the client side or the agency side of the table, it can be all too easy to chase a specific tactic rather than considering larger goals. You read a blog post on content marketing and decide, "hey, that's what I need!" But maybe it isn't. Maybe it's not content marketing but better online advertising that will allow you to reach your targeted audience. Or the creation of specific landing pages to point customers toward. Instead of picking the tactic and force-fitting it to your needs, assess your business goals (and the habits of your customers) to select the tactic(s) that will allow you best meet them.  
Nick Hansen
Motion Designer
Motion Design/Animation
One aspect of my job is animating a logo or character to bring your brand to life. Animating a logo or character gives your brand a personality that consumers can relate to in a much stronger way than a simple static image. Your brand is the ongoing perception, voice and personality of your company and bringing that to life creates a stronger brand recognition.
The beginning of the year is a great time to reevaluate your branding – what do your target customers know about you? Would they recognize your logo, know your personality, understand what you sell? This year, consider what you can do to help your brand evolve and make a good impression on your current and potential customers. You just might decide to make it more animated.
Jennifer Van Iderstyne
Senior Strategist
SEO/Digital Marketing
Link building and keyword targeting are two areas of SEO that have come under major scrutiny in the last couple of years, largely due to major algorithmic updates like Panda and Penguin that have taken action against egregious practices in both areas. These changes have created a sense of fear and reticence with regard to how these classic fundamentals of SEO are incorporated into modern strategies. While the changes of the last couple of years have forced us to think differently about how we approach content development and link acquisition, they remain important to establishing and strengthening subject matter relevance and authority.  
You can and should create pages based on keyword research. but you shouldn't be creating pages ONLY because of keywords or pages for every keyword. Keyword relevance is about finding that combination of how people think and how search engines perceive. Updates like Hummingbird, which focus on interpreting user intent and the context of a search or a series of searches, indicate where Google is heading with trying to understand searches and content and bringing those two together. That put the impetus on us to do the same, but to make sure we consider that total semantic relevance when we write, name, link and target.
With link building, the truth is, the best course of action is the same as it's always been. You want links? Earn them. While there has been some question of whether or not businesses should actively "try" to get links rather than focusing on greatness, the fact is these two are not mutually exclusive. Great content that is entirely self-focused content is not going to result in links unless your business is the Regina George of your space. In cases where you do have content that offers value to users that is not directly tied to your immediate sales funnel, then you still need to find a way to cut through the noise. Campaigns that involve content without promotion, or promotion without linkable content will both be futile.
At this point every online business should be diversifying their digital marketing campaigns and considering consistency, relationship building, schema, technical SEO and all of the other components that contribute to how a site gets traffic. But links and keywords, while they are "old school" approaches to SEO, they still have an important role to play in the present and future.