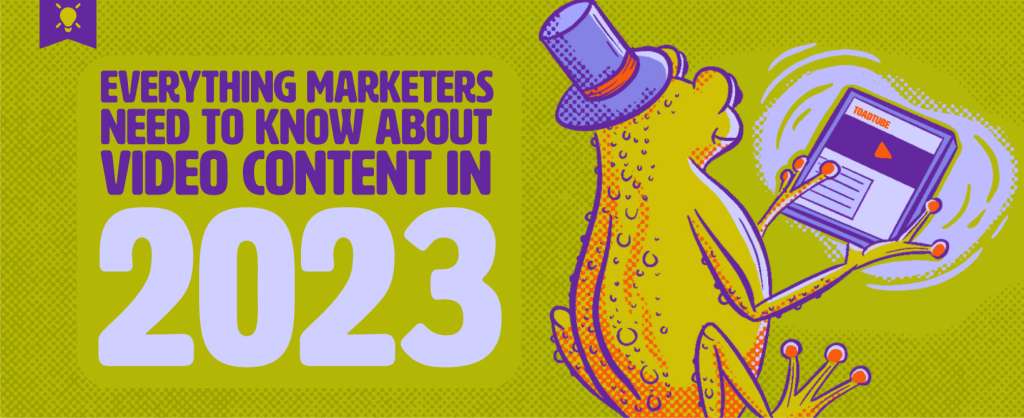 Worried that your competitors are rocking video harder than your brand is? It's a common concern, and it's crucial that you get your hands on all the information about video content for marketing purposes. Especially going into 2023.
Leveraging video content for marketing purposes is nothing new. But, the fact that consumers EXPECT your brand to offer video on every channel is becoming increasingly apparent and a little overwhelming…
From quick video bursts on social media to high-quality commercials during the Super Bowl, we've helped clients gain tremendous traction in their industries with video content. And because of that, we have so many insights to share when it comes to your video content strategy for the upcoming year.
In this post, we will attack video marketing from a creative stance as well as a data-driven strategy. Because the blending of creativity and data is why people love Overit so much.
Is Video Really "King?"
Video content offers a way to meet your target audience where they want to be met. It opens up new avenues for brand awareness and even lead gen by showcasing your products and/or services in a relatable way.
Video content gained popularity in 2005 with the launch of YouTube. A few years later, the advanced smartphones we have now emerged, making it easier to consume video content than ever. AND THEN, the pandemic happened, and bored consumers increased their social media consumption by 215%. And most of the time they spent on social was digesting video content.
Most content marketers realize the power of video and have fallen under the "content" umbrella. It is true that the written word was once enough to intrigue and bring about an emotional connection with consumers and brands. However, consumers now prefer to digest information about brands via video, and it's your job to keep up.
As we will explore in a minute, data on consumer behavior shows that video is no longer optional if your brand wants to get a competitive edge.
Different Types of Video Content for Marketing
Whether it's a short-form TikTok video or an in-depth explainer video, your brand can't coast by without implementing at least some video content. Check out the most used types of video for marketing purposes that have already proven to be effective.
Brand awareness

Educational

Onboarding and training 

Sharing customer stories

Animation

Industry news

Short social media videos

Demos

Landing page promos

Expert interviews

Live streams

AR

Personalized messages
Promoting Your Video Content
While an eager audience is ready to watch your brand's videos, they first need to find the video. 
Producing video content is somewhat time-consuming. But you can't just stop at creating an amazing video. You need to promote your videos. Here are a few tips:
Promote your videos on social (organic and paid)

Utilize your videos in email

Post your videos on your website

Partner with

influencers

to get your videos out
8 Strategies to Implement More Video in 2023
So you want to incorporate more videos into your brand's story for the upcoming year. We are here to both celebrate your video goals and weigh in on fruitful video strategies based on what we've seen working with our clients.
As you enter into 2023, keep the following 8 key strategies in mind to ensure that your video content will gain a competitive edge.
Don't only use video for brand awareness. A lot of brands get hung up on this. Video actually nurtures your audience throughout the entire funnel. From awareness to retention.
2. Align your videos with your buyer personas. Identify which platforms they spend most of their time on and which pain points your brand can solve for them. Determine different messaging for different phases of the buyer's journey.
3. Focus on ensuring your messaging via your videos is unique and engaging. Try to stray away from being too "salesy" in your videos. Let your messaging and personality do the talking. Look at the video as a lead generator; you can release your sales pitch when asked for in the nurturing phase.
4. Watch your language. Yeah, don't use curse words, but also adapt the verbiage you use in your videos to be clear and concise. Videos are meant to visually convey topics, ideas, etc., so don't get hung up on your industry's jargon or buzzwords. Language on video should be relaxed and more conversational than in a blog post, for example.
5. Coaching your co-workers to be comfortable in front of a camera is key. You want to be able to represent your brand's voice internally, so getting your team members up to speed is a great way to get talent for your videos. Utilizing talent from the inside makes your videos feel more authentic. Start with having your team members speak from a script but have your goal be that they will speak conversationally on their own about topics/goals in your brand's industry.
6. Be clear with your messaging, strategy, and goals that feed into your video content. Make sure that your videos have a clear CTA at the end to create conversions. Measure these conversions against your typical KPIs. And remember, video should be used throughout all stages of the buyer's journey, so typically, brands will have multiple videos being promoted at once to entice consumers at different stages.
7. Don't forget that many of your target audience members are watching video without sound. Especially on social platforms like Instagram. So just keep this fact in mind when you're planning out your videos to ensure that they can stand up on their own visually and without sound. This might mean that you close caption your videos.
8. Repurpose existing content, such as a report or podcast, into a video. You don't have to start from scratch. Use the data-driven insights that your brand already has. You can even consider featuring customer reviews in your video content strategy.
What Recent Data Tells Us About Video Content
Sure, we are passionate about video content. Our clients report it as being one of the defining factors that help them do better than their competitors.
But, as marketers, we know the importance of data-driven strategies. So don't take our word that video content is crucial as you go into 2023. Simply look at the data.
Your Video Production Team is EVERYTHING
As you're probably realizing by now, a lot of time and effort goes into creating videos on an ongoing basis. Even though it's a lot of work, don't shy away from the video camera.
Since you can't afford to ignore video and time is limited, a lot of brands are turning to a studio that can help them power their video strategy.
When choosing your video production team, keep the following key things in mind.
Strategy: Look for a team that has experience balancing creativity with data-driven insights. Your team should understand your place in the industry and has a good sense of your goals. Don't be afraid to present your video production team with a "half-baked" idea because they ideally know the space you want to make an impact in, and they can help you with the strategy necessary to reach your target audience.
Shooting: Your production team should be comfortable presenting your brand with a shot list and b-roll ideas before they actually shoot your video(s). Obviously, videos need to represent both your brand's video and audio quality. The production studio you team up with should live and breathe video and audio. Consider going with an agency that specializes in video production as opposed to an agency stronger in other strategies but throws video into the mix because they think they should.
Equipment: From shooting a video on your smartphone to producing a top-notch film, you need at least some equipment. There is a space for both types of videos. An authentic quick video shot on your phone is great for social media. A well-produced video for YouTube or even a commercial (we like to think big) also should have its foothold in your strategy. The bottom line is that you need your studio partner to have advanced equipment that you don't need to invest in for your brand.
Scripting: A high-quality video should involve a script. A script will not only make sure your messaging is relayed properly, but it will also cut down the time the studio you hire spends on editing. If you're just getting your feet wet with video content, look to a video production studio to not only shoot your video but also script your video. At the very least, have your production team review your script before filming for feedback.
Editing: When getting to know a new studio to help you with your video goals, ensure that they have a TON of experience editing video. Anyone can point a camera and shoot a video. But getting the sound quality up to par and incorporating animation with high-quality videos is a unique skill set. Hiring a team to do video will positively impact your content ROI as long as they have the right skill sets and a portfolio of their work actually editing video is key.
Publishing: Your videos will need to be hosted on a platform that supports video. Usually, this is YouTube or Vimeo. However, if you have the right production team, they will publish the final edited video files for you. This part of the process is actually a bit complicated, so it's best if you leave it to the pros.
Inspirational Video Examples
If you want to do a deep dive into the possibilities reaped from video content, we have a whole page of videos to inspire your own strategy. You can check them out here.
Whether it's a short video for brand awareness on social or a long-form video to be leveraged in a commercial, Overit has done it all.
While this post will help you get on track with video marketing, these videos will inspire the action you take to get there.
Final Thoughts: How to Create More Videos in 2023
Producing and publishing videos for marketing purposes cannot be ignored. Judging by the data, you probably implement some video already. However, if you're like many brands, you're not doing enough with video but don't feel overwhelmed with this strategy.
We outlined best practices you can start implementing today that will give you a positive ROI from your video efforts. Memorize them!
At the end of the day, don't get hung up on "overly producing" your videos; instead, go for authenticity. A simple video via your phone isn't a bad place to start.
Start with a clear vision of your goals and how you can attain said goals, and let your brand's personality shine! Video content is unlike written content in the sense that it should be relaxed and conversational.
Your number one goal in 2023 should be to use video strategically to nurture audiences in all phases of the buyer's journey. From thought leadership to retaining current clients.
We get that video creation is complicated. That's why we started Overit Studios and have worked with a variety of brands–big and small. If you're ready to implement more videos into your marketing strategy, contact us for a free brainstorming call today!