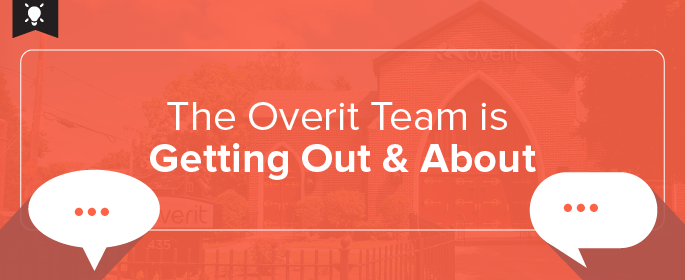 It's officially fall and Overit is getting ready to hit the road for conference season!
Members of our team are traveling around the country over the next few months to attend, speak, and exhibit at events of all kinds – if you're in any of these areas, we'd love to see you there!
Here's where you'll find us:
PRSA Association/ Nonprofit Conference
October 6, Austin, TX
Catch our CMO and resident content expert Lisa Barone at PRSA's Associations and Nonprofits conference in Austin on Saturday, October 6. She'll be in town to give an hour-long workshop about "Building A DIY Messaging Framework That Works," breaking out the elements that go into a meeting framework and how to create one on the fly. You won't want to miss it.
There's still time to register.
Nonprofit Storytelling Conference
October 15th-17th, Orlando, FL
A few of us will be heading down to warmer weather, attending the Nonprofit Storytelling conference in Orlando, Florida from October 15th-17th. We'll be in town to meet people, talk about our love of working with nonprofits, and soaking up some great insights. We hope to see you there, and if you're in town for the event, keep an eye out for us. We'd love to meet up.
ESSAE Harvest Highlight
October 16, Albany, NY
SEO Strategist Dan O'Leary will be speaking on Digital Analytics for Organizations at the Empire State Society of Association Executives meeting on October 16th. During his session, Dan will introduce Digital Analytics 101 to beginner audiences helping them adopt a data-driven culture, choose the right technology and platforms, learn to identify and analyze key performance indicators, and show them how to report and communicate data within their organization.
If you're an association in the Albany area, this is one you won't want to miss. Register to attend.
Capital Region Chamber Entrepreneur Bootcamp
October 17th, Albany, NY
Digital Strategist Shannon Howard will be speaking as part of a panel on how to market a business for the Capital Region Chamber Entrepreneur Bootcamp. This event is open to bootcamp members only, but if you're looking to start a business we definitely recommend you catch her the next time around! Register today.
SMX East
October 24th-25th, NYC
Lisa Barone is at it again at SMX East in NYC on October 24th. She'll be sharing her expertise on "How To Drive Inbound Links In The Age Of Content Skeptics," talking specifically about how to write content people want to read and share. If you know Lisa, you know she has an opinion or two about this.
Pest World 2018
October 23-26, Orlando, Florida
Animated bugs, anyone? Catch our team at the largest pest control conference in the country – Pestworld 2018! We'll be showing off some of our favorite work having to do with squirrels, bugs, rodents and the like. If you're there, be sure to say hi!
NCMPR District 1 Conference
Nov. 5 – 7, Annapolis, Maryland
We'll kick off the month of November attending the Stories conference where we'll have the chance to explore, discover, and share the unique stories that inspire the marketing and communications work at community colleges.  With a number of great higher education clients, this is a community hear and dear to our hearts. We'll looking forward to sharing stories, meeting new folks, and exploring what's next.
Whew! That's just a glimpse of where you can find us over the next couple of months. We hope to see you there!