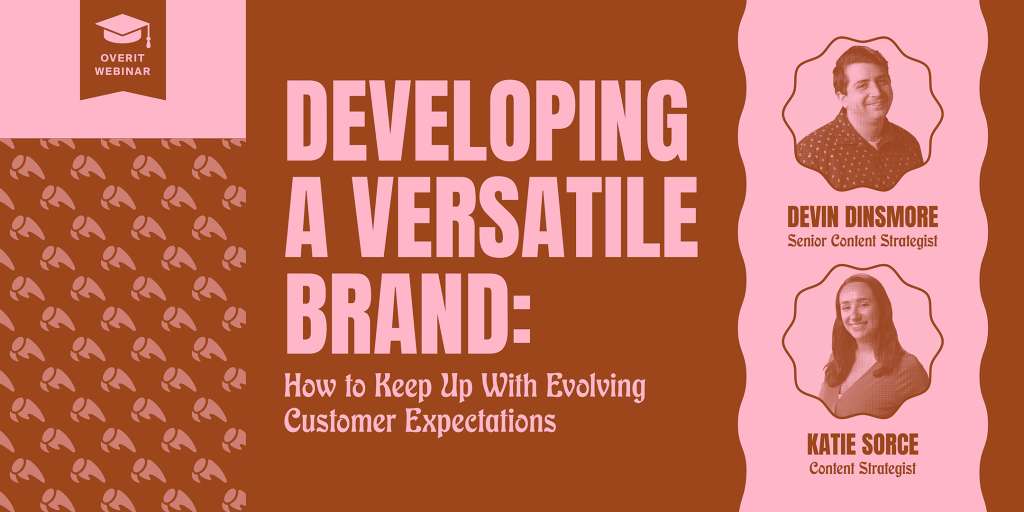 Powered by RedCircle
Want to listen to this post instead? Click play for a fun audio experience. Plus you can listen on your favorite pod player!
For Overit's February Webinar, we dove into some of our favorite topics: content marketing and branding. Senior Content Strategist Devin Dinsmore sought to answer the question: "What makes a brand good?" Though this question is somewhat subjective, here's what we found.
Branding efforts can be notoriously hard to measure success compared to other efforts like a digital campaign where goals can be set and achieved or missed. Here are a few categories that we can record and track that can act as KPIs:
• Memorability
• Versatility
• Relevancy to your audience
• Authenticity
What is brand versatility?
Memorability is pretty straightforward, but exactly is brand versatility? At Overit, we see it as the ability for your brand to be transferable across various mediums and to a broad range of different audiences, without sacrificing the essence of what your brand is all about (in other words, without sacrificing your authenticity). This means that your brand has to be prepared to understand and/or communicate across many different mediums, including:
Video (both short and long-form)
Blogs (both short and long-form)
Audio (radio, podcasts, audio-blogs)
Traditional avenues (billboards, tv ads, bus wraps, etc.)
Devin clarified that you don't need to be on all these mediums, however. You should identify which mediums best serve your demographic and invest your efforts there instead of trying to be too spread out.
Marketing Tips
Traditional
Traditional is considered the "old media." This includes television, print, radio, etc. (Read more about traditional media planning here.) The benefit of traditional marketing is that it is easy to reach a large audience to earn brand awareness; however, the downside is that you must boil down your core brand message to something brief, essential, and straightforward. We're talking a 30 or 15-second message (or 5 seconds if it's on a billboard). If you try to include too much and your audience could be confused.
Written Blog Content
Text blogging might feel like old news, but it's a great way to communicate with segments of your prospective audience and establish authority within your brand. Experiment with both short and long-form content.
Shorter blogs with quick-hit information may have more value in more targeted scenarios (eg; customer emails/texts).
Longer blogs might have more value for a long-tail Google search or in circumstances where a complex issue is being addressed.
Video Content
Building video doesn't have to be complex or insanely high in production value. Affordable video creation tools (we enjoy using Biteable) can make it easy to quickly create videos that speak to your audience without costing an arm and a leg. Consider tutorials, interviews with staff, or sharing a "day in the life." Videos also have a lot of utility: drop them in emails, post them on social, edit them down and use them in paid advertising – they are versatile, and people prefer them to static imagery or just plain old text.
Why does authenticity matter in branding?
To build a strong brand, you need to have a strong core. Your "Why." Brands can live in blogs, on a billboard, or in an online video, but without fundamental connective tissue, audiences might not even know they are the same company at a glance. And if that brand is not true to the company's values, it will create a disconnect both internally and among your customer base. Remember, consumers are often skeptical of the truth behind a company's marketing materials. It's your job to prove them wrong. You must:
Know your company
Know your audience
Know your brand
Know the platforms you are using
Be honest
Conclusion
Your brand is how you communicate with your current and prospective customers. If it does not engage them, retaining existing customers and attracting new ones will be more difficult. If you are not memorable, your audience will naturally forget you.
A good brand will help your audience remember you when they think of your industry or establish yourself if you are a newcomer. You need some kind of presentation that details your value. Whether through traditional branding assets or digital ones, you need to be seen – and that requires a modern, strategic, versatile brand.
Further Reading
Read more about building a versatile brand and see examples here.
Read more about the importance of video content here.
Go even deeper by watching the entire webinar. Download the slide deck here.
Need help with your brand or building a versatile content strategy? Get in touch.