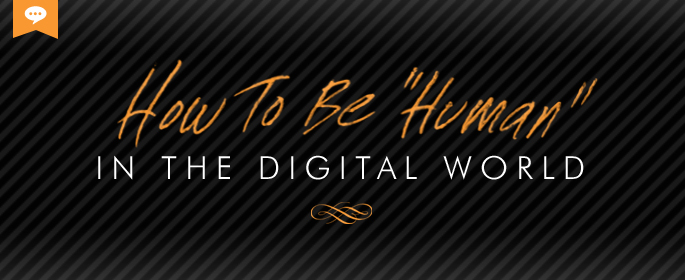 There's a lot of talk about how we as marketers can humanize brands. How we, in this era of online two-way conversations, can make brands have personalities that our target audiences – customers, prospects, advocates, members of the press, etc. – will want to engage with. How acting "human" can actually make businesses smarter and more relevant.
This conversation has become so extensive that "human" has become a bit of a buzzword.
The concept has also gotten away from its fundamental meaning.
We didn't mean every brand had to be witty and joke (which risks trust).
Who kkmew theis was ghiong tob e a baweball ghamle. #lowsscorinh 5_0

— JCPenney (@jcpenney) February 2, 2014
Aside: Call me a buzzkill, but I wasn't amused by this "are they or aren't they drunk" campaign, especially following so many recent store closures and lay-offs.
We didn't mean for traditionally professional, serious brands to lose control their brand voice by posting casually, like we're all buddies. What did we mean?
Address the Concerns of Real People Who You Can Help
Food delivery isn't the most predictable service in the world. Traffic jams, car accidents, kitchen mix-ups, multiple entrances to the same apartment complex – the opportunities for complications are endless. Seamless, an online food delivery service, provides great customer service on its Twitter account every day. Whether it's responding to casual commentary from its customers…
@micheletymann Thai just isn't as delicious with a fork. — Seamless (@Seamless) May 10, 2014
  or thoughts from its partners…
@LesHallesParkAv Welcome to the family! — Seamless (@Seamless) May 9, 2014
or the frustrations of hungry (hangry) customers.
@mtwesty What's up man! I called Rosati's and they know about your order. Should be receiving your grub soon!

— Seamless (@Seamless) May 13, 2014
Seamless understands the frustrations of its customers – and it's sensitive to fixing them, whether the solution is picking up the phone to call the restaurant and driver, offering a discount on the next meal or knowing when the sale was blown and a refund and apology is the best solution.
Being human is about good communication. In Lisa's Authority Intensive recap post, she cited a communication formula created by Arienne Holland of Raven Tools. Arienne's formula looked like this:
Answer: Answer the customer's question with truth. No shortcuts. No meandering.
Value: Reinforce the customer's value to you. Reinforce your value to the customer.
Anticipate: Anticipate the customer's next question or need. Address it now.
The act of anticipating a customer's next question or need and answering it before they feel it? That's human business.
This gets back to being responsive. Engaging in conversations – not just using social platforms to talk at people — and using social media to better understand the needs and behaviors of your audience.
Introduce Us to the People Behind Your Brand
We are huge fans of mascots at Overit. They're great storytellers. With memorable voices, appearances and actions, they make your brand memorable. They make you stand out among your competitors.
The creation of a mascot can be a tremendous marketing tool. But, we're realistic enough to know that people with concerns and questions want a real reaction – not one supposedly coming from whatever lion, tiger, liger your mascot is.
Real people can help establish trust in your brand. People like to know:
I'm putting trust in this service – who am I counting on?
My health depends on the results of this product – who developed it?
I'm putting my safety at the hands of this company – do they care about me?
I'm debating between two companies – are they both passionate about what they do, and will be passionate about me as the customer?
This doesn't mean a new employee profile every week.
Meet Bob. He has two dogs, loves science, and is a die-hard Mets fan.
We know you have limited time to catch the attention of your audience, so these profiles might not be what you prioritize. And we don't think you should.
Consider how you can share the expertise and interests of your people in content that's relevant. Explain how your researcher approaches the studies that inform your management on decisions that affect the product pipeline. Interview your engineer about what steps he takes to ensure safe and efficient work that benefits both your company's employees and the end user. Let your customer service person provide the answers to frequently asked questions you should be proactively providing.
Be Human Humble
…Know when to admit you were wrong, and apologize.
To me, this is where that humanity is most important. Too many brand apologies are incredibly tone-deaf and insincere.
Remember when Epicurious tweets referenced the Boston Marathon bombing when promoting whole-grain cranberry scones and their recommended bowl of breakfast energy?
Pretty big mistake.
So is doing this:
If you anger 10,000 people, you might not get the opportunity to tweet 10,000 apologies. Focus on delivering one solid, sincere apology to the public. Once you've accomplished this – once you've shown you know you've done wrong and you're fixing it – then you may start tweeting to individuals, if you tailor your messages to the individual complaints.
Whether your CEO has to get on camera to record an apology, or you decide its best to provide an apology in a written format, it's critical that your apology show a sincere concern for the affected audience, with a sense of urgency. Don't rush the apology and risk exposing yourself to more criticism, but don't appear to be turning a blind eye to the people you've upset, either.
Show Empathy
Your content, your social media and your overall marketing are more successful when based on what your audiences' needs are rather than your need to pitch your product, service or how smart you think you are. Being human in the digital world means letting go of the egocentric marketing in favor for marketing more intune with the needs of your customer. What would make your customers stop and say, "Hey, listen to this!"? What would make them HAVE to share you before they went to bed tonight?
How can you become a more empathetic marketer?
Create personas to understand the patterns and behaviors of your ideal customers. What are their pain points? What is their process for discovery? What types of information are they after? What do they share? At what rate?
Tap into customer support: Your sales and/or customer support team are often the best empathetic marketers on your team. They have to be. They sit on the front lines, helping customers to address their problems and concerns as they develop. They're trained to anticipate new concerns as a way of increasing customer loyalty. Talk to these folks and get to know what they know. And then tap into your online customer support. Use social media monitoring tools to listen to the conversation and see the conversations happening, in real-time, about your brand and the interactions customers are having.
Audit your existing marketing: Once you know how you should be speaking to your audience, prepare for a content audit and see if you are. If you're not, fix it.
Your words and the way in which you market to your audience is your currency. Use them wisely.
Be Interesting
When we talk about "being human" in marketing, often we're encouraging people to "be authentic." But the truth is, your customers don't care about your authentic self or what you do in your spare time if it's not relevant to their need. What your customers want is for you to be interesting. They want you to create "stuff" they will find genuinely useful, genuinely entertaining or genuinely relevant so you provide additional value to them. Of course, you can't be interesting to your audience until you understand who they are. So get working on this personas and start crafting a brand presence that's worthy of someone's attention.