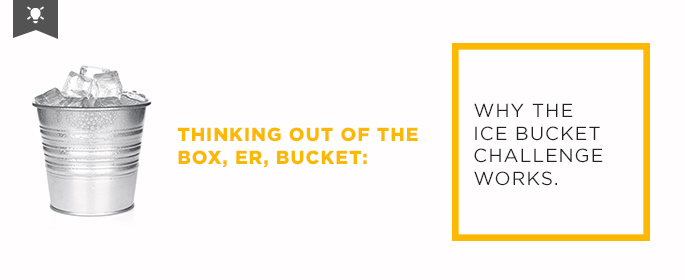 Unless you've taken a serious hiatus from social media, you've heard about the Ice Bucket Challenge, and have possibly wondered if you'd be next. While there has been an outpouring of support and participation in the cause, there's been a bit of backlash and criticism, too. I noticed both views in my own Facebook newsfeed.
So, can dumping a bucket of ice over your head and posting the video on your Facebook or Twitter really make a difference in supporting the ALS community?  I'd argue a big, fat YES.
The whole point of the campaign is to raise awareness and support for ALS (Amyotrophic Lateral Sclerosis- also known as Lou Gehrig's Disease) and to fund research to better understand and – hopefully – cure this devastating  and fatal disease. If you've only seen the ice bucket videos and haven't fully learned about ALS, the ALS Association explains what it is:
"Amyotrophic lateral sclerosis (ALS) is a progressive neurodegenerative disease that affects nerve cells in the brain and the spinal cord. Motor neurons reach from the brain to the spinal cord and from the spinal cord to the muscles throughout the body. The progressive degeneration of the motor neurons in ALS eventually leads to their death. When the motor neurons die, the ability of the brain to initiate and control muscle movement is lost. With voluntary muscle action progressively affected, patients in the later stages of the disease may become totally paralyzed."
The cause of ALS is not fully understood, making it difficult to diagnose and treat, while it reaches more than 5,600 people in the U.S. each year. ALS can affect anyone, but it most often strikes between ages 40 and 70, and is 20 percent more common in men than women. Because this disease lacks visibility, the ice bucket challenge serves as a way to engage people through social media to raise awareness about ALS, and ultimately, donations to support research.
While the concept of dumping ice water over oneself isn't totally new (and was spurred recently by professional athletes without a tie to ALS, leading to ice bucket challenges for Martha Stewart, Matt Lauer and others), the challenge went viral when Pete Frates, a former Boston College baseball captain with ALS, posted the challenge and nominated Boston athletes that he knew. Since then, we've had the pleasure of watching influencers and celebrities like Justin Timberlake, Jimmy Fallon (challenged by JT), Mark Zuckerberg, and what appeared to be the entire Kennedy family, douse themselves with buckets of freezing ice water in the name of ALS awareness.
@jtimberlake joins the fight to say bye, bye, bye to ALS. Watch here: http://t.co/dl0CeyUCXa #ALSIceBucketChallenge

— Good Morning America (@GMA) August 12, 2014
.@jtimberlake #ALSIceBucketChallenge completed! Passing the nomination on to @nyjets – You have 24 hours! http://t.co/hY8Ckx2fXl

— jimmy fallon (@jimmyfallon) August 13, 2014
Many other notable folks have chosen to skip the ice and donate, like President Obama did when he politely declined Ethel Kennedy's challenge in favor of making a monetary contribution to the cause.
The Ice Bucket Challenge Rules – and Public Reaction
Once someone nominates you in their video, you have 24 hours to respond.
You can respond by "accepting" the challenge, and dumping the water on your own head, posting the video and nominating three more people.
If you opt out of the challenge, you must donate $100 to ALS research.
Sounds great, right?! Not everyone agrees. Within my newsfeed and among the articles I've read, there are people who think the idea is pointless, annoying, and some even feel it's offensive. Some question if it's harmful to frame the campaign along the lines of "accept the challenge, or be forced to donate to a charity," and argue that it would make more sense to just ask your friends to donate to the cause, and skip the silliness.
While I can see this perspective, I think it loses sight of the main point. Until recently, ALS research has suffered from pretty low visibility. There are so many horrible illnesses and problems out in the world that need funding and support (Cancer, Heart Disease, Stroke, Kidney Disease, Alzheimer's, hunger, animal rescue, and the list goes on, and on, and on). And many of them are on social media, asking us to "please donate," and if you don't believe me, go ahead and search it on Twitter.
Because of this 'crowding of causes,' it's easy to opt out of contributing, since you can't possibly help them all. In order to gain charitable attention from social media, it truly helps to think a little outside of the box, er, bucket. I had many friends who were completing the challenge, some doing the challenge with the promise of donating as well, and others who kind of bashed the challenge, and instead announced they would donate. All three of these outcomes prove the campaign's success.
Yes, you'll get some people who post the video, and donate nothing. But they'll still share the cause with their social network, and nominate another three contenders, who may choose to donate and spread the message to their networks. Even those who say that the challenge is dumb, and that they plan to donate to ALS research instead, are impacted by the campaign. If these so-called "idiots" hadn't gotten their attention by dumping a bucket of ice water over their head, would these same donors have sought out information on ALS, and contributed all on their own? Doubtful. But it's awesome that they did, and for that, you can thank the power of social sharing.
But Has It Worked?
The truth is, people are donating. Since the challenge (now ALS-themed) went viral July 29, the ALS Association has raised upwards of $9,500,000 – a huge jump from their fundraising for the same time period last year ($1.6 million). Not only that, donations have come from existing donors, as well as 184,812 new donors to The Association.
We are continually amazed and are grateful to all of you who have done the #IceBucketChallenge. #StrikeOutALS

— The ALS Association (@alsassociation) August 14, 2014
We'd say the campaign worked.
Of course, there's no denying the importance of actually spreading the word when you participate in this challenge – that's the whole point. If you're just dumping the bucket over your head and not even mentioning the term "ALS," you're doing it wrong. If you're going to participate, you should at least explain what it's for, and tell others how they can have an impact.
Besides participating directly in the Ice Bucket Challenge, there are many ways you can help the ASL Association and contribute to finding a cure for this fatal disease. You can donate directly on their website, ask your employer to make a matching gift, sign up for an ALS Walk, or organize your own fundraising event for your local ALS chapter. You can also donate by mail, or over the phone by calling 888-949-2577. You can access their annual report, too, if you want to know how your gift may be spent.
There's been tremendous generosity to the ALS cause in the past few weeks, but the fundraising doesn't have to stop there. If there's a cause near and dear to your heart you wish to raise awareness about, get inspired by the Ice Bucket Challenge – and start spreading word about what you're passionately supporting. Efforts like these make the world a better place.