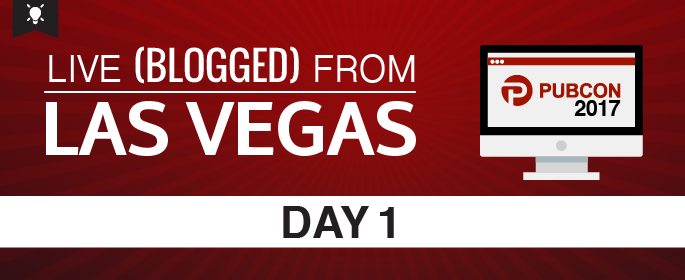 Lauren Polinsky (MGM Resorts) and Kate Morris (Craftsy) are up to talk about in-house content strategy. Kate starts off saying that she and Lauren are both very, very old. Perhaps not age-wise, but definitely experience-wise. We'll take that. She mentions that we're not here to just talk about blue links on a search page. It's about showing up in the One Box. It's about Voice Search. It's about giving people the answer to the question they're searching for.  It's about videos. It's all content.
Content isn't just the text on the page. A lot of people are about the optimization of Title tags and that sort of stuff. Kate wants to create content that people are going to share, tell others about, and that will answer the questions people have. We're not just talking about blog posts or articles.
Lauren says when she and Kate started to put together their outline for this presentation, they noticed they were very, very similar. MGM (her employer) is the second-largest employer in Nevada. She says executives teams are like herding cats and gives an example. She wanted to talk about a content idea with an exec so she had to schedule a 30 minute call… which was shortened to 15 minutes… which was moved and shortened to 8 minutes. She had 8 minutes to propose her idea. How do you distill the idea and get the buy-in you need to move forward?
Define the Value of Content
1. Focus on the pertinent KPIs to the person you're speaking to.
Can use any amount of content available
Divide by markets and devices
2. Create conversations for each stakeholder
Tip: Value on traffic alone with hurt in the long run
If you're pinning everything on traffic, it's not going to convert to the bottom line. Traffic is a topline measure. Kate says she doesn't want to hear about how much traffic we're getting because that's not a purchase or a sign up. That, alone, doesn't get people into the funnel. Executives have a langauge all their own. They have a different perspective. A lot of an agency's time is spent educating a client on why you want to do something. Executives don't have time for that. They want to know what you're doing and how it's going to impact the bottom line. They don't like the blog. The word "blog" is a bad word. You have to be able to move with your internal vernacular to use the terms they use. They don't use the word blog, they use the word articles.
Researching Demand
Tools they use to find and present data:
Data Inputs: Adobe, GSC, Google Keyword Planner, BrightEdge, SEMRush
Team Inputs: SEM KPIs, eCommerce KPIs, SEO KPIs
Charts, Maps, Images
Lauren says she hasn't found a better tool for localized data than Google Keyword Planner.
You can do all the research you want, but if you don't look at your website you have no idea where your limitations will be. Go look at your website. Encourage people to look at your website. It's important to know where you're putting all your content.
Focus on: Local
Customers habits change before, during and after a trip
Search results change by device, query and demand
Each has a unique value to the company. Customers don't wake up wanting to a convert with a product. They wake up knowing what they want to do.
Kate says Lauren is hyperlocal, well, Kate is hyper longtail. Her data inputs are very limited — GA, GSC, MOZ and Google Keyword Planner. Her conversion points are average page per session (did one blog post get them into other blog pages?), registration and revenue.
At Craftsy, Google Search Console is downloaded every night into their own servers and then they go through the data. You want to know why something happened, what Google's been updating. She doesn't care about what Google's most recent algo update was at all. She wants to look at historical data to compare today to 6 months ago to 12 months ago. Is content not performing as well because there's a new competitor or because the content is outdated or because the entrants have changed. That gives her buyin to say she needs more resources for her content.
Kate says there are tons of options for keyword research, but she looks going to the source with Google Keyword Planner.
Focus on: Long Tail Through Topics
Kate shares how it works at Craftsy.
-Use the course topic for starting point
Free Motion Quilting
Tunisian Crochet
Gingerbread Houses
-Exists & Perfect
-Exists & Update (with recommendations)
-Doesn't exist (with recommendations)
Recommendations: Answers, Topics, Top Competition,and Content Type
Kate stresses the importance of working with other teams. Craftsy just removed a lot of content from its blog because it wasn't doing anything for them but slowing down their crawl times. Clean up content with broken links. Get rid of content that doesn't serve a purpose anymore. She needs to talk to her team to be able to set up redirects or to do smarter user intent-backed keyword research. Working with other teams inside your company is absolutely imperative.
Craftsy has 16 verticals to understand, and the customers in each one are different.
Drawing vs quilting: Drawing is a high awareness, quilting is higher in consideration and conversion.
The Knitter's journey involves local stores and complex projects.
Don't expect to understand/research it all at once.
Tools for the Journey
Google Keyword Planner: Find last 12 months of localized searches
BrightEdge: Trend Dashboards by Keywords Groups aligned to Funnel, GEO, Device
MindMup: Visualize breadth and interconnectivity across subjects
Lauren and Kate both say you have to love Excel and be able to map keywords and journey stages. Use Google Keyword Planner to find search volume for specfic locations. Use many teams data to compile a full list. Focus on highest searched phrases from Keyword Planner. Remove repetitive terms. Adust and re-run in each target geo and enttity.
Apply what we learned:
Do your research
Show value
Earn support
Publish content
Measure results
Don't try to do it all at once. Pick a niche topic, and start there. There is no set way to do keyword research. That's kind of what's fun about it.